Published on
December 19, 2017
Category
Features
Stunning artwork, design and packaging that makes the best of the format.
The beauty of vinyl is that it is tangible.
This year the sheer volume of special edition 100xLP packages, coloured records and picture discs on offer made it more difficult than ever before to 'stand out'. That said, it's easy to confuse flamboyant, bigger releases with better.
The most striking examples of record artwork in 2017 were those whose visual elements complimented the music in a unique way.
From the grandiose and meticulously crafted box set to the understated small pressing with animated prints to the reissue containing secret computer code messages hidden within, each of these releases brought its own remarkable spin on record sleeves in 2017.
You may have also noticed that we've changed the emphasis of our lists this year, away from the tired, arbitrary and frankly over-used 'best', to the more openly subjective 'favourite'. We believe this more accurately reflects the fact that these rundowns are essentially recommendations of what we've enjoyed most this year, as selected by our weekly contributors Patrick Ryder, James Hammond and Chris Summers, alongside VF's editorial team, Gabriela Helfet and Anton Spice.
What were your favourites this year? Let us know in the comments below.
See the rest of our 2017 review:
Our 50 favourite albums of 2017
Our 20 favourite 12″s of 2017
Our 10 favourite 7″s of 2017
Our 12 favourite reissue singles of 2017
Our 30 favourite reissues of 2017
Our 12 favourite soundtracks of 2017
---
Thundercat
Drunk
(Brainfeeder)
Brainfeeder did it again this year with the release of Thundercat's Drunk. Not only is the album one huge psychedelic soul fest but they managed to wrap it up in a 10″ box with one of the best covers of the year and filled with four 10″ records pressed to red vinyl. Each 10″ has it's own specific optical madness going on, designed by illustrator and 'meme builder' Zack Fox, who announced the collaboration on Twitter with the words: "i designed these fuck-ass vinyl sleeves for my big sister @Thundercat's new album".
The box itself is designed by Adam Stover, with brilliant, instantly recognisable Apocalypse Now-inspired photography by Eddie Alcazar, the sleeve and box set draws inspiration from Herbie Hancock's soundtrack to the Michael Winner-directed Death Wish, a 1972 vigilante action film starring Charles Bronson, copies of which would have doubtless ended up in the bargain bin of your local Blockbuster. An aesthetic clash of high and low culture that reflects Thundercat's influences – from Chick Corea to Mortal Combat – the artwork and packaging of the record capture Thundercat's freedom pick from vernaculars that are presented with equal validity, because the message at the root of it all is a poignant one. As he told FACT: "I do think you have to laugh to keep from crying as a black man." – CS / AS
---
Radiohead
OKNOTOK
(XL Recordings)
So twenty years after its original release we get the updated and expanded version, this time with the added OKNOTOK 1997 2017 text, unreleased tunes and b-sides too. There was triple black vinyl, triple blue opaque vinyl and a killer box set version later. The artwork is still as legendary as ever and with its triple sleeve it felt even more special. The stops were well and truly pulled out for the box where everything turned black, a hard back book was added, a notebook, a sketch book and a mixtape of incredibly hard to find versions inserted. And that's before you find your way to the secret coded message held within… – CS
---
Jean-Jacques Perrey
Jean-Jacques Perrey et son Ondioline
(Forgotten Futures)
One of the great forefathers of electronic music, Jean-Jacques Perrey's never-before-heard cuts, rare tracks and private press releases were compiled this year by Gotye aka Wally De Backer for a beautifully considered vinyl edition. Aside from the clear vinyl, and beautifully presented, minimalist gatefold, there's a real sense of love and pride in this package, collecting early photographs and never-before-seen archival material in an accompanying booklet. While this one doesn't shout from the rooftops, it confirms the simplicity of vinyl as the most complete way to transmit a musical or cultural idea. – AS
---
UNKLE
'Sick Lullaby' / 'Cowboys or Indians'
(The Vinyl Factory)
Following the release of new album The Road: Pt. 1 earlier this year, UNKLE teamed up with VF and a host of former collaborators for four stunning limited edition 12"s. The pick of the bunch for us is 'Sick Lullaby' featuring Keaton Henson, the first of which is housed in a diamond-dusted, screen-printed cover by Warren Du Preez & Nick Thornton Jones. – AS
---
Various Artists
Mali – Nø Førmat!
(Nø Førmat)
If we hadn't chosen to put this box set in our artwork rundown, it would have almost certainly made our list of retrospectives. Collecting four gorgeous, star-lit albums of acoustic folk and chamber music from Mali, Nø Førmat went to town on the box set, gracing each cover with bespoke illustrations that could be artworks in their own right. Musically for fans of Awesome Tapes, Soundway and Francis Bebey, the craft and visual attention to detail is second to none. – AS
---
Carter Burwell
Anomalisa
(Mondo / Lakeshore)
Mondo are pretty much part of the furniture when it comes to our end of year artwork rundowns, and this year was no different, as we were tasked with choosing between stunning and elaborate releases for Hellraiser, Konami Kokeihi Club and more. However, we've gone for the understated charms of Carter Burwell's Anomalisa soundtrack, with its aspirational, ultimately somewhat vacuous gatefold pop-up motif, designed by Alan Hynes, perfectly reflecting the soul-crushing emptiness of Charlie Kaufman's animated mid-life horror story. – AS
---
Various Artists
Voyager Golden Record – 40th anniversary edition
(Ozma Records)
Such was the enthusiasm when Ozma Records announced a Kickstarter to reissue the rarest record in the universe, the danger always existed that the finished product might fall short of its inter-planetray promise. Not so, thankfully, with Ozma's detailed and beautifully realised approximation of the records Carl Sagan and NASA sent off into the cosmos in 1977. Expect to find shimmering facsimile reproductions of the turntable diagram on the cover and pull-out artwork, a cosmic slip, mat and full cover hard-back book documenting all of Voyager Golden Record's extraorindary content. The best of all though, unsheathe the records from their inner sleeves and you'll find the most convincingly radiant 'gold' vinyl we've ever seen. – AS
---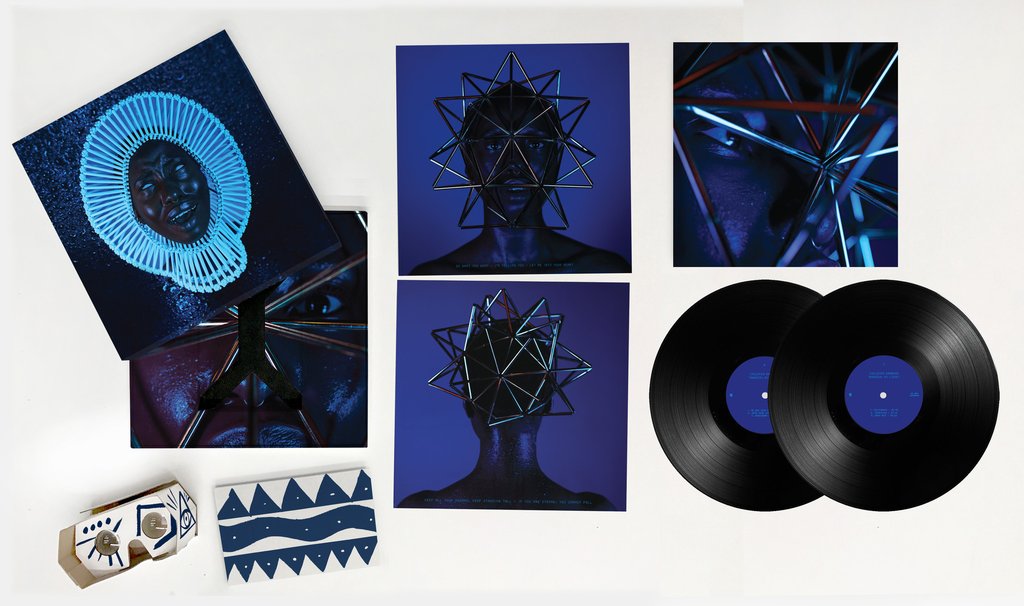 Childish Gambino
Awaken, My Love! (Limited Edition Virtual Reality Vinyl)
(Glassnote)
It's difficult to decide what the most striking aspect of this LP is: the substitution of sweet psychedelic soul for Gambino's trademark confessional hip-hop, the Tonight Show performance of 'Redbone' which saw a shirtless Glover switch into full Lando Calrissian putting the moves on your mother mode, or the absurdly lavish box set edition which hit the shelves in May. Before you even open the box, Donald rocks you with an Obi and embossed, glow in the dark artwork, then you dig in to find the LP cut loud on double 45, a 12 page booklet and a virtual reality headset which delivers exclusive content for the PHAROS.EARTH mobile app. If this is to be the last LP from the multi-disciplinary genius, it's a hell of a way to sign off. – PR
---
Jeff Mills
Planets box set
(Axis Records)
Jeff Mills' Planets – a sonic journey through our solar system – came to life in various forms this year, including a mesmerising, live orchestral and electronic show as well as this deluxe box set. The 9×7″ picture disc package features each planet in our solar system, as well as a out of this world print of Mills floating in deep space. A twinkling fusion of science, art and the inner workings of an inspired mind. – GH
---
Drumtalk
'Out Of The Blackness, Into The Blue' 12″
(Caroline True Records)
Artist Matt Sewell continued his A Crushing Glow collaboration with Drumtalk's 'Out Of The Blackness, Into The Blue' 12″. Its double dose of cosmic electronics was delivered on a blue "colour in colour" vinyl, with Sewell's lush illustrations adorning the cover, plus a limited edition phenakistiscope. (A static print designed to give the illusion that it is an animation.) The result was a celestial symbiosis of Drumtalk's music with surreal, bird-filled artwork. – GH
---
Dr. Octagon
Dr. Octagonecologyst 20th Anniversary Box Set
(Get On Down)
Kool Keith's time-traveling extraterrestrial rap surgeon from Jupiter alias, Dr. Octagon, celebrated 20 years since his debut, with this deluxe set from Get On Down. Housed in an 8-sided box adorned with Pushead's original cover artwork, the 3xLP, 28-track package features five unreleased songs, plus a 40-page booklet. A fitting tribute to the most transfixing alien MC the world has ever known. – GH
---
Various Artists
Issue n°1: Benga Music – A signature genre from Kenya
(FLEE Project)
Dedicated to shining a light on "unfairly overlooked music phenomena", vinyl and magazine project FLEE launched its inaugural instalment this autumn. Each issue focuses on a specific period or genre, with a limited edition 12″, featuring traditional songs alongside reworks by contemporary musicians, alongside a silk-screened magazine with in-depth articles, interviews, photographs and original artwork. First up was Kenyan Benga music from the '70s, housed in a striking and detailed package that made sure the genre won't be forgotten anytime soon. – GH