Published on
April 14, 2022
Category
Features
Solid storage for your vinyl.
Ah, the journey of a record collector… Whether you're just starting to buy vinyl, or a seasoned aficionado, maintaining proper record shelves is essential.
Inevitably, a quick web search for record storage solutions, or home set-ups, will soon lead you to an ubiquitous fan favourite – the IKEA Kallax, previously known as 'Expedit'. The Kallax has its perks; it's easy to set up, able to hold a decent quantity of records, and is easily expandable. It can also function as a serviceable stand for your turntable, mixer, speaker, or amplifier. In short, the Kallax is versatile without breaking the bank, though it likely won't stand the test of time.
Depending on how many records you have, a Kallax may not be sturdy enough to keep your collection stored vertically, which means your vinyl will be at risk of warping and permanent damage. Depending on what your hi-fi set-up is, a Kallax may not be spacious enough to properly configure your tech without interference and vibrations. And, depending on what your tastes are, a Kallax may not be to your aesthetic liking.
When looking for record storage options, there are a few things to keep in mind. You'll want to seek out options that can accommodate the current size of your collection, as well as how much you think it will grow to within the next few years.
Is the record storage option modular – meaning you can purchase additional shelving units and add-ons, as you need? Is the unit sturdy enough to hold your records, as well as your hi-fi set-up – if you need it to serve the latter purpose too? Size-wise, will the piece fit into your current home? (Always measure the space you're working with, keeping in mind that you'll need room to move around it.)
Finally, while interior design isn't the be-all-and-end-all, it's important to consider whether the storage unit will mesh with your current aesthetics.
No matter what kind of storage unit you get, remember: do not stack your records on top of each other, because this added pressure can damage your vinyl irreparably.
Whether you're looking for something new, or are simply bored of IKEA, check out a selection of our favourite alternative record storage set-ups below.
---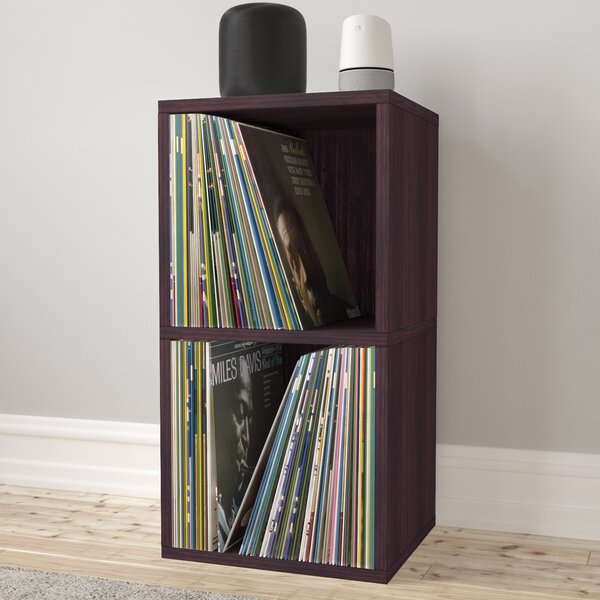 Ebern Design Bellwood Multimedia Media Shelves
Price: £58.99
Pros: Holds 140 full sized LPS
Cons: Need to purchase multiple units to accommodate larger record collections, and use as a turntable stand
Verdict: A great alternative to IKEA's Kallax, that has a slight upgrade in build quality and holds about 80 more records when compared to IKEA's 2×2 Kallax model.
Boasting a straightforward, simple set-up, Ebern Design Bellwood Multimedia Media Shelves are a serviceable budget model. For the price, you're essentially getting a 2-shelf IKEA Kallax that's designed with vinyl enthusiasts in mind. Its materials are also of a slightly better build than the Kallax. It can also be stacked, and hold up to 140 LPs. Combining 2 of these units allows you to hold about 280 records, which gives you space for approximately 80 additional records than IKEA's 2×2 Kallax of a similar size. Depending on how many of these units you combine, you also have scope to use the shelves as a turntable stand too.
---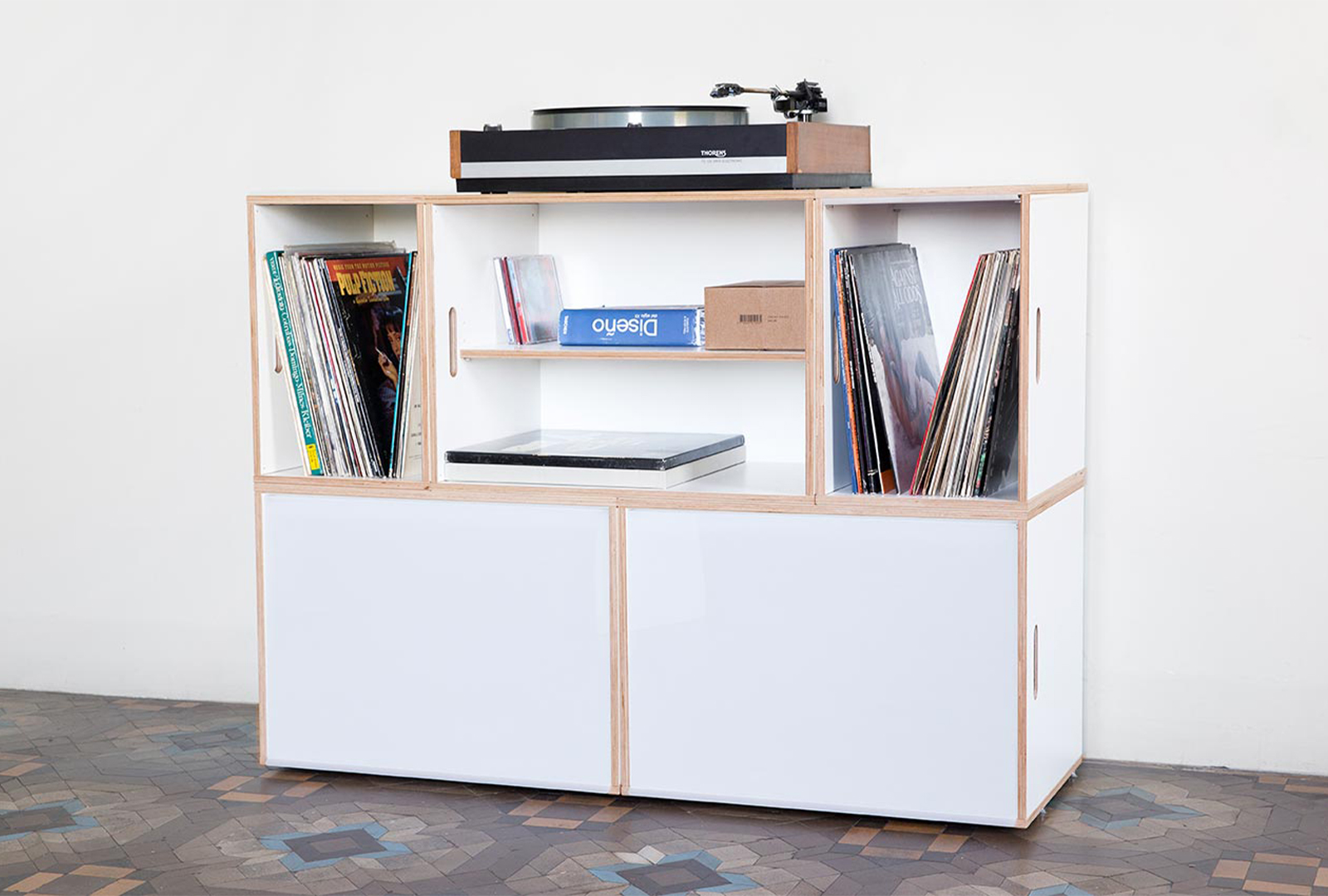 Brickbox XL Large
Price: $115
Pros: Modular design
Cons: Legs and doors sold separately
Verdict: Brickbox offers a modern shelving solution with its super customisable design; Each unit can be attached or stacked onto existing cubes, allowing you to keep your existing storage set-up by simply expanding.
Brickbox features a highly customisable modular design, with each cube available for purchase individually. It's marketed as a "versatile modern shelving system" and it delivers exactly that. Each Brickbox XL can be stacked, or placed next to each other, with adequate room for 12″ records inside each cube. Separately sold doors can also be attached to each box, so you can hide all those ultra-rare pressings your friends will want to borrow, or create accessible organisation for those jacks and aux cables that always go missing.
---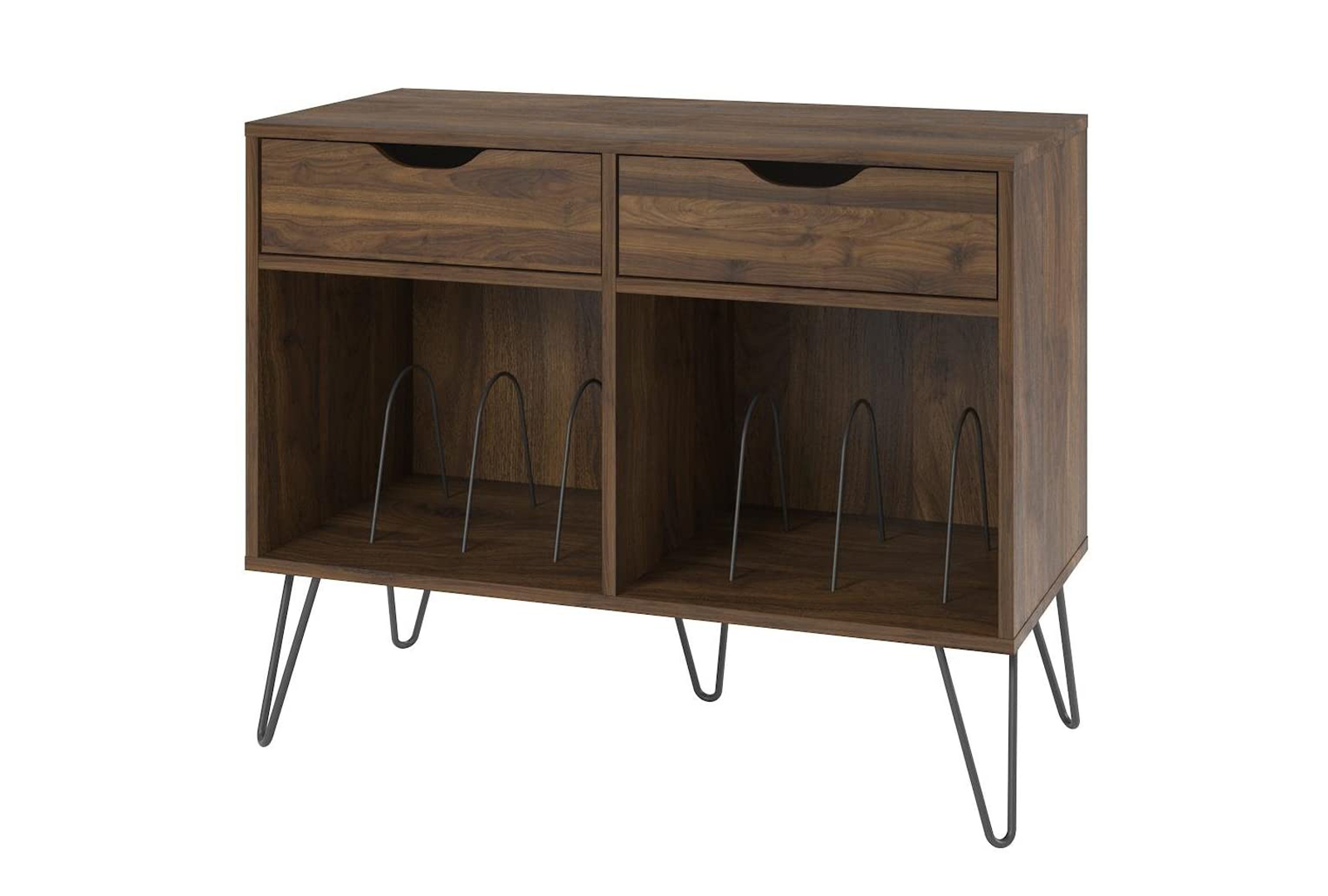 Novogratz Concord Record Stand Double
Price: £105
Pros: Fits up to 200 LPs, includes drawers for extra storage
Cons: Minimal space for any hi-fi on its top surface
Verdict: Novogratz Concord Record Stand Double is affordable, yet doesn't compromise on functionality. With space for up to 200 full sized LPs vertically, in addition to storage drawers, the stand is an efficient solution for small living spaces.
Well-built, affordable, and able to accommodate any beginner collection, Novogratz concord record stand is the perfect size to hold your record player, some accessories, 200 LPS, and an amplifiers. With two pull-out drawers, you should have enough space to store your record mats, weights, cassettes tapes, remotes, or anything else your heart desires. A pair of bookshelf speakers should also be able to fit next to your turntable on top of this bad boy. Included metal spacers also give you a good amount of room to organise your records neatly as well.
---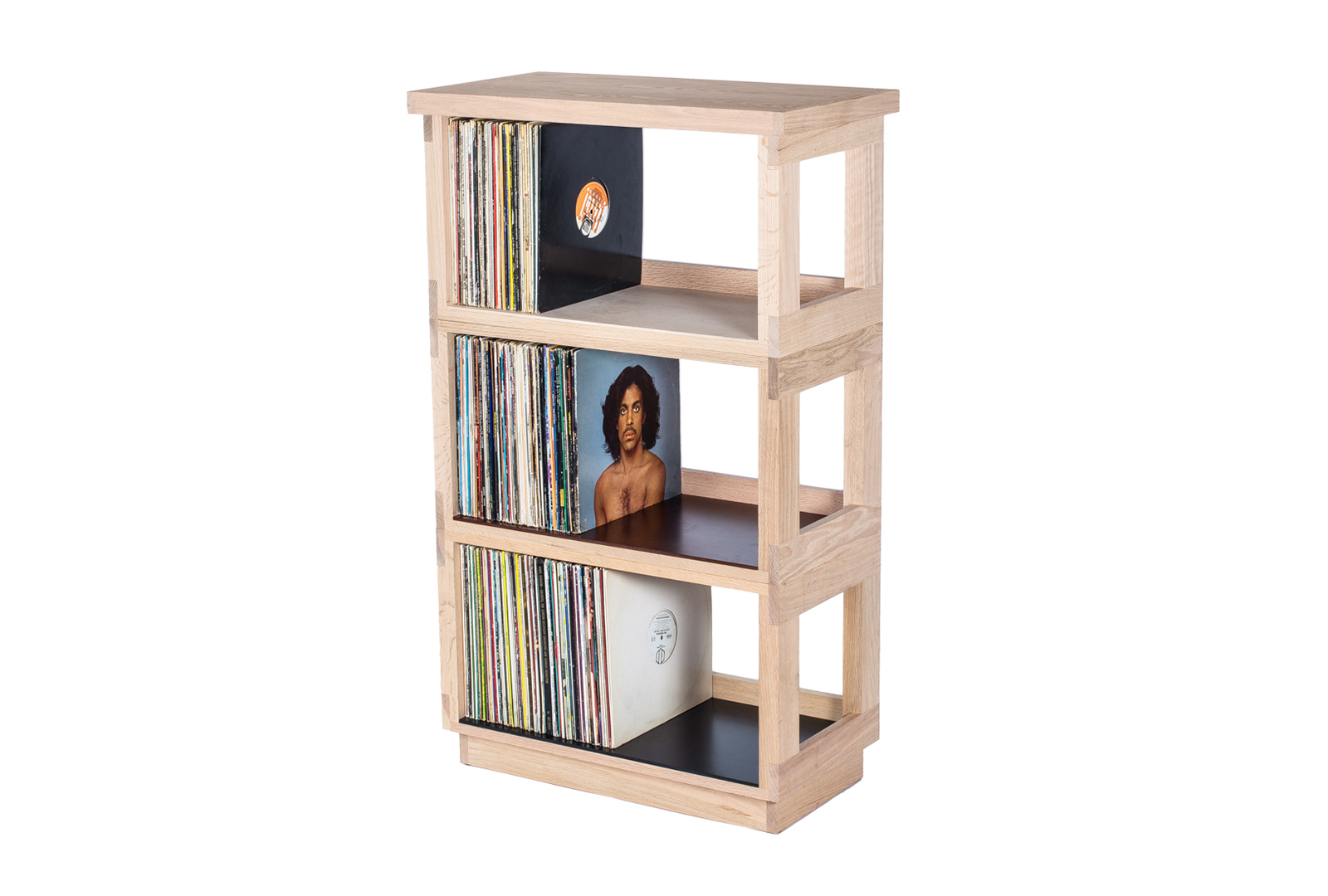 Mapleshade Unfinished Oak LP Modules
Price: £115
Pros: Modular design, holds 150 records per module
Cons: Unsuitable for use as a turntable stand
Verdict: Handmade from 3/4″ solid oak, Mapleshade's modules have a great modular design that allows you to add more storage options to accommodate any size collection.
Personal record collections are constantly growing, and it's hard to commit to a storage system that has limited space. Mapleshade offers the perfect solution for those who just can't stop buying vinyl. While one of their unfinished oak LP modules only can hold about 150 full-sized LPs, it has a completely modular design. This means you can add, switch, and move around modules to accommodate, and size-up, your growing collection.
---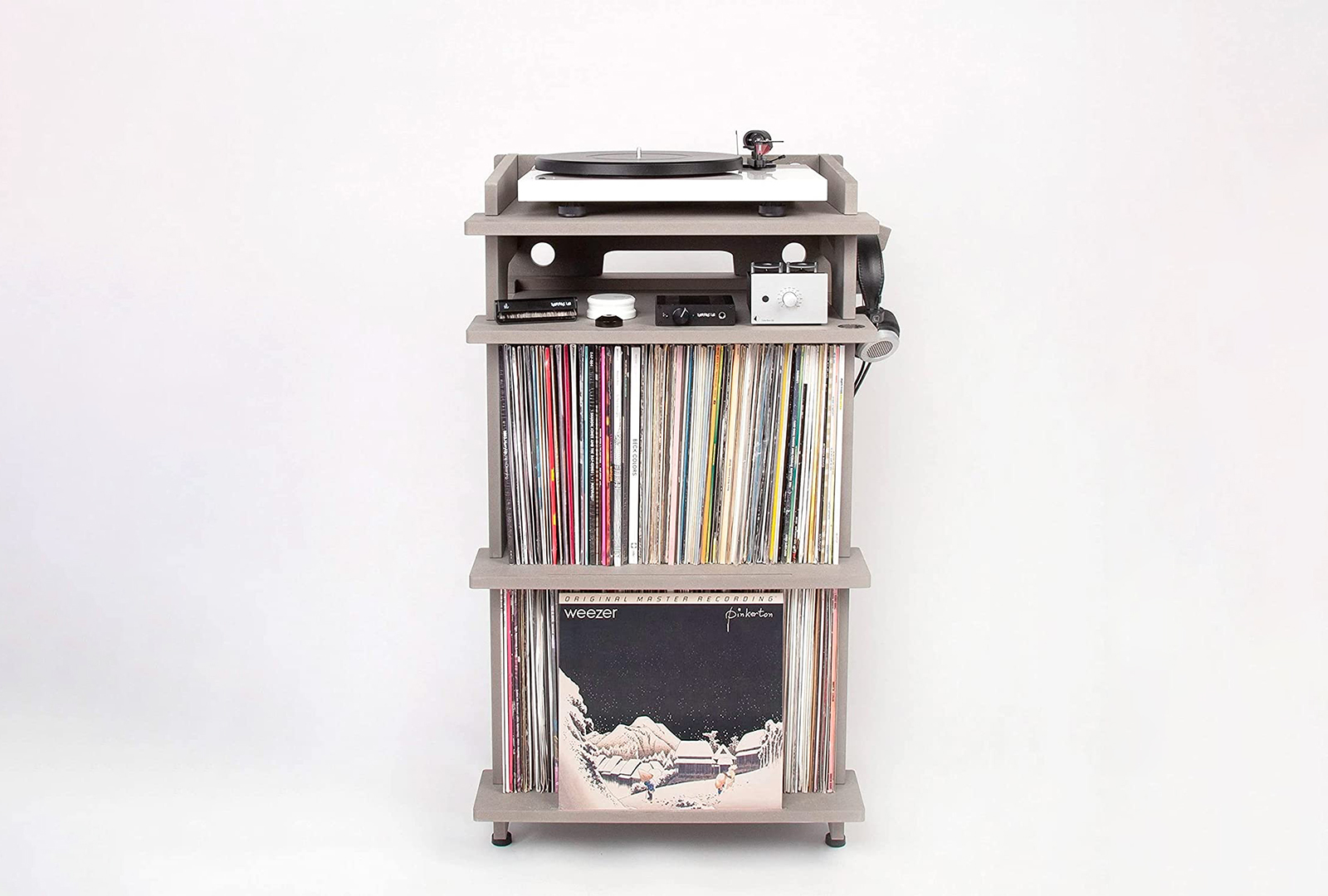 Line Phono Turntable Stand + Vinyl Storage
Price: $399, $499 (Baltic Birch colourway)
Pros: Easy to set up, holds 200 records, shelf for amplifier storage
Cons: Only available for US customers
Verdict: Line Phono's Turntable station, Stand and Vinyl Storage is a brilliant all-in-one station, which has space for your records, turntable, and amplifier. It takes about 10 minutes to set up (having a friend is recommended) and allows you to show off your favorite records with its "now playing" grooves.
Line Phono's ethos echoes the reason for this feature's existence: its creators outgrew their IKEA set-ups, and wanted something different. With a gap in solid vinyl enthusiast options for record storage, they created Line Phono, a brand centered around a well-built, comprehensive turntable station. This turntable station, which features a stand and vinyl storage, has two shelves for up to 200 records as well as space for your turntable to sit atop it, room to accommodate larger amplifiers, holes for cable management, individually height-adjustable feet, and 3 "now playing" grooves to display your favourite LPs.
---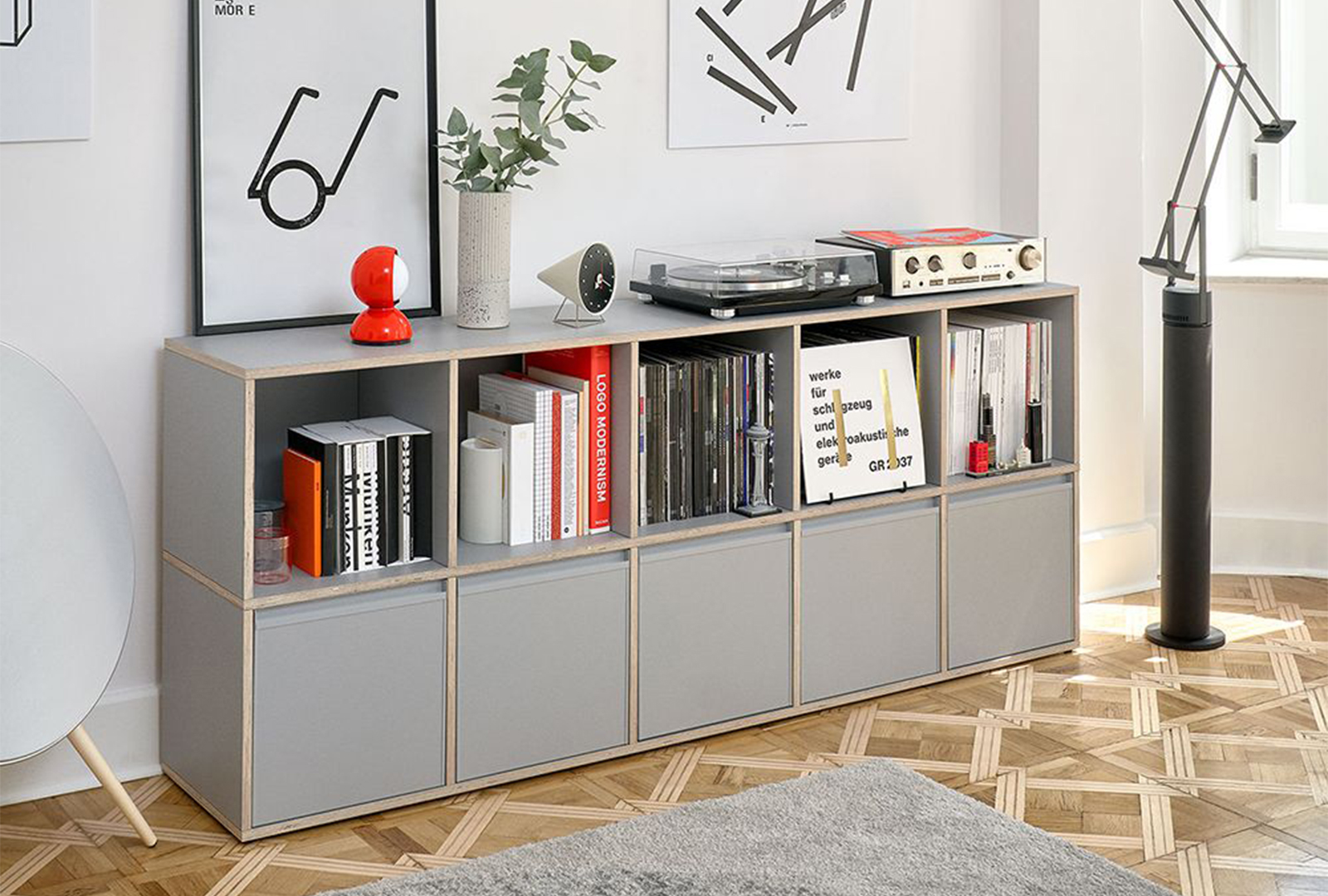 Tylko Vinyl Storage
Price: £500-£1100 – depending on configuration and build materials
Pros: Brilliant storage expansion options, multiple colourways
Cons: Can become pricey when increasing its size
Verdict: Tylko improves on Ikea's Kallax iconic design by giving you the option of increasing size and dimension to your own custom specifications, while boasting a superior build quality that will last decades.
While Tylko's vinyl storage options may bear a resemblance to Kallax, its endlessly customisable range is firmly in a high-quality league of its own. With a myriad of colours, materials, and configurations accessed via Tylko's website, you can change the width and height of each vinyl storage unit – all the way up to 450cm x 333cm. This should be more than enough for even the most enthusiastic of vinyl enthusiasts.
---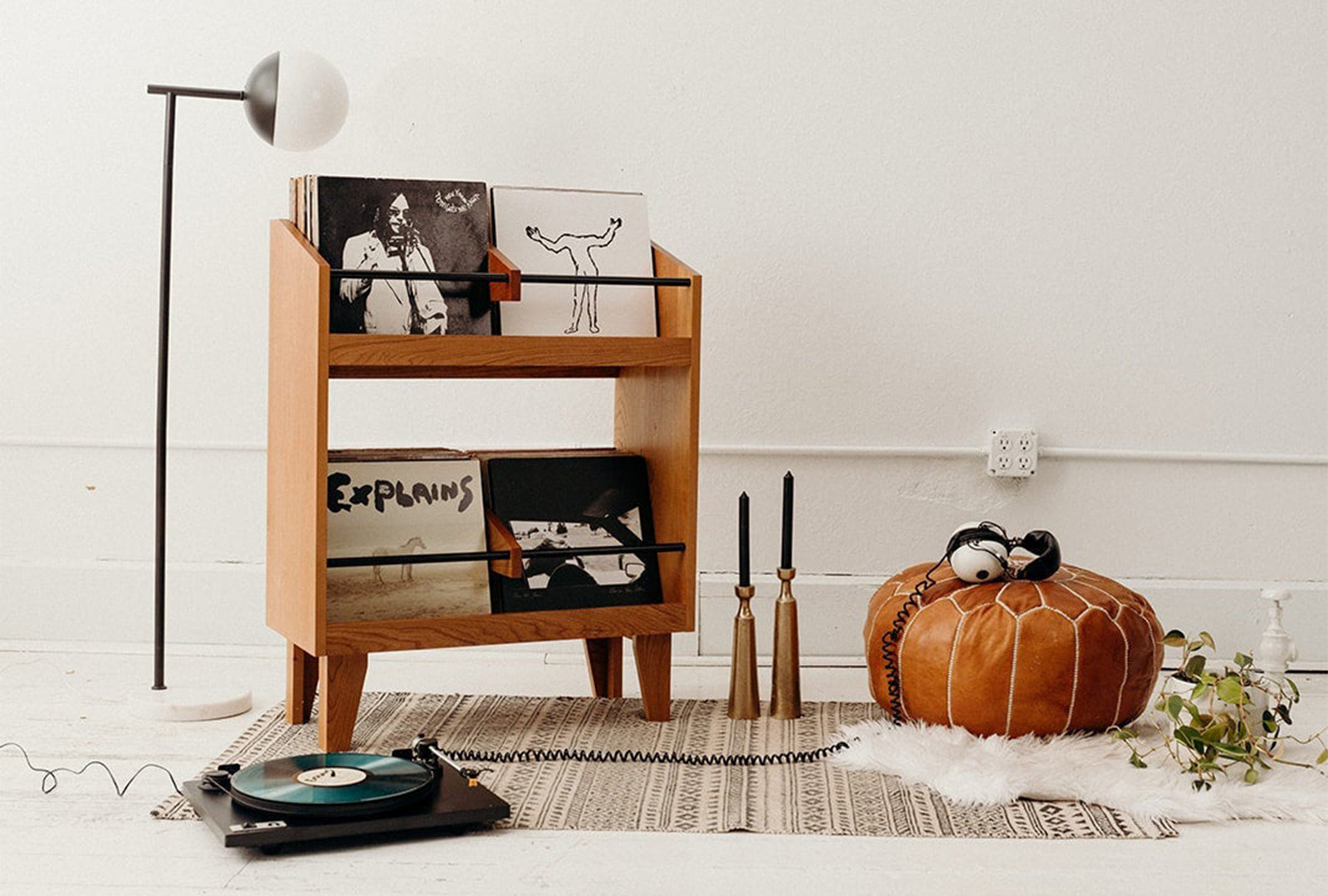 Divider Records Bedford v2 unit
Price: $975
Pros: Well-built, classic design, sturdy wood construction
Cons: Relatively small amount of record space for the price, unsuitable for turntable
Verdict: If you're looking for a record storage option that is sleek and minimal, look no further than Divider Records' Bedford v2 unit.
Hand-built in the USA, Divider Records Bedford v2 unit is made of solid wood, holds 300 records, and boasts a timeless design. The set-up doesn't have too many bells and whistles to it, instead featuring a streamlined aesthetic. It holds all records facing towards you, so you can see all those gorgeous album covers without having to pull records out to inspect them, and offers various stain and crossbar options to fulfil various interior design needs.
---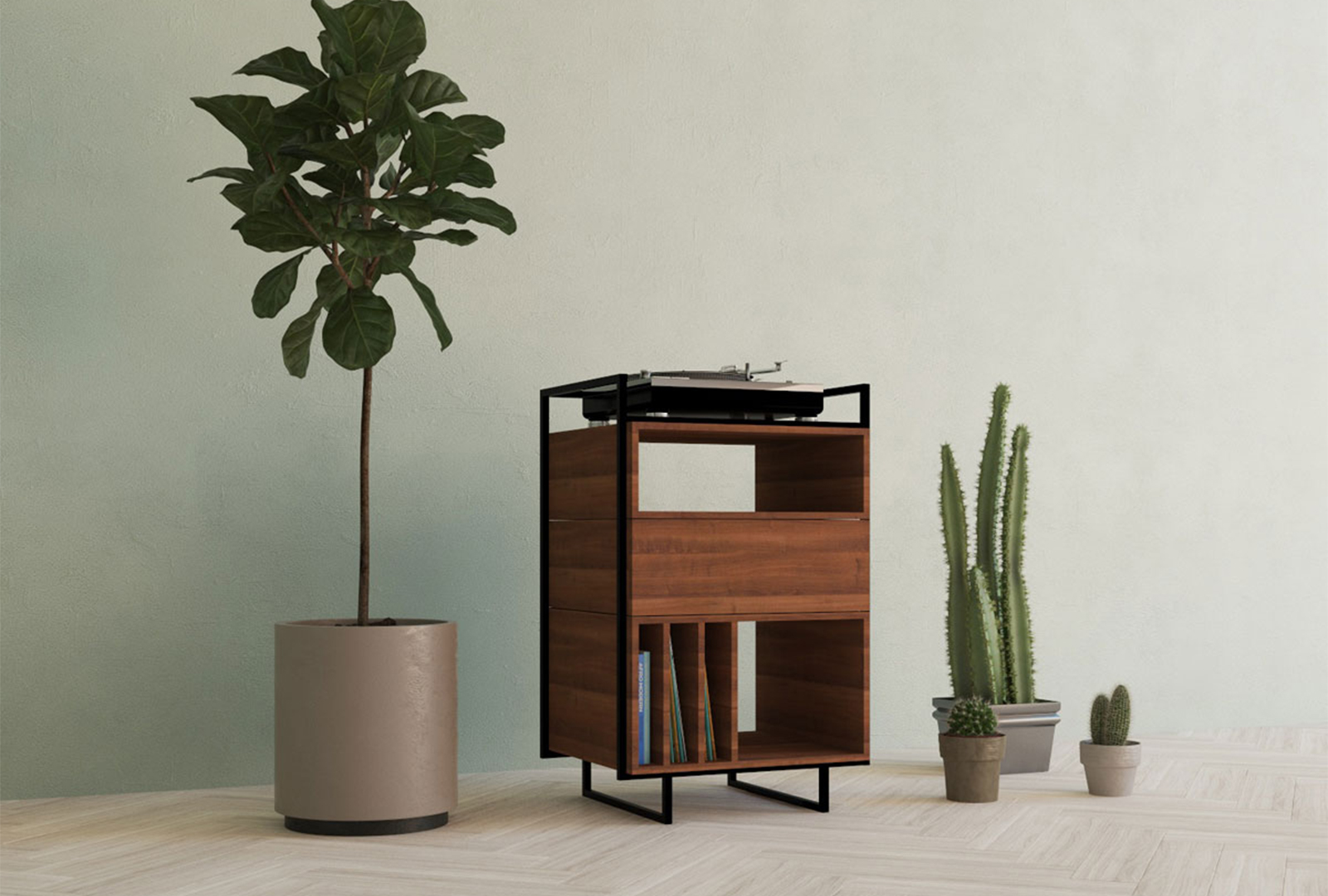 Rik Ten Velden Selectors Box
Price: €1432
Pros: Modular design
Cons: Limited storage for larger collections
Verdict: A piece of furniture with the avid vinyl collector in mind, Selectors Box's modular wooden compartments allows you customise your console to best suit your vinyl and turntable storage needs.
Rik ten Velden created some excellent vinyl, and DJ-friendly, cabinets with their Selectors series. Boasting a modular, compartment design, configurations can be easily customised, o meet whatever needs a collector has. This ethos shines through with their Selectors Box model. While it shares similar features such as a modular design throughout and a super sturdy steel frame, this model is more designed to house a turntable, amplifier, accessories, and your records. It's also a well-constructed, stylish piece of furniture that will blend in with many interior styles.
---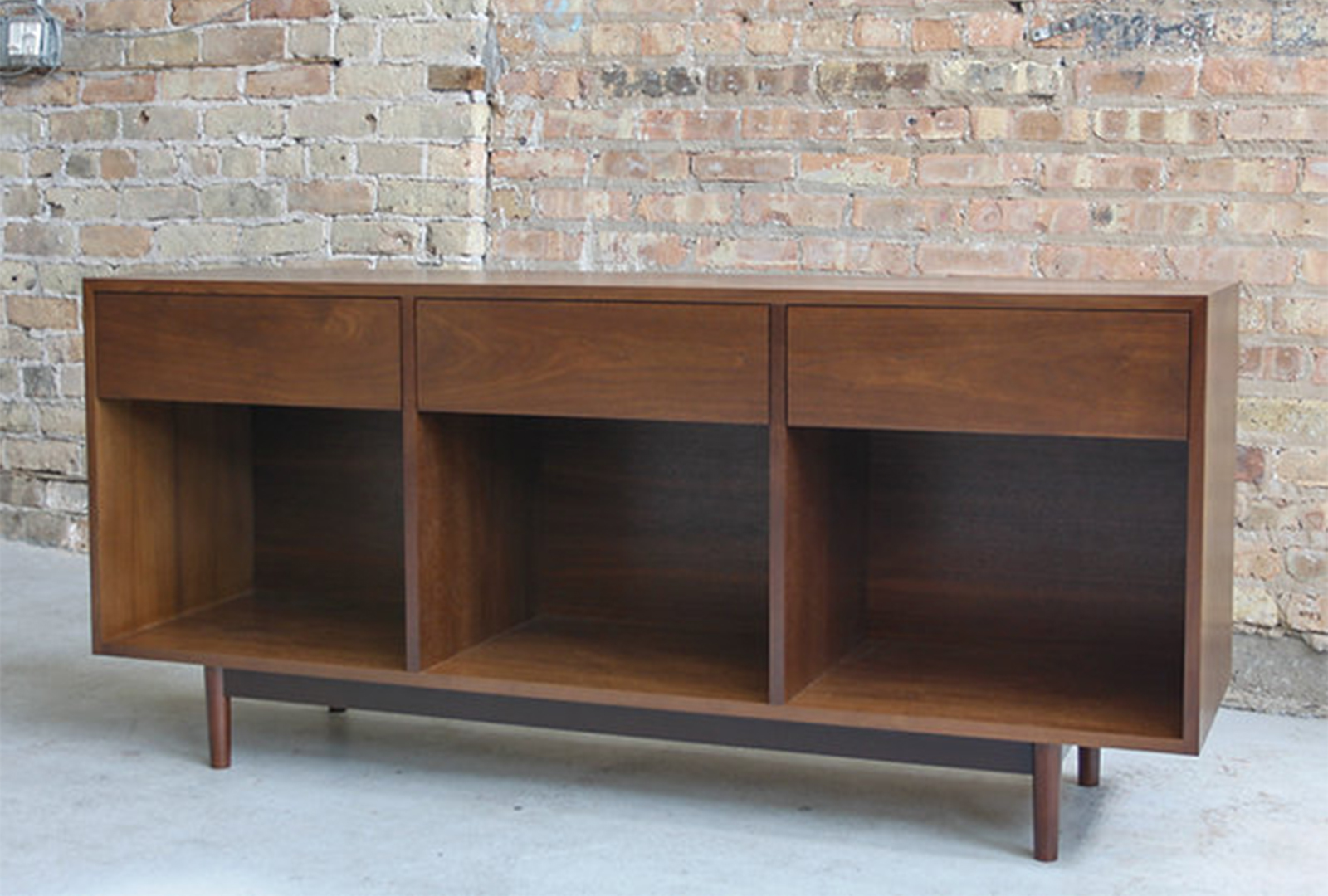 Department Chicago Three Drawer Record Storage Cabinet
Price: $2345.00 (72'', With Drawer Pulls)
Pros: Can store up to 450 Records, pull-out drawers
Cons: US-only, lack of modularity
Verdict: Made to order, high quality, can easily stand as both your go to record + turntable storage solution, has extra pull out drawers for storage and features a fantastic mid century modern design that doesn't feel dated
Department Chicago is a small team of three – Brandon, Katie, and their dog Brona – who saw a gap in the market for viable record storage options that had a designer's eye behind it. The husband and wife duo have nearly a decade of experience working in the furniture industry, and it shows in their Three Drawer Record Storage Cabinet unit. The 72″ model can store up to 450 full-sized LPs, has enough space for your record player, a pair of speakers, or even a DJ set up on the top. Pull-out drawers also allow you to store all your favorite vinyl accessories.
---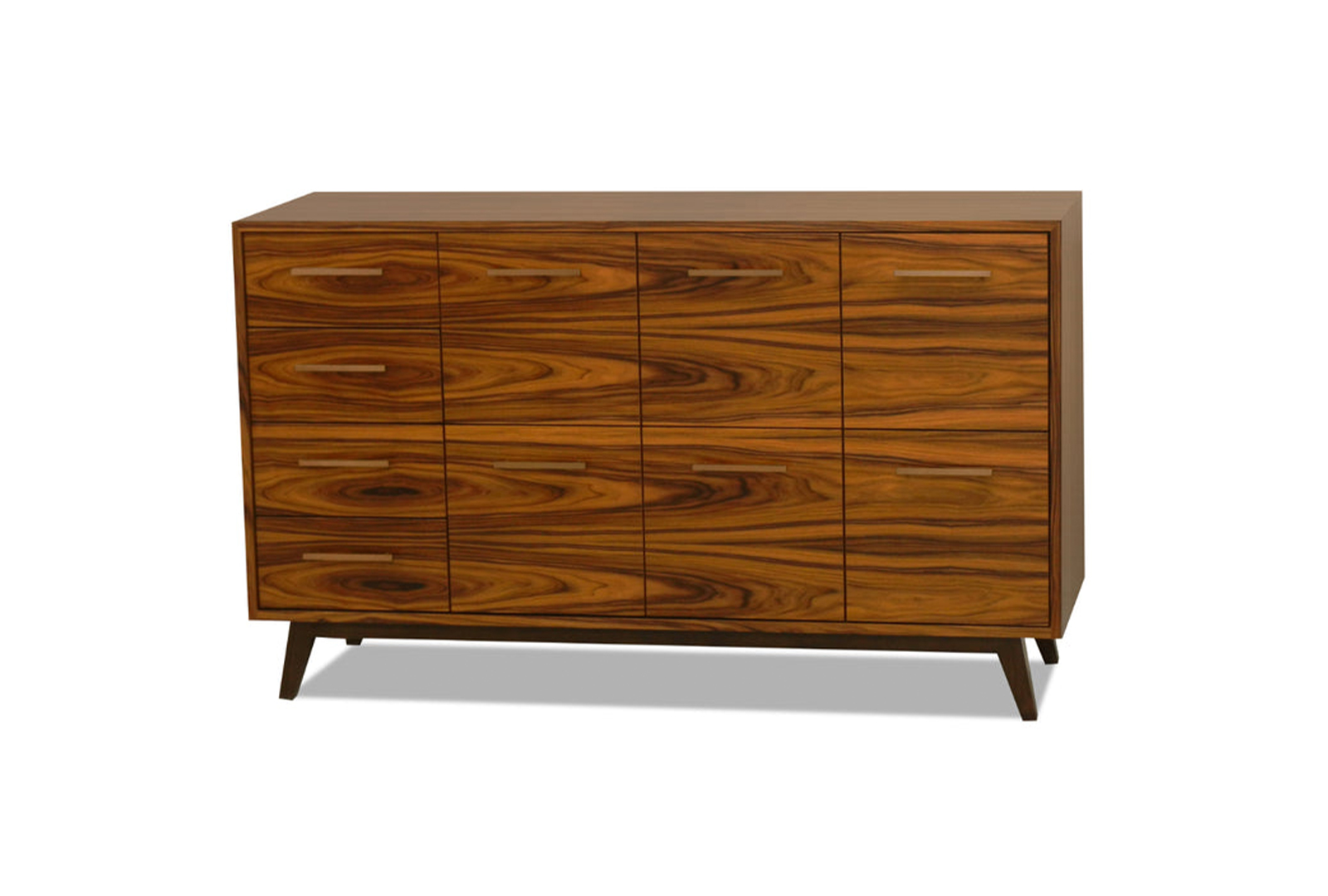 Atocha Design Record Cabinet (Large)
Price: $8700
Pros: Various finishes, can store up to 570 LPs, pull-out drawers
Cons: US-only, high price-point
Verdict: Atocha Design's Record Cabinet is the perfect marriage of design with functionality.
While Atocha Design's Record Cabinet may be on the pricer side, it's the a tidy synthesis of form and function. At a first glance, it may seem like a great hand-crafted piece of furniture but upon further inspection, it actually serves as one of the better record storage options.
While other, open-faced, options leave your records constantly exposed to the dust and dander in your home, this record cabinet has pull out drawers. This means all of your records are safe from the elements within your home. Featuring storage space for over 570 LPs, these soft closing pull-out drawers make sure your records are sorted upright, for easy flipping. The entire cabinet is long enough to place your record player and a pair of bookshelf speakers or and amp on top of.