TREVOR JACKSON
F O R M A T : RTFX
THE VINYL FACORY
SOLD OUT
Out of stock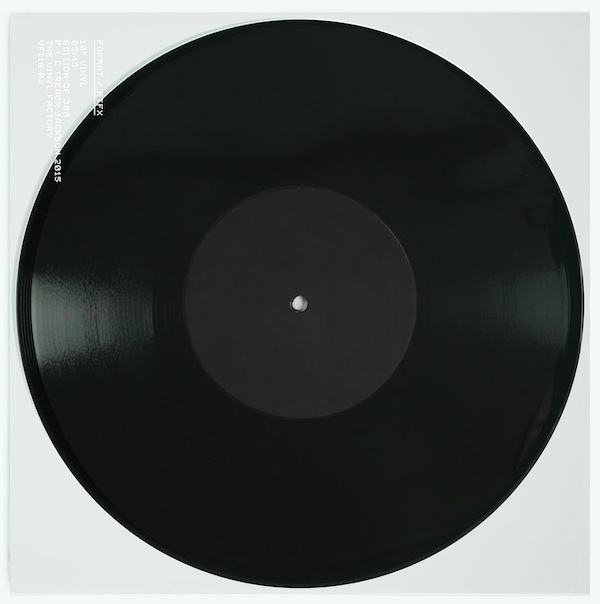 *F O R M A T : 10″ Vinyl
*Track : RTFX
*Limited Edition of 300
*180g heavy-weight vinyl
*Clear sleeve with white screen-printed text
*Each edition comes with a hand-signed and numbered certificate by Trevor Jackson
*All artwork by Trevor Jackson
*Manufactured by The Vinyl Factory
*All editions are signed and numbered.
Acclaimed creative director and music maker Trevor Jackson releases format, a collection of unreleased music & his first album in 14 years.
F O R M A T is no ordinary album release – instead it charts the legacy of the physical music format, in a characteristically beautiful and uncompromising way, paying homage to physically released formats over the decades and also celebrating the artistry, design, as well as the individual experience of playing music via physical methods.
Initially available as a limited edition release, each track is available on : 12″, 10″, 7″ vinyl, cd, mini cd, cassette, usb, mini disc, dat, 8 track and 1/4 reel to reel.
Says Jackson: "Every copy of a physical recording is different, a real object that has its own little story – a one of a kind, personalised by the effort you put in to purchase it, each time you touch it, and the unique ritual that goes along with playing it. this music is the result oF many years of experimentation and evolution, created by physical machines, fed through objects with personality steeped in history. the fact culturally everything's become so convenient and easily accessible whilst in the process totally disposable is an important subject i needed to address with this project."
Over the years, Jackson has built up an archive of over 150 unreleased tracks. for format he has carefully selected, re-edited and remastered tracks from various points through the last 15-year period to create a new body of work. touching on synth and beatbox workouts, proto-house, new wave, on italo and techno, on ambient and psychedelia, the tracks are, the same time, none of these things.