JONAS BURGERT
ZEIT SPATTER (HAND PAINTED LIMITED EDITION)
THE VINYL FACTORY
SOLD OUT
Out of stock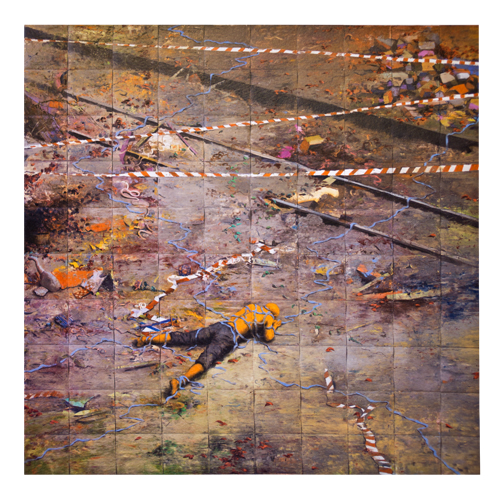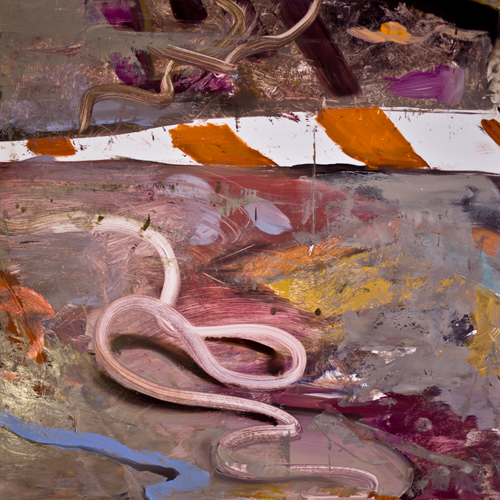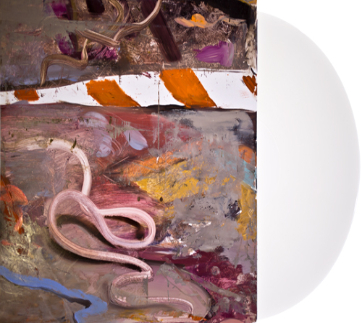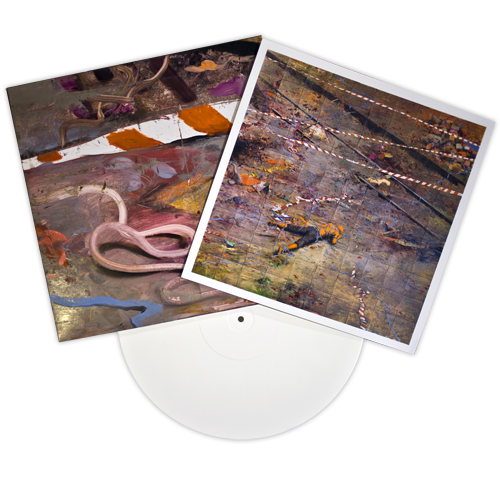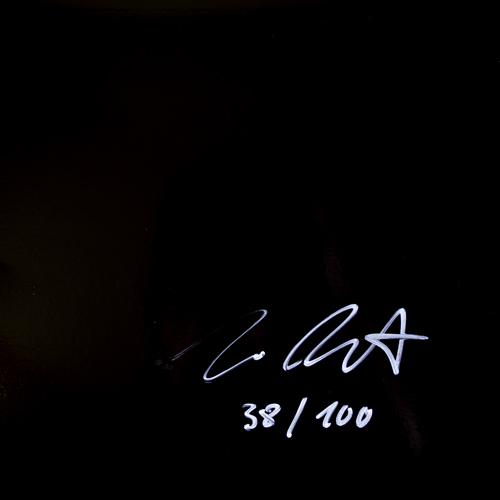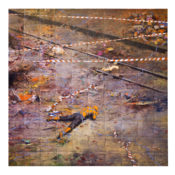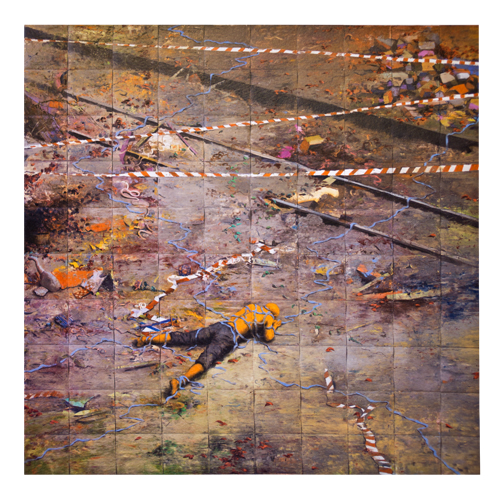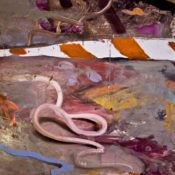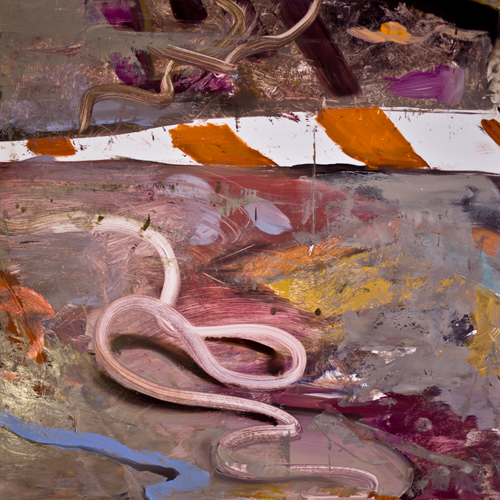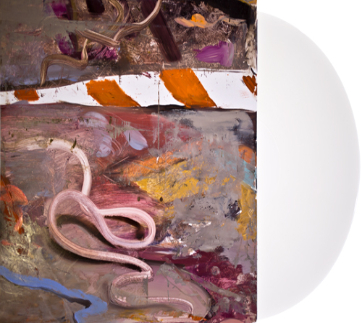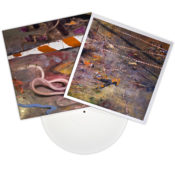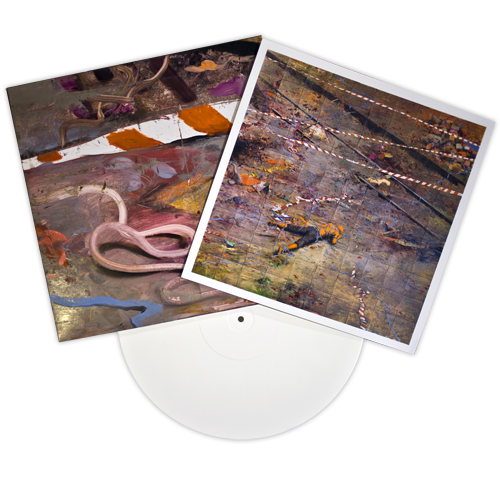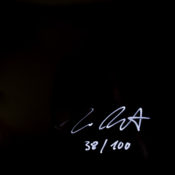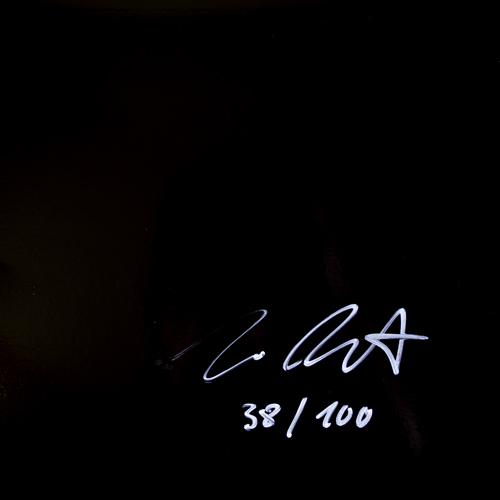 * Hand painted limited edition by Jonas Burgert
* 100 individual sleeves form a large scale original painting
* Hand signed and numbered by the artist
* Bespoke art print of Burgert's complete painting
* Pressed on 180-gram heavyweight white vinyl
Blain|Southern is delighted to present a new body of work by the acclaimed German artist Jonas Burgert – his first solo show in London in over five years.
Entitled STÜCK HIRN BLIND, the exhibition includes his largest painting to date, a monumental work spanning eight metres, together with two figurative sculptures, each modelled from clay, cast in bronze and hand-painted by the artist.
Burgert's paintings present a world in which time is suspended, once removed from our perception of the every-day. In this paradigm – an environment which is in constant flux – human beings are depicted as unique, contorted creatures both familiar and fantastical. Often naked, sometimes splashed with the artist's trademark fluorescent colours – a melange of acid yellows, electric blues, purples, pinks and reds – each appears to be engaged in some form of quest, the purpose of which is not immediately apparent to the viewer or, it seems, to themselves. They appear as dream-like figures, frozen in a moment of time – on the cusp of a revelation or point of awakening. The effect on the viewer is unsettling, creating a climate in which they themselves are drawn into an examination of their own temporal struggles.
Considered within the context of imaginative figurative painting, from Hieronymus Bosch through to portraits by Rembrandt and Van Dyke, Burgert is unparalleled in his contemporary construction of the figurative realm. However, while the paintings are unique spectacles in themselves, they exist only to allow the artist to meditate on the myriad complexities and conflicts of the human psyche. As Burgert says: 'It seems to me that we are human beings that recognise ourselves without actually understanding ourselves. This leads to a grotesque situation: man's battle with his own mirror image, struggling to define himself.'¹
The Vinyl Factory is excited to announce a unique collaboration with Berlin-based artist Jonas Burgert to create his first ever limited art edition vinyl, released in tandem with the unveiling of a new body of work at his forthcoming exhibition STÜCK HIRN BLIND at Blain|Southern Gallery in central London.
Connecting both the artist's past and his present living and working in contemporary Berlin, the release – named zeit später or 'time later' – showcases an experimental classical recording from Burgert's late father, the composer Hans Joachim Burgert, with one of the city's most forward thinking electronic producers and sometime Berghain DJ rRoxymore – providing a slice of the city's club culture with a remix.
This art edition is limited to 100 hand-painted, signed and numbered copies – created by the artist at this studio – with each sleeve revealing one hundredth of a complete (and incredible) large scale Burgert painting. Pressed onto white vinyl, each edition also includes an art print of the painting, and bespoke inner sleeve.
Returning to London for his first solo show in over five years, Jonas Burgert's STÜCK HIRN BLIND will feature a brace of sculptures alongside the series of new painted works – including the aforementioned monumental 8-metre long piece, that continue a line drawn from Hieronymus Bosch through to portraits by Rembrandt and Van Dyke.
This limited edition is SOLD OUT