PLANET MU
20 Years Of Planet Mu
THE VINYL FACTORY / PLANET MU
In stock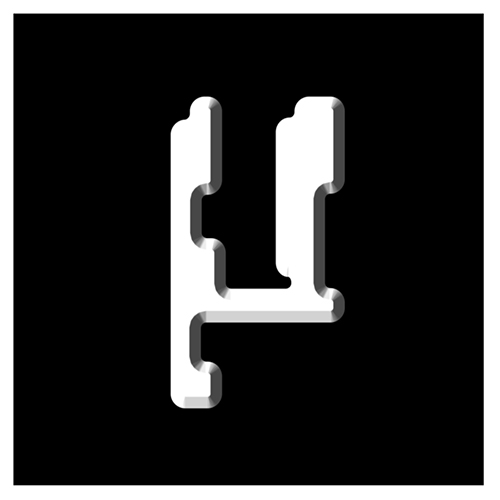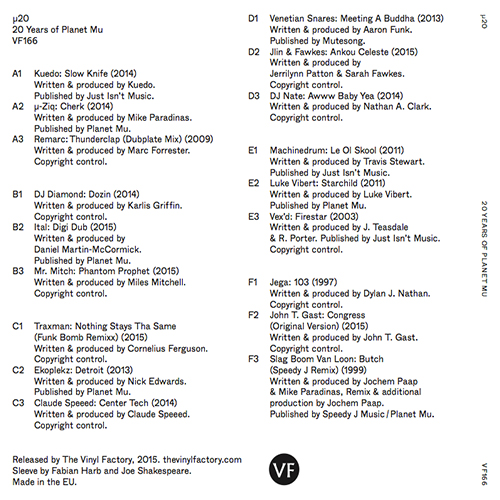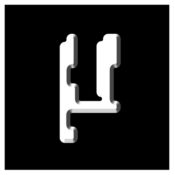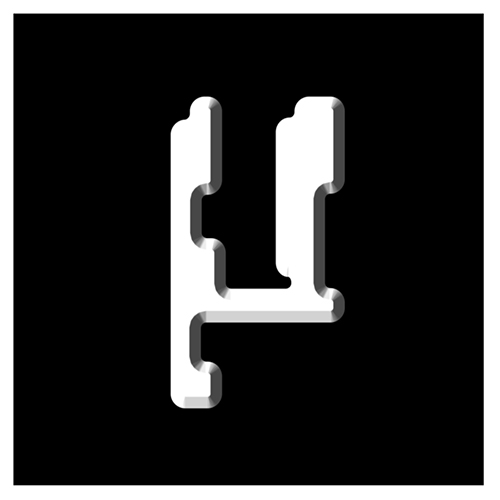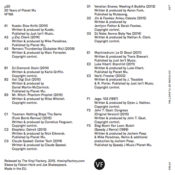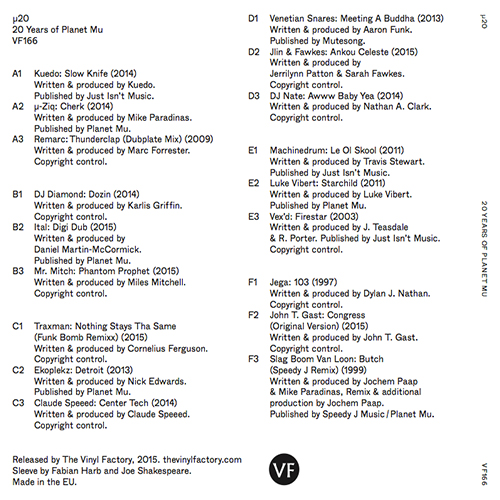 * 18 previously unreleased tracks from Planet Mu
* Pressed on 3 x 180g heavyweight vinyl
* Housed in a bespoke full colour sleeve
* Limited to 1000 copies worldwide
Tracklist:
A1. Kuedo – Slow Knife (2014)
A2. µ-Ziq – Cherk (2014)
A3. Remarc – Thunderclap (Dubplate Mix) (2009)
B1. DJ Diamond – Dozin (2014)
B2. Ital – Digi Dub (2015)
B3 .Mr. Mitch – Phantom Prophet (2015)
C1. Traxman – Nothing Stays Tha Same (Funk Bomb Remixx) (2015)
C2. Ekoplekz – Detroit (2013)
C3. Claude Speeed – Center Tech (2014)
D1. Venetian Snares – Meeting A Buddha (2013)
D2. Jlin & Fawkes – Ankou Celeste (2015)
D3. DJ Nate – Awww Baby Yea (2014)
E1. Machinedrum – Le Ol Skool (2011)
E2. Luke Vibert – Starchild (2011)
E3. Vex'd – Firestar (2003)
F1. Jega – 103 (1997)
F2. John T. Gast – Congress (Original Version) (2015)
F3. Slag Boom Van Loon – Butch (Speedy J Remix) (1999)
For a label that's existed in an orbit of its own, on very independent terms, it's remarkable that Planet Mu has survived two decades. The Vinyl Factory is proud to present the vinyl edition of µ20, 18 old and new unreleased tracks spread across three 12" records.
From IDM and breakcore to dubstep and grime to footwork, Planet Mu has a strong history of connecting the dots between those genres by supporting idiosyncratic artists including Venetian Snares, Kuedo, Machinedrum, Boxcutter, Vex'd, Falty DL, Luke Vibert and Mr. Mitch, to name a few.
Run by Mike Paradinas, who under the name µ-Ziq was one of the first wave of producers pushing the musical envelope in the wake of house and techno's initial burst of inspiration, Planet Mu is an established engine of creativity and enquiry.
µ20 is a living document of that history. A colourful and adventurous ride across the roster, the 20th anniversary compilation features contributions from the current decade as well as some of the old guard, dipping back to the late nineties and early 2000s for a range of noisier, knottier tracks.