Published on
July 21, 2016
Category
Vinyl Factory Events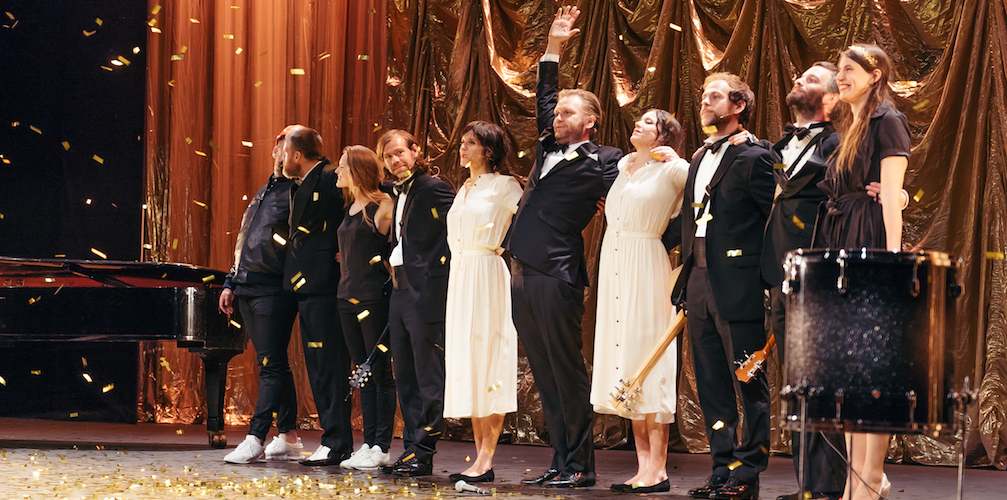 Cigars were smoked and champagne was swilled; Iceland's finest bring the heat for a raucous London showcase.
"With Bel-Air Glamour Records we want to create an enterprise based on dandruff sprinkled artistic fantasies. Working with unique and outrageous talent, making deals in smoked filled backrooms and on golf courses." So begins Ragnar Kjartansson's label manifesto, played out in all its chaotic, charming, virtuoso glory on stage at Barbican theatre in London this week.
With Ragnar as a confidently maladroit compere, the evening flowed with vaudeville flair, each act helping to create a surreal, humorous, often melancholy atmosphere, whether through opera, poetry, percussion or power ballad renditions of Schumann compositions.
Joining the self-styled troubadours – who in previous lives represent the best of Iceland's close-knit music scene, from Sigur Rós to múm – were The National's Aaron and Bryce Dessner, for a hokey double duet with Kristin Anna and her sister that ushered in a glorious finale with the whole gang in full song.
With The Visitors soundtrack out now on vinyl and more in the pipeline, check out a gallery of this most shambolically glamorous, life-affirming record label, below.