Published on
July 21, 2016
Category
News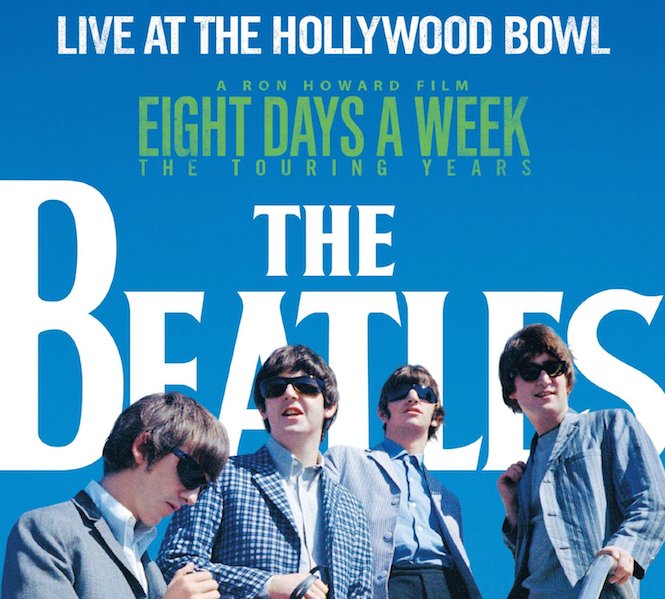 All the chaos of those fabled concerts.
A new album that captures the ebullience of the The Beatles' Hollywood Bowl performances in 1964 and 1965 has been announced. The album is a companion to The Beatles: Eight Days A Week – The Touring Years, a forthcoming documentary by Ron Howard about the band's early career.
While The Beatles: Live At The Hollywood Bowl nods to the long out-of-print, platinum-selling 1977 album, the 2016 album features a different tracklist with four previously unreleased tracks, directly sourced from the original three-track tapes of the concerts. The songs were remixed and mastered at Abbey Road by Giles Martin and engineer Sam Okell.
"Technology has moved on since my father worked on the material all those years ago," Giles said. "Now there's improved clarity, and so the immediacy and visceral excitement can be heard like never before. … What we hear now is the raw energy of four lads playing together to a crowd that loved them. This is the closest you can get to being at the Hollywood Bowl at the height of Beatlemania."
In the liner notes for the 1977 album, George Martin said: "The chaos, I might almost say panic, that reigned at these concerts was unbelievable unless you were there. Only three track recording was possible; The Beatles had no 'fold back' speakers, so they could not hear what they were singing, and the eternal shriek from 17,000 healthy, young lungs made even a jet plane inaudible."
The Beatles: Live At The Hollywood Bowl will be released as a 180g gatefold LP on 18 November. The album includes a 24-page booklet with an essay by noted music journalist David Fricke. There will also be CD and digital versions, available from 9 September. The documentary will premiere in London on 15 September.
Pre-order your vinyl copy here and find the tracklist below.
The Beatles, Live at the Hollywood Bowl
1. "Twist and Shout" [August 30th, 1965]
2. "She's A Woman" [August 30th, 1965]
3. "Dizzy Miss Lizzy" [August 30th, 1965 / August 29th, 1965 – one edit]
4. "Ticket to Ride" [August 29th, 1965]
5. "Can't Buy Me Love" [August 30th, 1965]
6. "Things We Said Today" [August 23rd, 1964]
7. "Roll Over Beethoven" [August 23rd, 1964]
8. "Boys" [August 23rd, 1964]
9. "A Hard Day's Night" [August 30th, 1965]
10. "Help!" [August 29th, 1965]
11. "All My Loving" [August 23rd, 1964]
12. "She Loves You" [August 23rd, 1964]
13. "Long Tall Sally" [August 23rd, 1964]
14. "You Can't Do That" [August 23rd, 1964] *
15. "I Want To Hold Your Hand" [August 23rd, 1964] *
16. "Everybody's Trying to Be My Baby" [August 30th, 1965] *
17. "Baby's In Black" [August 30th, 1965] *
* previously unreleased