Published on
April 4, 2016
Category
Vinyl Factory Events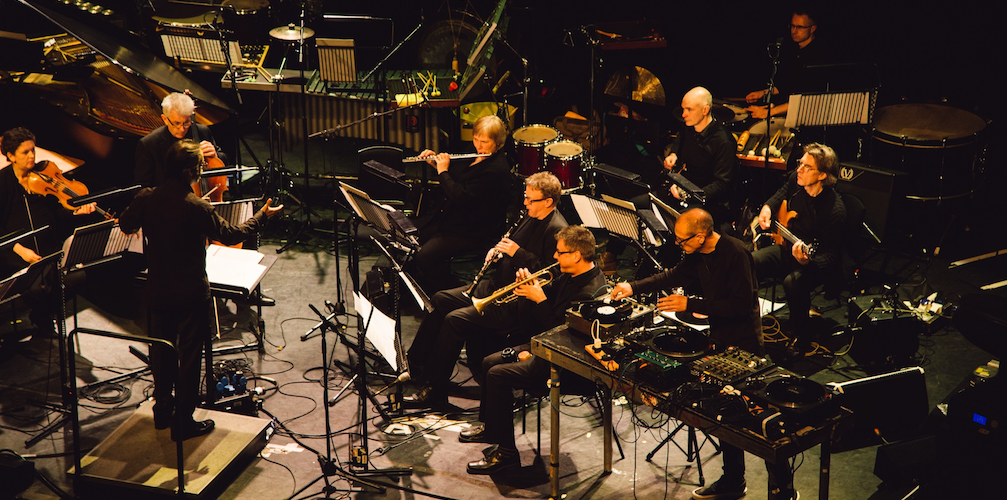 Originally recorded in NYC in 1982, Groove is given a symphonic rework.
When Christian Marclay put together his experimental turntable piece Groove in the creative cauldron of New York's downtown no wave scene back in the early '80s, it's unlikely he would have imagined performing an orchestral adaptation of the piece in a cavernous former (and sadly soon to be demolished) theatre over thirty years later.
Created by densely layering multiple copies of the same 7″ single and applying stickers directly onto the groove causing the needle to skip and repeat, Marclay used techniques that prefigured hip hop sample culture and experimental turntablism by some years, but it wasn't until 2013 that Groove was finally released on vinyl by The Vinyl Factory.
See photos from the performance in this gallery:
Previously described as "an ambient classic", Marclay performed Groove with three copies of the record, using his Technics and modified turntables alongside an ensemble from London Sinfonietta who, under the direction of Ivan Volkov accompanied Marclay reimagined the drone composition as a skittish, livewire piece of atonal sonics and complex rhythmic abstractions.
Performed as part of Ivan Volkov's Mix at The Coronet Theatre in London, you can see photos from the show below and find out more about The Vinyl Factory's release of Groove here.
Last year, Marclay continued that collaboration to develop the world's first mobile pressing plant, the VF Press, which was installed at his White Cube to press recordings of performances live in the gallery.
Photos by Michael Wilkin