Published on
November 13, 2019
Category
Features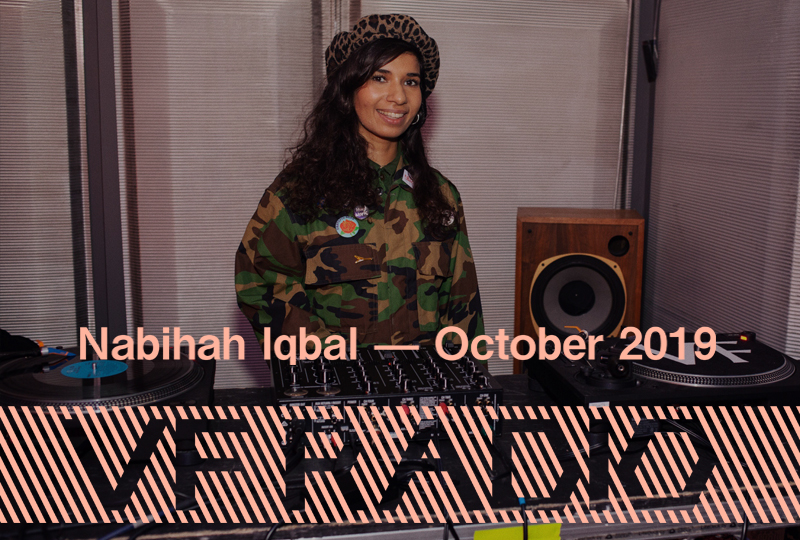 From Studio One to Strictly Rhythm.
The Vinyl Factory Radio is a new audio platform on VF, dedicated to sharing and discovering records from around the world through mixes, interviews and podcasts.
Initially launched within Chicago artist Theaster Gates' Black Image Corporation exhibition at 180 The Strand, this programming explores cross-cultural, artistic collaborations between the Chicago and the music scene in London.
Nabihah Iqbal is a London-based DJ, musician and radio host.
Whether it's North Indian ragas, Arabic makams, or Japanese ambient modes, Iqbal has built a reputation for her wide-reaching selections, honed as an ethnomusicologist and explored through the field recordings and soundscapes of her regular NTS Radio show.
Formerly known as Throwing Shade, she released her debut album Weighing of the Heart under her own name on Ninja Tune in 2017. Drawing on post-punk, new wave and electronic influences, the album provided further snapshot of her open-minded musical universe.
As we discovered in our Crate Diggers interview, Iqbal's record collection is something of a treasure trove, although it is by no means obscure. Iqbal is as comfortable waxing lyrical about the charms of rare afro-funk as she is obsessing over Jimi Hendrix or Prince.
Making her VF Radio debut with an hour of funk, soul, reggae and electronic jams, this is Nabihah Iqbal.
Tracklist:
1. Earth Wind and Fire – Drum Song [Columbia]
2. Jimi Hendrix – Pali Gap [Reprise Records]
3. Conrad Brookes – Lovebird [Unknown]
4. Steve Kahn – Daily Bulls [CBS]
5. Sakhile – Sakhile [Jive Afrika]
6. Santana and John McLaughlin – Let Us Go Into The House Of The Lord
7. John Martyn – Solid Air [Island]
8. Jon Luc Ponty – Good Guys, Bad Guys [Atlantic Records]
9. Lennie Hibbert – More Creation [Studio One]
10. The Underground Solution – Luv Dancing [Strictly Rhythm]
11. Errol Dunkley – Movie Starr [African Museum]
12. Michael Shrieve – Bella Coola [Novus]