Published on
November 30, 2017
Category
Features
Jimi Hendrix, Prince and Michael Jackson mingle with rare records from around the world in Nabihah Iqbal's singular collection.
Nabihah Iqbal is the artist formerly known as Throwing Shade, and although she has recorded all the parts on her debut album herself, and holds Prince in high esteem, the comparisons with the Purple One end there.
For many, the entry point for Iqbal's music has been the regular NTS show she hosts, drawing on her training as an ethnomusicologist to share sonic journeys to countries around the world, based around rare recordings taken from her university's vast sound archive. Whether it's North Indian ragas or Arabic makams, rare afro-funk or Japanese ambient modes, her record collection reflects those journeys.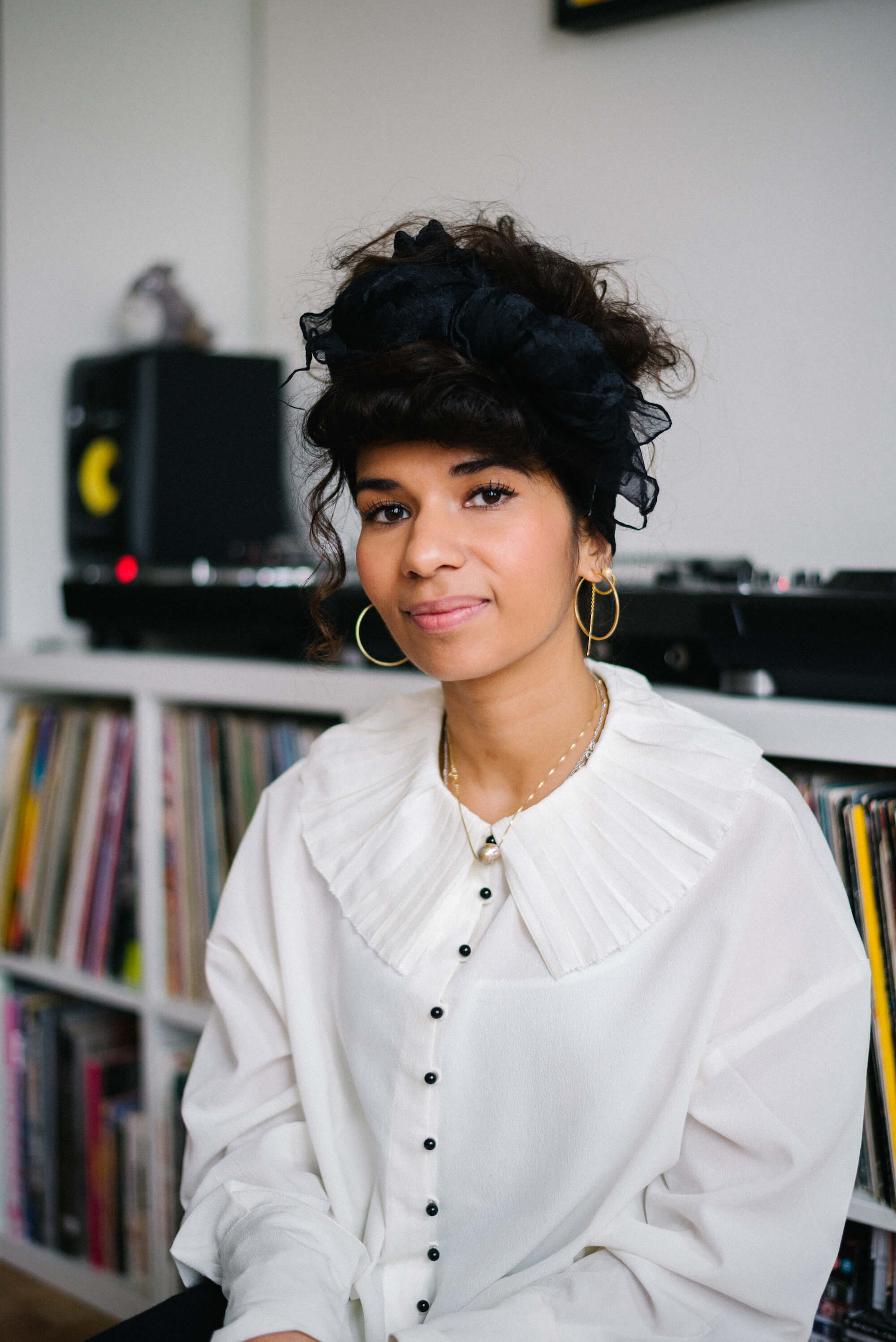 But Iqbal is no exclusivist, and her love for music from around the world stems first and foremost from her own curiosity to learn and impart that knowledge. "You might think you're only into a certain type of music," she says, "but if you let your mind wander, then you can gain so much more from it."
It's a more intuitive approach that has influenced Iqbal in recording her debut album Weighing of the Heart, which is out this week on Ninja Tune. A sum of her own musical loves, from ska and post-punk, grunge and '80s pop to the trinity of Hendrix, Prince and Michael Jackson, Iqbal allowed these to coalesce unconsciously, and was almost surprised to hear how the record ended up sounding.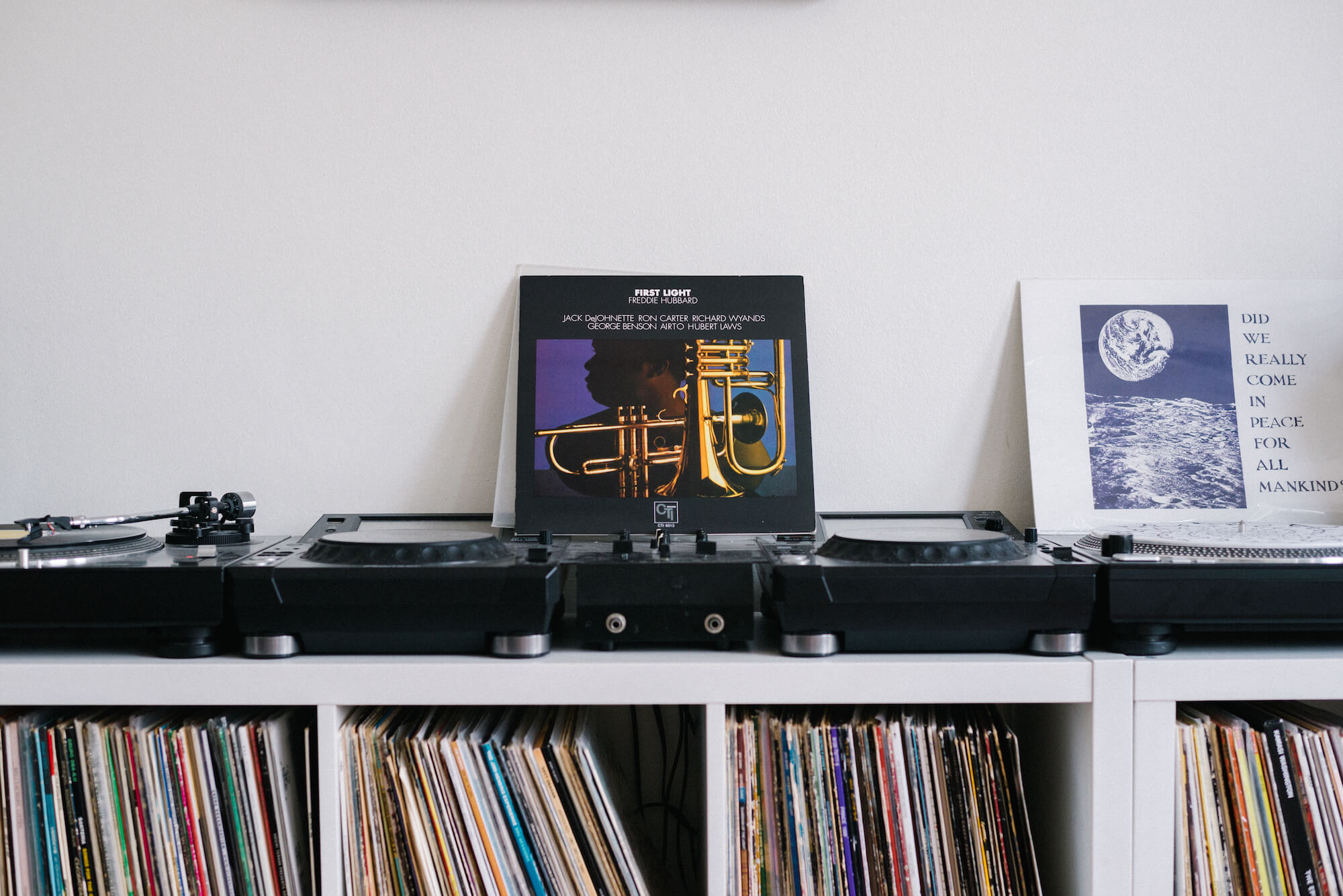 ---
The first record you put on is Freddie Hubbard's First Light. How did you come across that?
Not that long ago, four years ago, I was at my boyfriend's house for Christmas and was going through his records, and he put this on in the background. It was one of those records that when you hear it, it makes you stop what you're doing, and I was like "what is this?" And he actually gave me the record.
I've loved jazz since I was twelve. I used to go to music school every Saturday, and played the flute in the jazz band. We had this really cool jazz teacher, I think he had polio as a kid, so he didn't have arms, but he played the trombone and strapped this prosthetic thing on to play it, and was so good. He pushed all of us to improvise.
Did you continue with jazz through school?
When I was thirteen I turned into a grunger, with really baggy trousers and a Slipknot hoodie. I started getting into more alternative stuff, all the bands that no-one else was into at school. As a teenager I used to go out in Camden, and go to gigs at the Underworld. Every weekend there would be a ska punk show, and my favourite band then was Capdown. I can't imagine ever going into a mosh-pit ever again, but that's where I was, crowd-surfing and stuff.
Around sixteen or seventeen I started listening to older bands like The Smiths and The Cure. I guess musical tastes were changing with bands like Rapture, who were really influenced by '80s synth stuff, so I think that was my gateway into that world.
It sounds like your new album is going back to that era too?
Yeah totally, just without me really thinking about it. I was quite surprised when I started hearing what it was sounding like, because I was really conscious of not thinking about what I was making. It sounds like it was influenced by all the stuff I was listening to as a teenager, because I think that has the biggest impact on you.
Having listened to your NTS show quite a bit, it sounds like your university experience was quite influential in your musical direction?
Totally, being open-minded. If you like music, you might think you're only into a certain thing, but if you let your mind wander, then you can gain so much from it. That's the journey I went on through uni, and it forms the basis of my NTS show, because I was lucky enough to do ethnomusicology there where the music archive is insane. I was just burning all the CDs, because there's so much that you just can't find. Sometimes they'll pop up on Discogs but they're really expensive, so I just want to share all the music that I discovered.
Are there any areas that you're particularly interested in?
My main performance instrument was the sitar, so I got really into North Indian classical music and philosophy, and then the gamelan, which is Indonesian percussion.
What were the philosophical elements of North Indian sitar music?
It just makes you approach music in a different way. I grew up learning music and surrounded by it, but then with Indian classical music and so many other traditions, they're oral traditions so there is no sheet music, nothing is ever written down. You have to interact with it in a different way, you have to feel it more. And the scales aren't just major and minor, or happy / sad. In Indian music the scales are called ragas and every raga is specific to a certain time of day, it's quite nuanced. Sometimes it will be "the moment at the end of the day before everything becomes pitch black", and they're also associated with different emotions. It goes back thousands of years.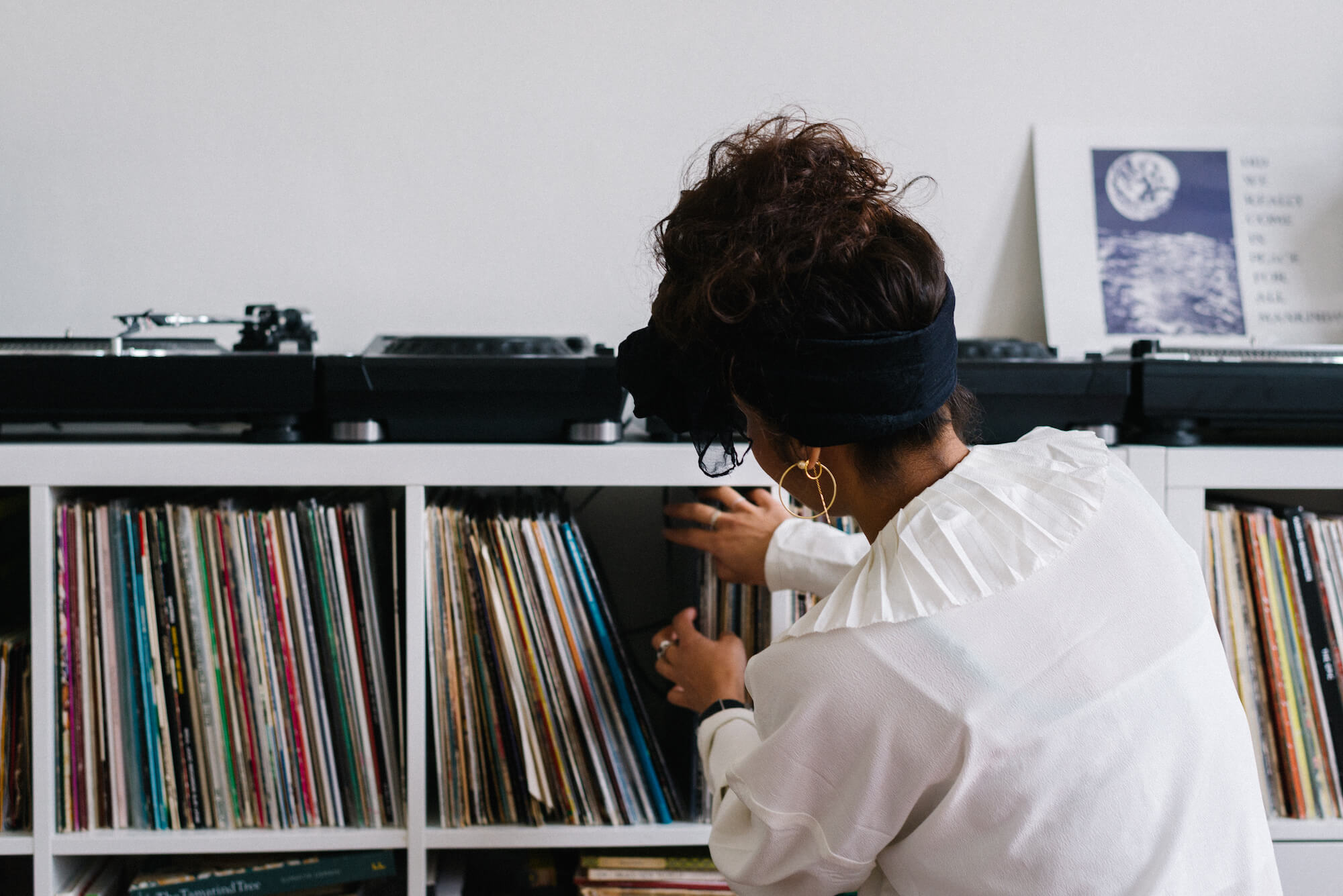 Is this music that you've gone back to try and discover on record too?
I've got quite a lot of stuff from all over the world. Have you heard of Davy Graham?
Yeah, he's a UK folk guitarist from the '60s, right?
When I was at uni I was really into folk stuff, and I discovered Davy Graham, who is fantastic. He is still quite unknown even though he was prolific in his playing. He was mixed race as well. I think his mum was from French Guyana, but he was ginger and light mixed race. He was also really influenced by Arabic and Indian music and you can hear it on his track 'Graveyard' in particular.
Do you think your own heritage was influential in the decision to change your artist name from Throwing Shade back to Nabihah Iqbal?
When I picked Throwing Shade it was probably 2009, I was DJing for fun at uni and never really thought I'd be doing music full time, I just liked how I sounded.
I guess releasing your debut album is the perfect moment for that change?
I've been thinking about it for ages, and it was now or never really, because if I had waited after this album release it would just have got too confusing. It feels more natural to use my real name, and I feel like I've grown out of Throwing Shade, which is quite specific to the time and place. And also thinking more about ideas of representation, I get a lot of messages from people, especially ethnic minority people, saying it's great to see what I'm doing because there aren't a lot of people like me doing what I'm doing. It's true, there are not a lot of other British Asian Pakistani females doing what I'm doing.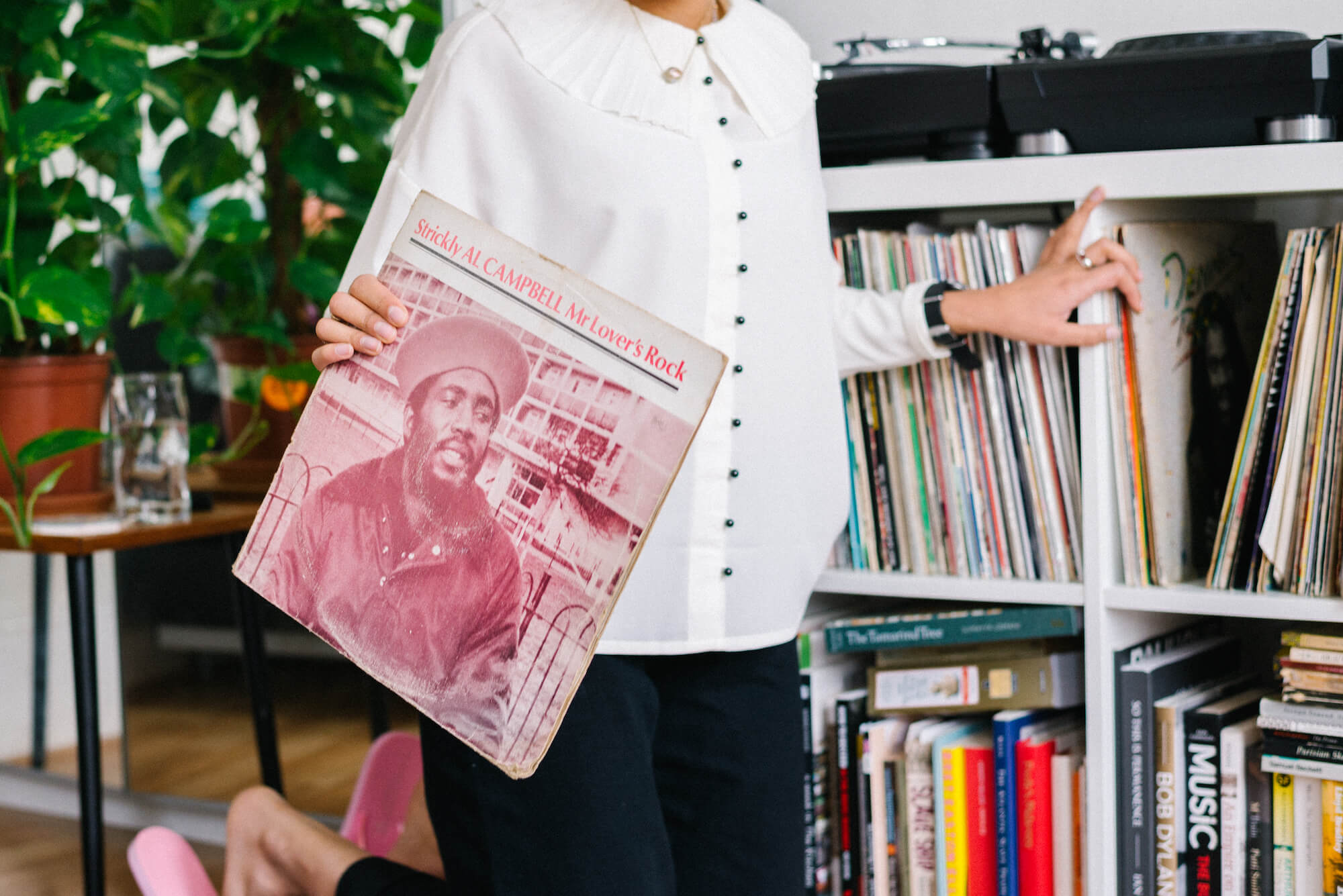 Do you think that's because there have been fewer opportunities and fewer role models?
That's probably the main reason why. And that's what I was thinking with the name change. I was thinking I couldn't do it because my name is too ethnic and I was getting all the weird feelings I used to get when I was at school and the teacher would get to your name, and you just know they're going to say it wrong. As a kid that really affects you because you're embarrassed. I was getting the same pangs of these feelings now, which was strange because I thought I was a strong person. I just had to take a step out of myself and think that's a stupid way to think, this is my name and I should be able to just use it.
Do you go out digging regularly?
This last week I had a bit of a binge. Usually when I buy records I'll buy quite a few in one go, and you know, you get in the zone! I always try and buy something when I'm travelling too. I just discovered this record store that's literally just next to my house, I don't even know what it's called. I thought it sold weird Beatles collectables, but it's actually got loads of vinyl. They're always like, "help yourself to some 7″s on the way out!"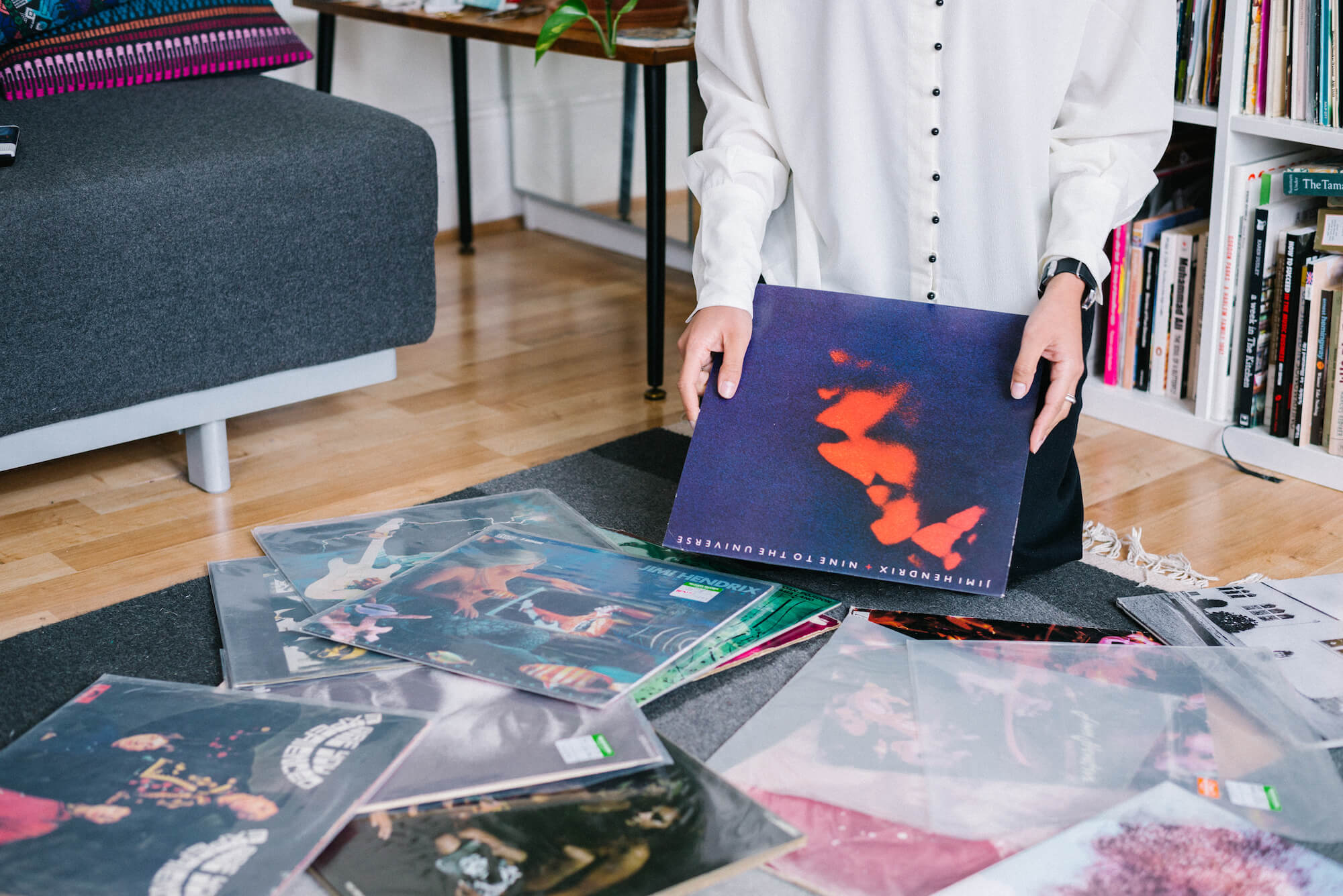 Jimi Hendrix feels pretty present here! Want to show us a few of his records?
I've got an early version of Electric Ladyland, which I spent a lot of money on. I think this is either a first or second pressing, but there's some dispute because people say the one with the white writing is not the first, it's got blue writing, but some people say the other way around. It's not the most valuable record I have here, and I think I got it for cheaper than it's worth.
So what is the most valuable one?
This one, the last one on Discogs I think sold for $1000. But it's funny because the most valuable ones I have were given to me as gifts. It's a Nigerian afro-beat record, and I played it once at this party at my studio and De La Soul turned up. I was like 'What the hell!?' I was so nervous because Maseo was DJing after me, but he came over to ask for the track ID when I played this. It's always good when you see people Shazaming or coming over to ask you! It's called Destruction, the band are called Nkengas. I don't take this one out any more!
This one's also really expensive. It's Japanese, Inoyama Land, this is worth about £500.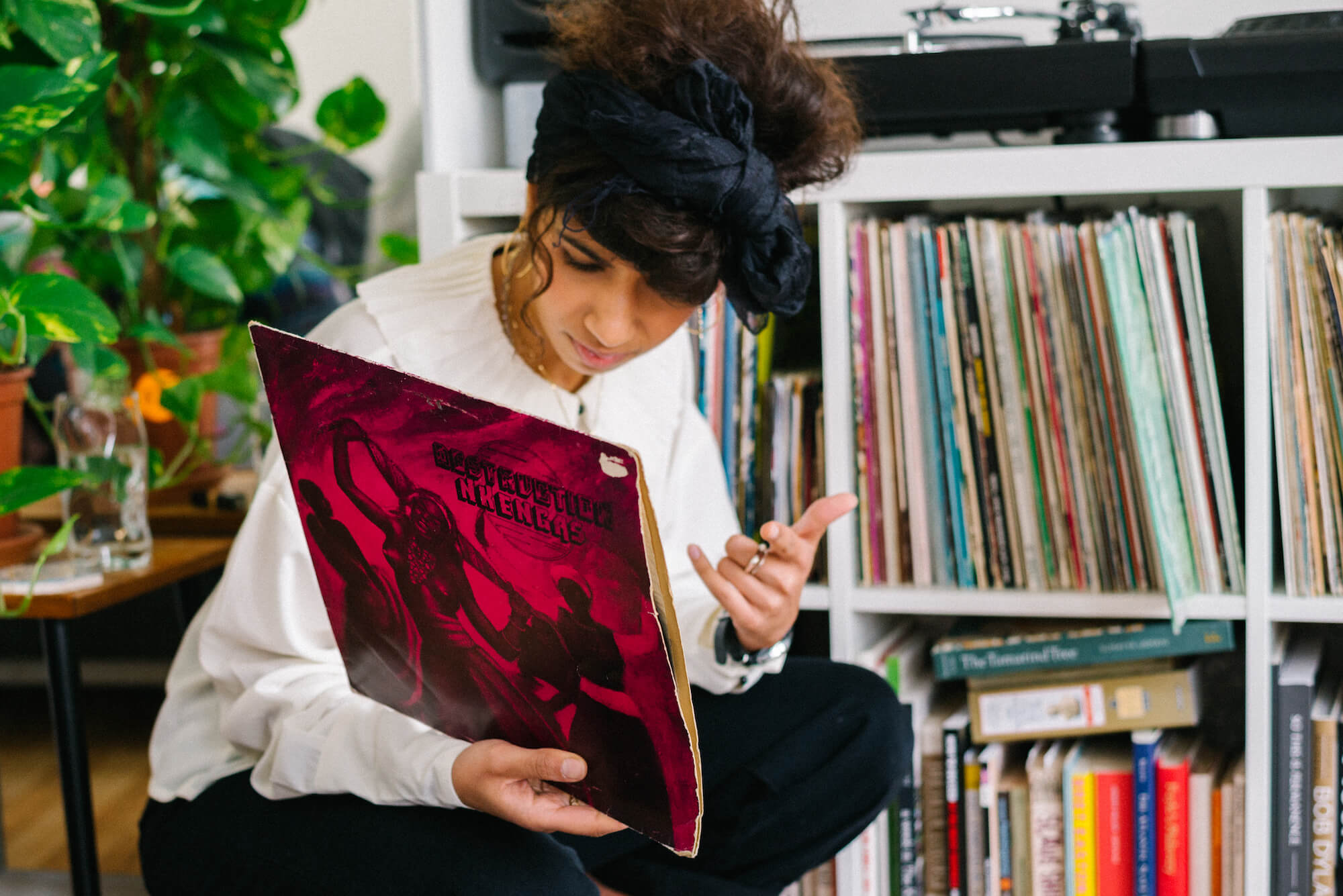 This does give a bit of a sense of how broad your collection is…
I found this Jimi Hendrix record in that shop round the corner I was telling you about and it's so different. He recorded it just before he died and it's more going into that jazz funk, Herbie Hancock direction.
Perhaps a nod to that Miles Davis collaboration that never happened.
I did a Jimi Hendrix special on NTS recently. Everyone was like "what is this!?" There are so many other versions, live things, sessions. There's also the BBC Maida Vale studios which are round the corner. I literally go down the same road every day that I know Jimi Hendrix walked down. It's mad.
Do you get into a different head space when you're planning a show from when you're making tracks?
Yeah definitely. Making music you can't force it and you can't plan it. Basically for the last year and a half when I was working on the album, sometimes you get good ideas and sometimes you don't. And then towards the end it was just so intense, getting up really early, going in at 6 in the morning and staying until late and doing the same thing every day.
Before this, when ever I read interviews with artists about their album making process there were always anecdotes which were similar, about people shutting themselves off. When I started working on the record it didn't really feel like that to me at all, but then as I went on, I understood because I got into that same weird zone. I didn't do anything else. I didn't see my family, I didn't see my boyfriend, I just couldn't do it.
You also play all the instruments right?
Yeah, I did everything on it. But I wanted it to be like that.
Sort of a Prince approach… He's pretty present in here too. He's up there next to Jimi Hendrix and Michael Jackson.
Yeah, and all of them died alone in mysterious circumstances. Isn't that weird?
A conspiracy theory…?
Yeah although I don't like using the word conspiracy, because it seems to undermine what you're saying.
Michael Jackson is my ultimate music person ever. You've not seen my studio, but there's a shrine, and a whole wall covered in MJ pictures. I don't even know what you can say to really encapsulate what he is because he's too much of a genius. People making music are still referencing Michael Jackson now; he's so influential, and his music still sounds so fresh.
And I love Prince too. They're such different as artists though, because Michael Jackson really didn't release many albums and between each album there's maybe three years or so, but then when it comes out, every single song is a banger, and that's so hard to achieve. There are so many hits on every record. And Prince, from like 1978 onwards basically released an album every year, as well as writing stuff for other people.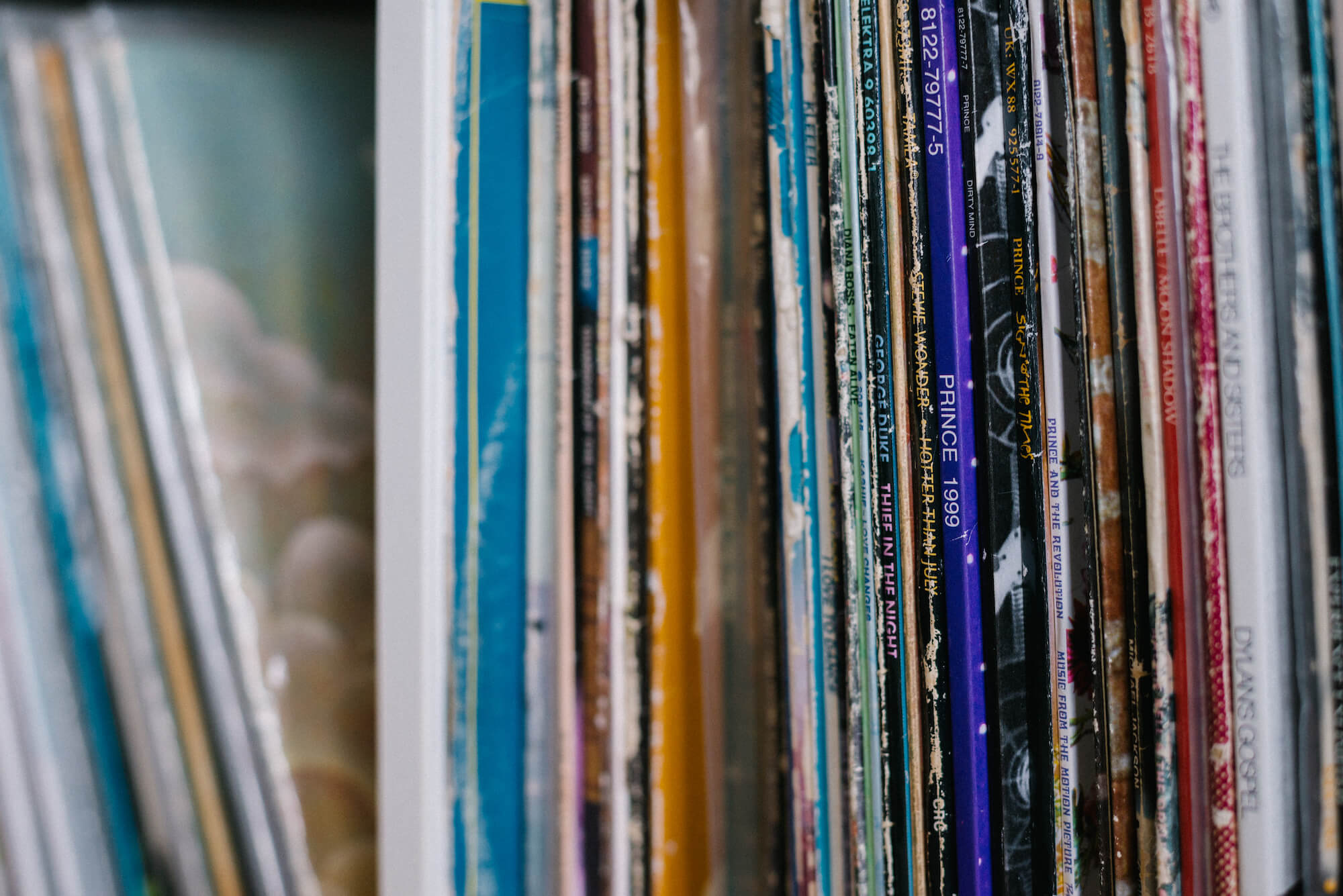 Safe to say there are some in there that are not bangers. I think it's interesting that, with all the world of music at your fingertips, DJs can get a bit sidetracked into thinking the rarer or the lesser known thing is more interesting, but to be able to take a step back and listen to Prince or MJ and understand how they can do what they do for such a long time and speak to so many people just puts it on a different level to the more obscure stuff.
I don't think that one is necessarily better than the other. Some people will just shun stuff because it's mainstream or because it's too popular, but that's not a good way to think about it. Even when I saw Justin Bieber this summer, it was nuts. I had to take my younger brother and sister…. But he's got some pretty good tunes and he's also a really talented musician.
As a DJ, how aware are you of the audience when moulding your set?
I always play this in the middle of my set, when everyone's really hyped, just to break things up. It's Dylan's Gospel, basically gospel cover versions of Bob Dylan. It was reissued by Light In The Attic but you can't get it anymore. Their version of 'All Along The Watchtower' is wicked. Basically Bob Dylan is one of my musical obsessions as well. Everyone goes off, although mainly guys actually.
Do you notice a difference in the way guys and girls react to tracks?
Yeah, totally. If you make the girls dance then you'll make the guys dance, so that's always a good approach. I played in Shanghai recently and I played for three hours, and in the last 20 minutes I started playing a lot of post-punk from the '80s, The Smiths, Gang Of Four and stuff and all the guys just go mad. 'Damaged Goods' by Gang Of Four is such a tune but you never hear it that loud in that context. When you drop it, people go crazy.
So what do you play for the girls?
I don't know, it depends on the crowd doesn't it? If it's a younger crowd, then playing some cool remixes of Beyoncé or Rihanna. I like that too, I like playing different kinds of stuff. Once you start playing at a party you can see how the crowd is responding and that can lead you the right way. And sometimes you want to push them and play what you want. Or you see if people are enjoying a certain type of thing and you want to give them more of that.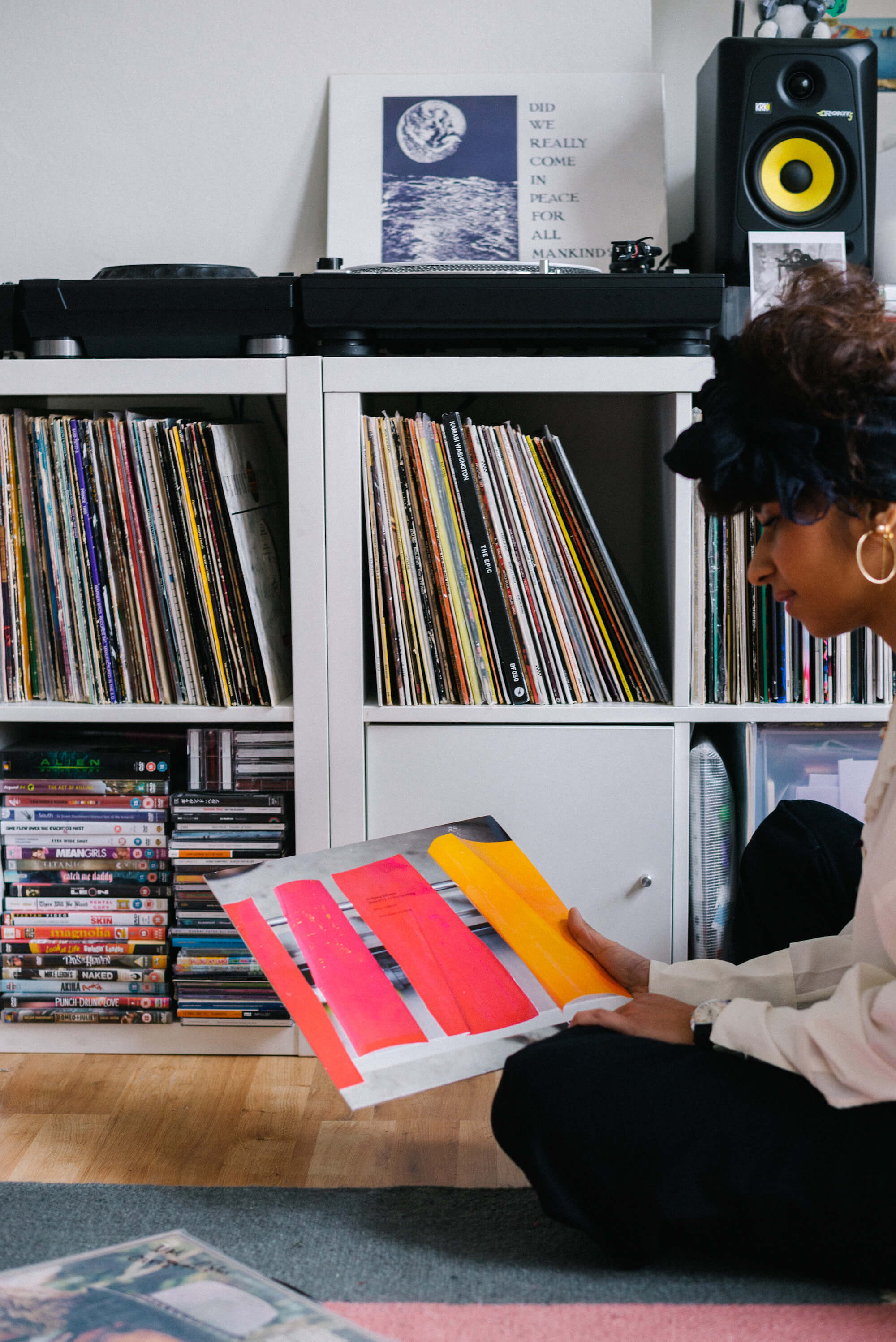 Is contemporary music also represented in your collection?
Yeah, I've just been sitting in the old music section! There's this Wolfgang Tillmans, I collaborated with him at The Tate Modern. I did a live show and he did the visuals. Most of my vinyl is older because I like getting stuff that you can't get digitally.
You have a lot of books here too and your shows certainly have a lot of context. Are the social and historical elements really important to you?
Yeah, because music is a product of the culture, and if you want to understand exactly what's going on you need to know some other stuff too. You don't have to understand it to enjoy the music, but I'm curious about where music comes from, what the instrument is, etc, especially if it's something that's quite alien to me.
Photos: Michael Wilkin