Published on
November 28, 2019
Category
Exhibitions
How hip-hop, video art and the internet inspired United Visual Artists.
Sixteen years ago, a young Matt Clark stumbled out of art school and into contact with Massive Attack Robert Del Naja. Speaking with the enigmatic front man, Clark formed a vision for the band's first major stage visuals, interrogating ideas of surveillance, misinformation and state control that have been key to Massive Attack's subversive messaging ever since.
The gig with Del Naja not only necessitated the birth of United Visual Artists as a collaborative unit – Clark drafted Chris Bird and Ash Nehru to co-found the collective, although both have since moved on – but propelled them into wider popular consciousness.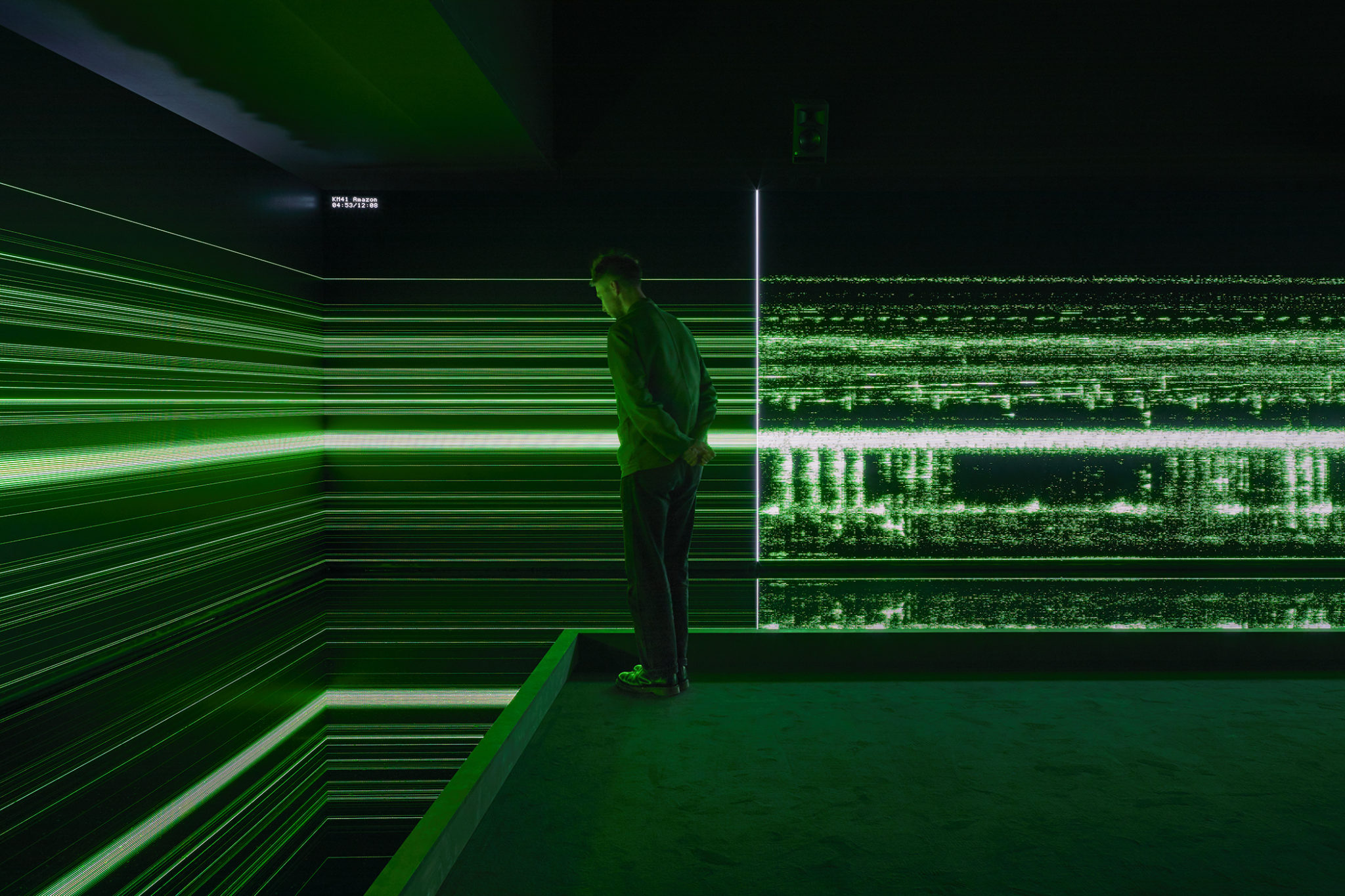 Photo by Jack Hems
Envigorated by the political dimension to their early work, it's no surprise UVA and Matt Clark have found a kindred spirit in Bernie Krause's Great Animal Orchestra, an a/v installation presented in collaboration with Fondation Cartier pour L'Art Contemporain, built around field recordings from the natural world to highlight the urgent plight of Earth's diminishing habitats.
The work is one of three pieces currently on display at The Store X, 180 The Strand for Other Spaces, which marks UVA's largest London show to date and has proved wildly popular.
In this extract of an interview with curator, critic and artistic director of Serpentine Hans Ulrich Obrist, taken from the exhibition catalogue, Clark revisits his early work with Massive Attack to discuss his relationship with music, politics and the experience of living through the late capitalist transition to digital modes of communication.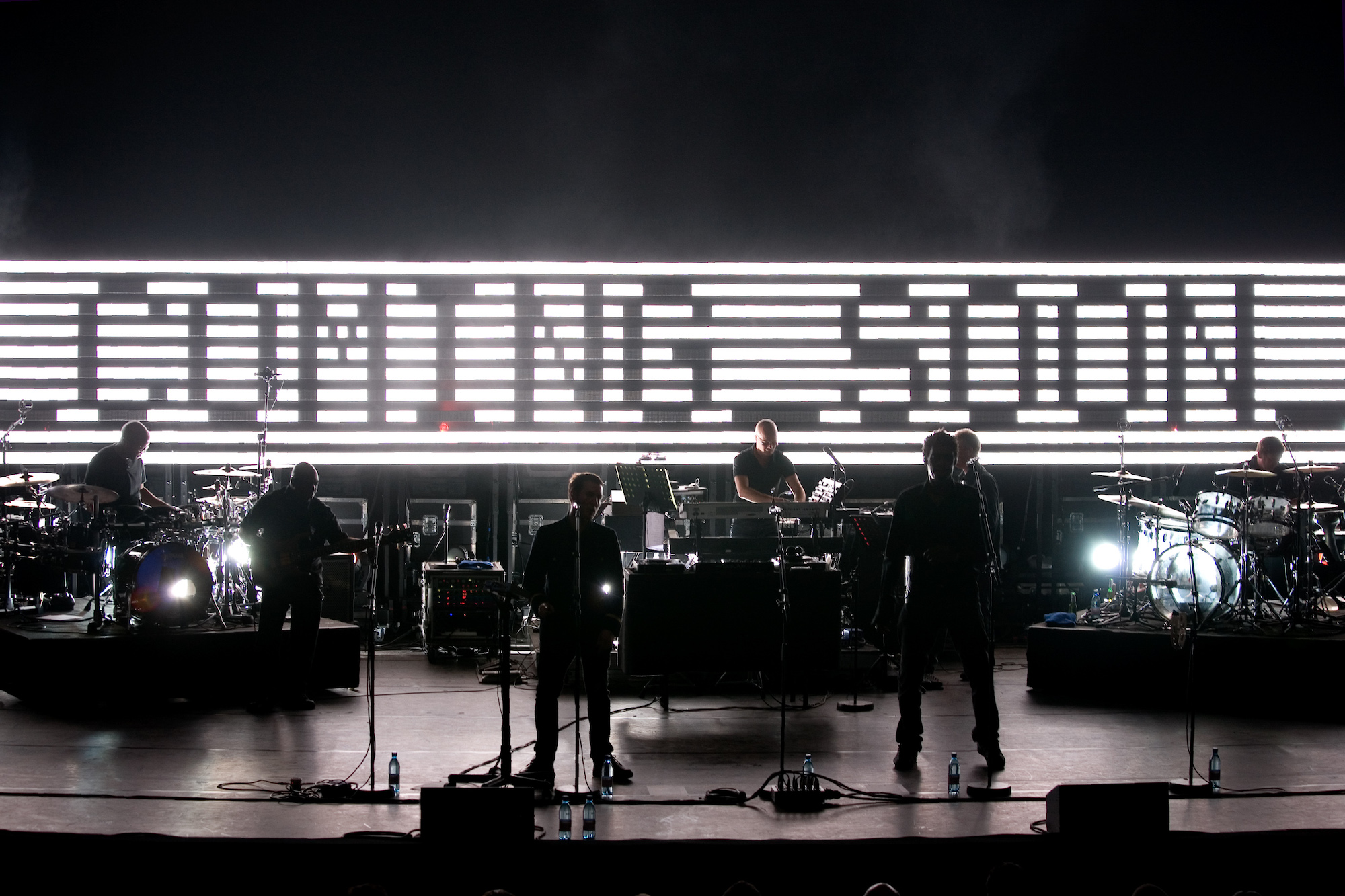 ---
Hans Ulrich Obrist: I wanted to ask you how it all began. What happened 15 years ago, what was the epiphany or the trigger? Do you remember the day when UVA was born?
Matt Clark: Yes, I do actually. It was never a plan; it sort of happened by accident. When I left art school, I was working mainly in live performance; stage design for bands and performing artists. I heard that Massive Attack were going on tour, and were looking for their first visual component – I don't think they'd had an ambitious visual production before that point. I managed to get a meeting with Robert Del Naja and we seemed to have many common interests. We didn't really talk about specific design ideas in the first meeting; Robert talked about the inspiration for his 100th Window album, and other things we were both interested in. Rob liked the idea of creating a visual show using text-based information and no imagery.
So I went away with this information for a couple of weeks, and came back with a stage design that acted as a window to a digital world which had a narrative from macro to micro. It explored themes of information, disinformation, misinformation while localising it all to each performance, so every show would be different, interacting with that specific audience and involving over 36 languages. Rob said, "great, let's do it!", but I left that meeting without a clue as to how we were going to do what I'd proposed! I went along to this initial meeting with Chris Bird, who I'd worked with before, and who was a master of audiovisual production. He introduced me to Ash Nehru, who was the third original founding member of UVA. Ash had a background in computer science and wrote custom software for live production.
So between Rob from Massive Attack myself, Chris and Ash we created a touring show that was considered groundbreaking at the time. That was the big trigger because it led to so many projects and a way of working that was perhaps unique at the time.
Chris and Ash have since moved on to do their own thing, but the collaborative ethos of UVA continues today.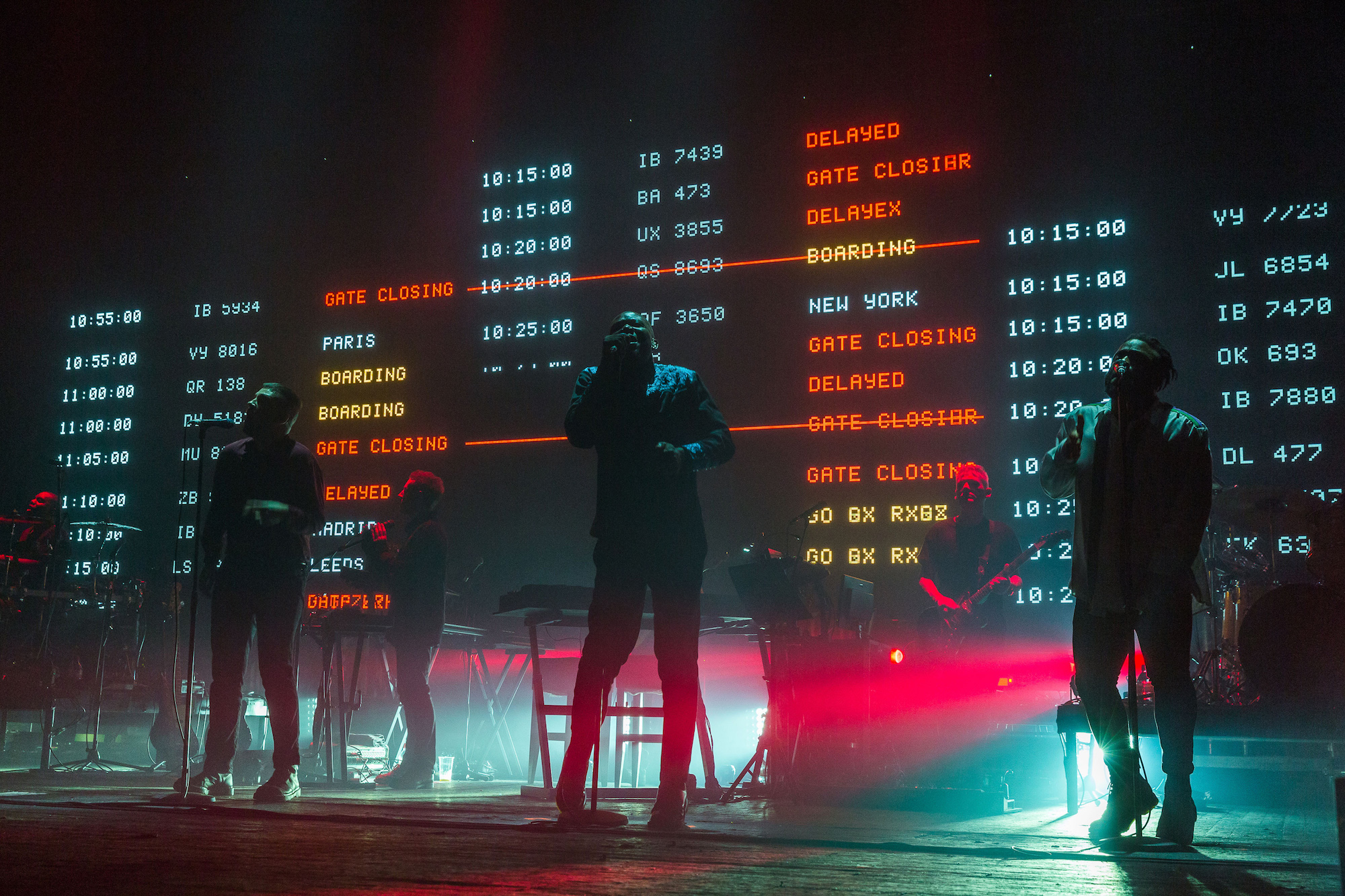 Hans Ulrich: Who were the artists who inspired you? Panofsky says the future is invented with fragments from the past. Obviously we stand on the shoulders of giants sometimes.
Matt: Absolutely – I think even more so today, when we have the world at our fingertips. I was very much inspired primarily by my art teacher. I had a difficult education, attending a problematic comprehensive school in London and had quite profound learning disabilities that were not recognised at the time. But I could paint, I could draw, and my art teacher Phil Mortman was also a great artist himself. He took me under his wing, introduced me to lots of different artists, took me to exhibitions, and got me into Central St Martins to do my foundation course. At the time, Richard Wilson at Saatchi Gallery stood out to me. The use of space and that kind of visceral experience that you were surrounded by, you were in, really affected me.
I also distinctly remember a Bill Viola exhibition I went to. He had a big show at the Whitechapel in the mid '90s, and I was struck by how art doesn't have to be a passive, static thing; the use of time, the medium of light and moving image could create a dynamic environment that one could navigate through. He did one work, called Nantes Triptych where his wife is giving birth and his mother dying, and he's floating in the middle of them. This hit me on a really emotive level.
That was the beginning of my interest in the use of space and time. But I was really interested in music as well. I'm a bit of a frustrated musician…
Hans Ulrich: What kind of music?
Matt: I was exploring all sorts of different music when I was in my teens, hip-hop was the punk music of my generation, bands like Public Enemy, Eric B and Rakim, N.W.A and the like. There was also the explosion of underground electronic music in the late '80s. I was really inspired by music made on machines but that still had soul. My father was a big influence, he would make his own hi-fi sound systems himself, and he would always test out his new rig with something like Kraftwerk, Brian Eno or Pink Floyd. Actually, he took me to a Pink Floyd gig when I was 12 years old and that was an experience that stuck with me.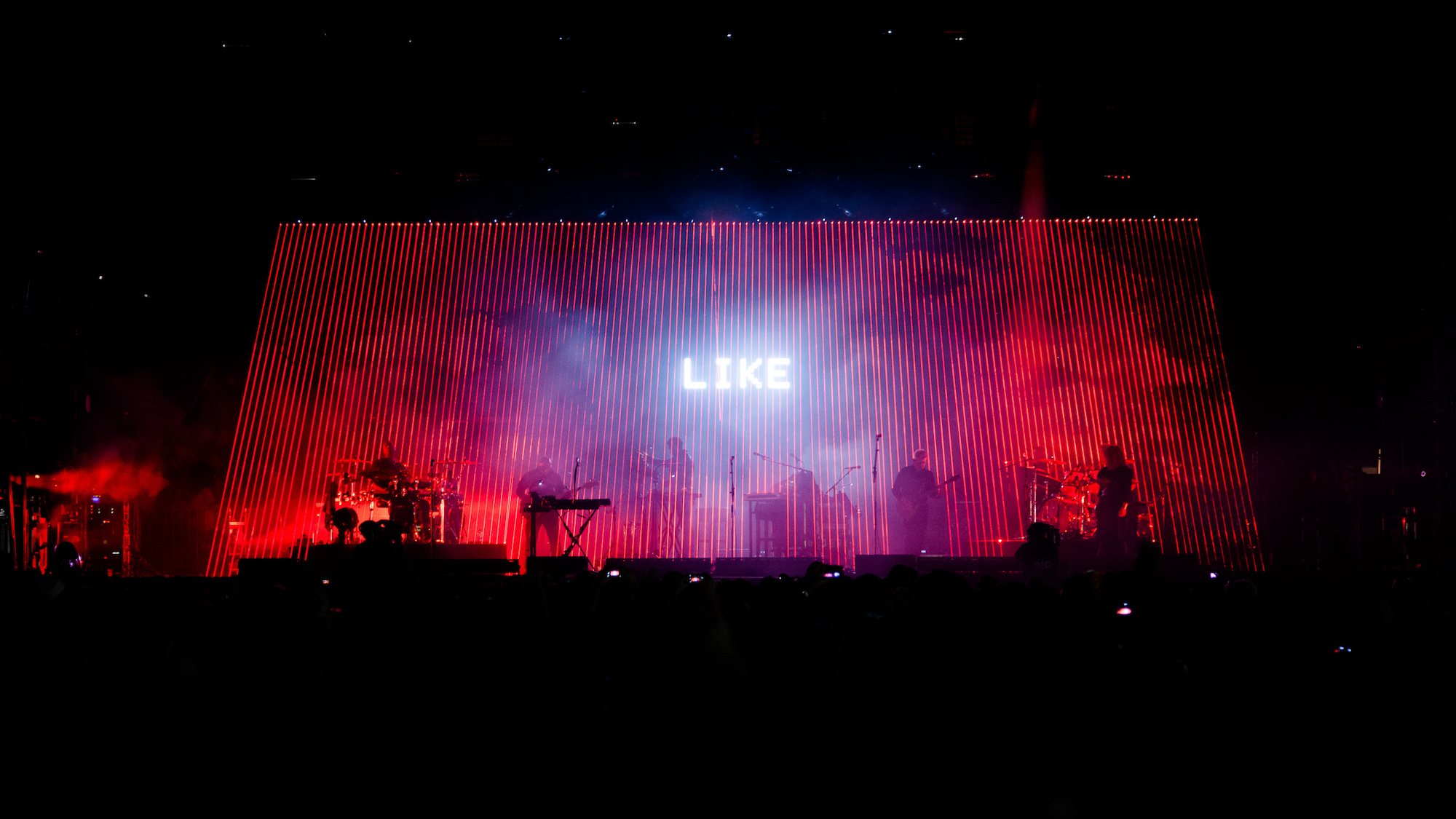 Hans Ulrich: In 1989 Tim Berners-Lee invented the World Wide Web and proclaimed net neutrality, something which he now sees is in danger. You were 15 in 1989, already a teenager. Nevertheless, I suppose the digital age has informed the way your practice evolved. Can you talk a little bit about this? The early influencers come more from media art, one could say Bill Viola is a video pioneer. But when did the digital enter? When do you get your first computer?
Matt: That's really interesting. I've witnessed the threshold basically turn from analogue to digital and I can't think of many established peers at the time. It was more of an underground DIY culture that emerged from the electronic music scene, although there were plenty of people using computers to generate artwork driven by mathematical procedures.
I've experienced the analogue way of life. When I started art college, no one had a mobile phone, no-one had a personal computer. There was a room with a couple of computers, you could do a bit of desktop publishing. Then, all of a sudden, you could edit video, you could mix sounds and make music. The emergence of computer programming also provided a completely new outlet for creative expression. I did experiment with interactive media while at college, teaming up with programmers to make movies that the viewer could manipulate in some way.
I also remember going to internet cafes in the mid '90s. There was a place called Backspace in Clink Street – at the time a really rundown area – where you could go to get fast access to websites. I'm talking 56k modems that made those funny noises. It was all very exciting. It seemed to be so filled with promise and opportunity. There was a kind of free spiritedness that came with being able to share information with anyone in the world that also had an internet connection. In retrospect, I think it may have been a bit of a Pandora's box. Time will tell.

When we started working with Massive Attack in 2003, there was no such thing as social media, which is hard to believe. In a way, I like to think that part of what we did was to provide a kind of social media on a concert scale, being able to communicate with the audience in a very direct way, and Robert has continued to do that. It's almost like we designed this format, this canvas, painted it with initial ideas and now the band interacts with it in their own way.
But going back to how the digital revolution influenced our work, the radical shift meant that you weren't really limited by the tools that you used – Photoshop, whatever – you could pretty much do anything you want! And it wasn't just software; you could get electronics printed in China and delivered to your doorstep within a couple of weeks. All this said, I think we've always thought of the technological aspect as a tool rather than technology for technology's sake. An idea or concept must come first, otherwise it's meaningless. We have learnt that the hard way.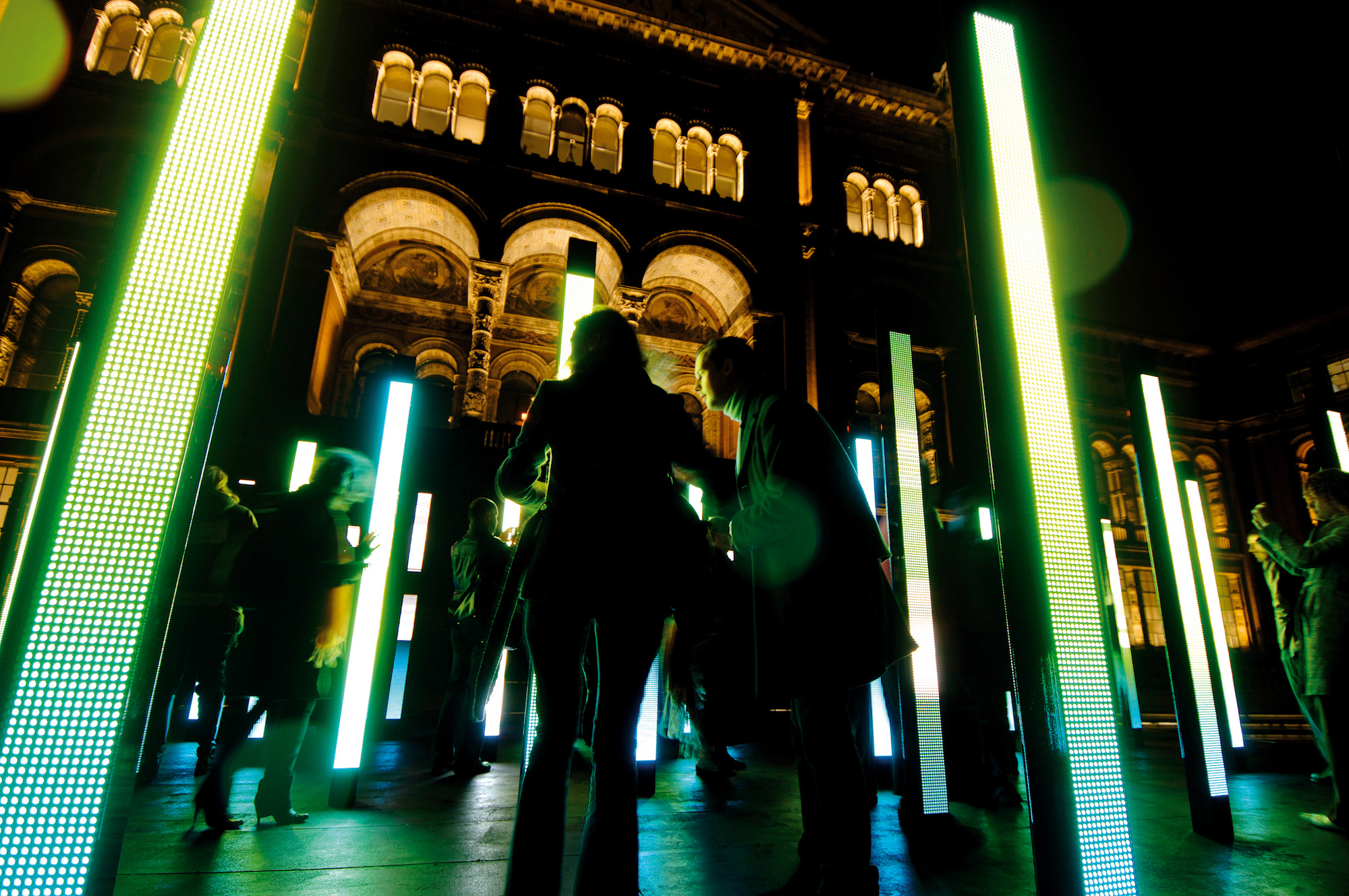 Hans Ulrich: After the Massive Attack beginnings, what would be the number one in your catalogue raisonneé? Particularly at the moment of your 15th anniversary and the show at 180 The Strand – your biggest in London so far – it would be interesting to know.
Matt: I'm not sure if I have a number one, but soon after Massive Attack we had the opportunity to work with some of the biggest bands in the world. I felt a little disillusioned with the spectacle of it all; you don't get many artists like Massive Attack who want to explore interesting ideas. V&A offered us an opportunity to create an artwork called Volume in the John Madejski Garden.
What was interesting was that everything we learnt from approaching stage performance was applied to that commission, but without having a traditional stage or performer. The artwork consisted of 50 light columns arranged in a 10×10 meter grid, each of which had a single speaker. We commissioned Massive Attack to make a 50-channel sound field. The light and sound were manipulated in relation to people's proximity, creating ever-changing compositions. So it was like we were dissolving the line between the audience and the stage, and allowing the audience to be performers.
People would also watch the stage from the perimeter, so it opened up a really interesting space that sits between performance, art and architecture, which is the thing that we've continued to explore and has been the main focus for many of our installation works. We call them performative or transitional spaces. The collaboration with Bernie Krause, could also be considered a performative space as well as a study of nature.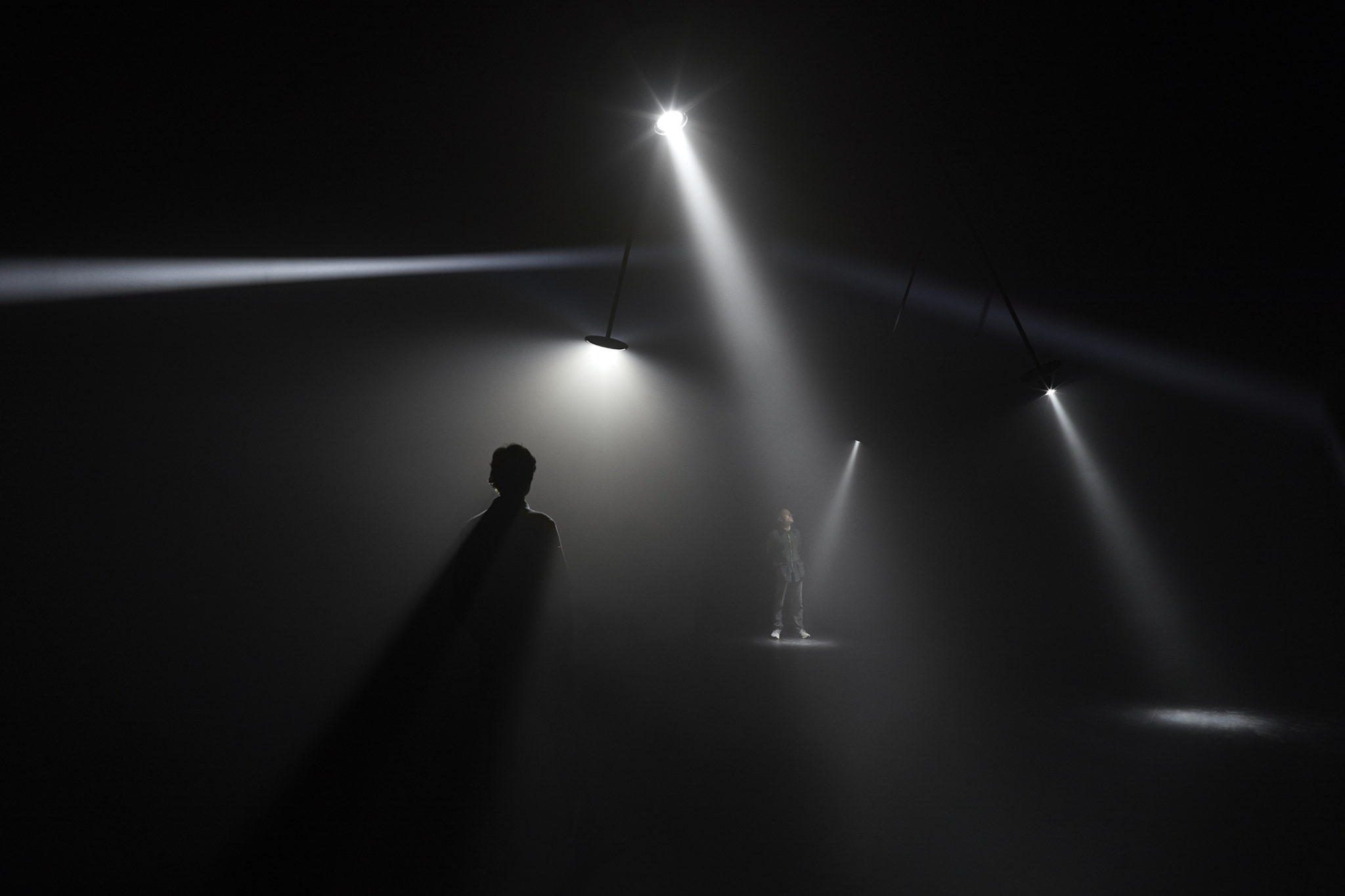 Photo by Jack Hems
Our self-initiated works also investigate this idea, such as Our Time. Again, it's like performance, a sort of choreographed environment where we use light and sound to conduct space, with the aim to make people consider their experience of time. I think if there's something that runs through most of the artworks that we make, as well as the work with our external collaborators, it is this search for a new way to experience a performative space.
UVA's Other Spaces is showing at The Store X, 180 The Strand until 8th December. Click here to find out more about how to visit.
All other photos by James Medcraft, courtesy of UVA.