Published on
November 21, 2013
Category
Vinyl Factory Events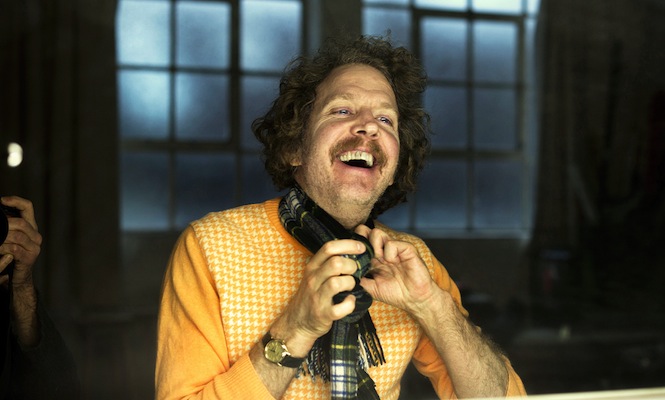 Turner prize winning British artist with several releases on The Vinyl Factory will have full range of work honoured by London's Hayward Gallery at Southbank Centre.
A master of balancing the minimal and the macro, Martin Creed is to have the breadth of his work celebrated with his first ever solo retrospective set to open at Hayward Gallery on 29th January 2014. Extracting wit, surprise and reflection from the most stripped-down installations, Creed was propelled into the (flickering) limelight in 2000 with his Turner Prize winning attack on the literal "Lights turning On and Off", before further succeeding to exploit kinetic phenomenon such as doors opening and shutting automatically and metronomes simultaneously ticking at different speeds in a series of humorous and controversial works.
Furthermore, with a keen eye for spectacle, Creed's appealing participatory event "All the Bells in a Country Rung as Quickly and Loudly as Possible for Three Minutes" last year heralded the London 2012 Cultural Olympiad. Collecting Creed's sequentially numbered works from early in his career along side extravagant installations, films and paintings, the Hayward's 2014 retrospective will span both of its floors and all outside space and has prompted the gallery's curator Cliff Lauson to wax lyrical about Creed's ongoing influence:
"Martin Creed has been recognised around the world for his art that is both playful and thought- provoking. Crossing all artistic media and including musical and performative elements, his works transform common materials and actions into surprising meditations on existence, choice, and the invisible structures that shape our everyday experiences."
As his work has evolved, Creed's 'musical and performative elements' have been showcased on The Vinyl Factory on a series of limited edition vinyl releases, such as recordings of his Work No. 1660, his collaboration with Box Codax and debut full-length album Love To You.
To coincide with the exhibition, Creed has also been commissioned to create a new work for the Royal Festival Hall organ as part of the Pull Out All of The Stops Festival which celebrates the complete restoration and reinstallation of the instrument. He will also be performing Work No. 1020 with his band and ballet on 8th April.
For more information visit the Southbank Centre website and find out more about Creed's vinyl releases here.