Published on
October 20, 2014
Category
Vinyl Factory Events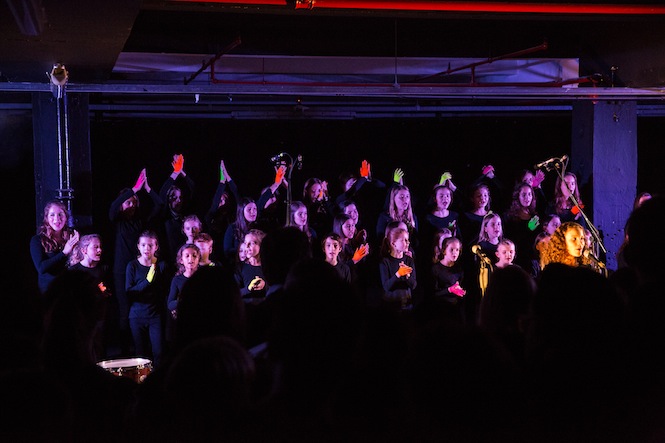 Photos from the Dinos Chapman and Capital Children's Choir 'Untrust' EP Launch on October 2nd, 2014.
Earlier this month The Capital Children's Choir performed live in the basement of The Vinyl Factory's Brewer Street Carpark, to celebrate the launch of their EP 'Untrust' with artwork, remix and video from the artist Dinos Chapman.
The choir, known for its eclectic and inventively arranged selection of covers, performed three tracks from the EP, featuring Crystal Castles' Untrust Us, Spiritualized's 'So Long You Pretty Things' and 'Shake It Out' by Florence + the Machine.
Special guests included Dinos Chapman, Primal Screams lead singer Bobby Gillespie, his wife Katy England, Tim Noble, Sue Webster and Jason Pierce from the band Spiritualized.
The EP was released by The Vinyl Factory on Monday 6th October is available on standard 12" double vinyl and a hand-signed and numbered limited edition, including a Dinos art print, as well as a download.
You can order the limited edition here, the standard 12″ here and see photos from the launch below.
---