Published on
July 15, 2013
Category
Vinyl Factory Events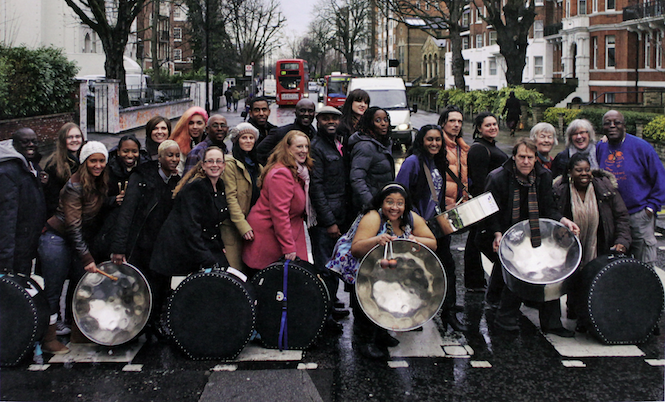 Jeremy Deller brings his Venice Biennale proudction English Magic to the Copeland Book Market in London for performance, launch party and signing.
Copeland Book Market and Bold Tendencies are pleased to announce the first UK performance of the Melodians Steel Orchestra performing tracks from Jeremy Deller's celebrated film 'English Magic', produced for the British Pavilion at the Venice Biennale 2013.
This special evening organised by Copeland Book Market, a platform for print and publishing with a related events programme, looks at Deller's recent contribution to book publishing, live music performance and production from his acclaimed English Magic exhibition, currently on view in the British Pavilion at the Venice Biennale.
On Friday 19th July the Copeland Book Market will host a stall, supported by the British Council, displaying and selling Deller's English Magic publication and exhibition bags. Jeremy Deller will also be signing his publication from 7-8pm.
Also hosted by Copeland Book Market The Vinyl Factory will set up a record store, exploring their cross-collaborations between the visual artists and music, with a specific focus on their recent collaboration with Deller on the production of the 'English Magic' EP.
The English Magic soundtrack is a composition of three classic British songs; 'Symphony in D Minor' by Ralph Vaughan Williams, 'Voodoo Ray' by A Guy Called Gerald and 'The Man Who Sold The World' by David Bowie – covered by the Melodians Steel Orchestra, an English/Trinidadian steel band, based in South London. Released and produced by The Vinyl Factory, the 'English Magic' EP was released on vinyl and digital on 10 June 2013. There is also a limited triple vinyl edition of 300 copies, hand signed and numbered by Deller with record sleeve artwork created by the artist, including a 10×10" photographic print hand tipped on the front cover. The soundtrack was recorded at Abbey Road, in keeping with the British theme.
The Melodians Steel Orchestra played live at both the Pavilion's official inauguration on the 29 May and later that evening at The Vinyl Factory & British Council party on the Isla Vignole, Venice. You can watch our video to see them in action here.
Check out the running order for the event below and click here for more info on Jeremy Deller's English Magic release:
Publication and Vinyl launch from 17:00 – 21:00
The Vinyl Factory display from 17:00 – 21:00
Melodians Steel Orchestra from 21:15 – 22:00