Published on
October 31, 2019
Category
Features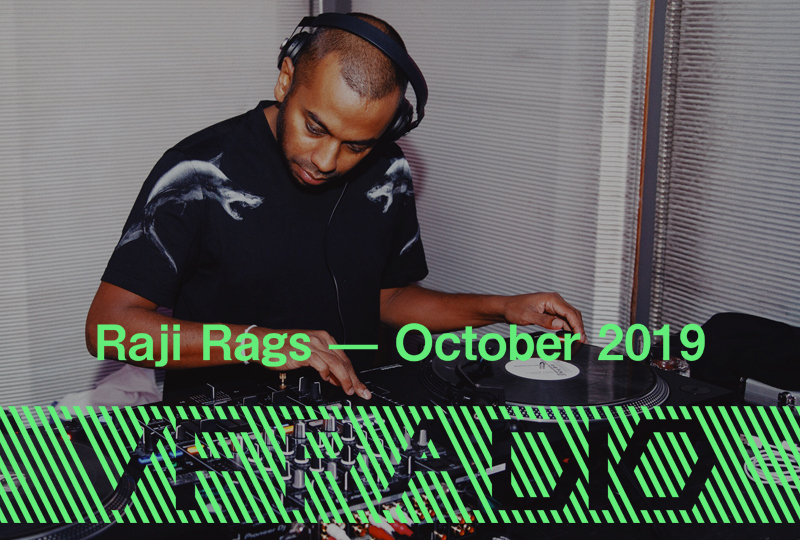 A two-hour journey across the musical spectrum, from soul and hip-hop to house and electro.
The Vinyl Factory Radio is a new audio platform on VF, dedicated to sharing and discovering records from around the world through mixes, interviews and podcasts.
Initially launched within Chicago artist Theaster Gates' Black Image Corporation exhibition at 180 The Strand, this programming explores cross-cultural, artistic collaborations between the Chicago and the music scene in London.
Across hip-hop, soul and bass, to house, techno and electro, DJ, promoter and radio presenter Raji Rags, aka Raj Chaudhuri, has been a force within the London music and radio scene for over a decade, with shows on NTS since day one as well as Balamii, to name a few.
He is a co-founder of London hip-hop institution Living Proof, which is how I first discovered him, as well as the electronic soiree Bubble Chamber.
Raj is also responsible for one of my all-time favourite music radio specials – a show called Donuts Dissected: 10 Years On. It is an hour-long ride through the sounds of J Dilla's game-changing album Donuts.
Whether you are a Dilla disciple or not, it is absolutely worth checking out – a powerful ode to an artist's human spirit, told through music.
For his first outing on VF Radio, he digs into his record collection to bring you two hours across the spectrum.
This is Raji Rags.
Tracklist:
1. Steve Spacek – Slow Baby Dubb [Sound In Color]
2. Waajeed – tron [Fat City Recordings]
3. Four Tet – She Moves She [Domino]
4. Rustie & 215 The Freshest Kids – Patrick Ewing (Instrumental) [Numbers]
5. Stone – Time [West End]
6. Daphni – Yes, I know [Jialong]
7. Amp Fiddler – I Believe In You (Bugz In The Attic Vocal Mix) [Genuine]
8. Thundercat – Oh Sheit it's X [Brainfeeder]
9. Theo Parrish – Falling up (Carl Craig remix) [Sound Signature]
10. Skee Mask – Muk Fm [IIian Tapes]
11. DJ Assassin – Face In The Crowd (Chris Simmonds Intellidread Mix) [Crosssection Records]
12. LONE – OEDO 808 [R&S Records]
13. The Other People Place – Let Me Be Me [Warp]
14. Jon Hopkins – Vessel (Four Tet Remix) [Domino]
15. Roslyn & Charles – Was Not Intended (David Hill Edit) [Z Records]
16. Headhunters – God Make Me Funky [Arista]
17. Thundercat – Them Changes [Brainfeeder]
18. The Pharcyde – Passin' Me By [Delicious Vinyl]
19. Erykah Badu – Bag Lady (Cheeba Sac Radio) [Motown]
20. Will.I.am – Lay Me Down (Instrumental) [BBE]
21. PPP – Stay With Me (ft, Tiombe Lockhart) [Ubiquity Records]
22. Kelis – Good Stuff (ft, Terrar) [Virgin]