Published on
October 15, 2019
Category
Features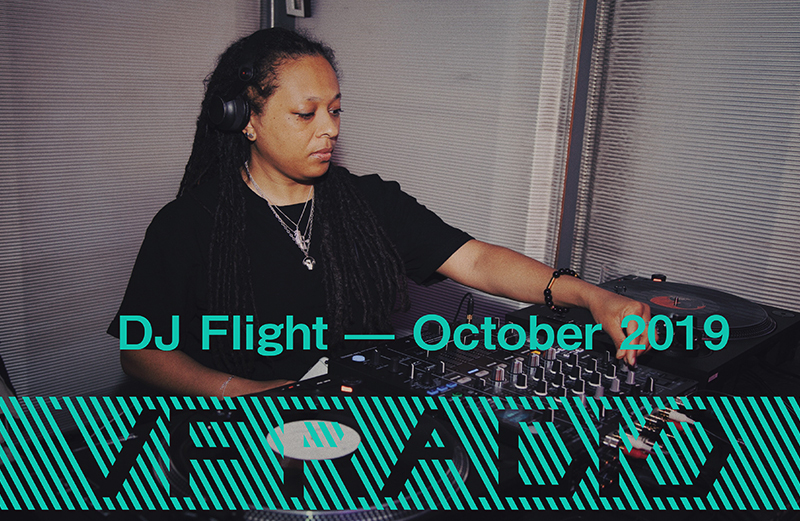 A two-hour, vinyl-only special with the drum'n'bass legend.
Introducing The Vinyl Factory Radio, a new audio platform on VF, dedicated to sharing and discovering records from across the world through mixes, interviews and podcasts.
Initially launched within Chicago artist Theaster Gates' Black Image Corporation exhibition at 180 The Strand across seven days, this programming explores cross-cultural, artistic collaborations between the Chicago and the music scene in London.
As such, we have focused on mixes, with DJs and artists unearthing unexpected avenues in their record collections, whether in the relationship between jazz and d'n'b, ambient and dub, or soul, house, techno and beyond.
Following the live broadcasts, each show will be shared online.
Today, we kick things off with the person who played the first slot on VF Radio – DJ Flight.
From early days as a resident of Goldie's iconic Metalheadz crew, DJ Flight has been a pioneering force within the London scene and beyond. This is both as a DJ as well as through her work as a radio presenter and producer.
After seeing Kemistry and Storm play in the '90s, she soon joined the ranks of pirate radio station Flex FM. And, when 1XTRA launched in 2002, she became one of the first presenters to have a show on the new station, which was called The Next Chapter.
In 2007, she joined the ranks of Rinse FM, as a presenter as well as working behind the scenes as a broadcast assistant. Today, she is a producer for Prison Radio Association, a charity that runs the world's only national station for prisoners and aims to reduce reoffending through the power of radio.
It is a privilege to have an individual who has not only shaped the sounds of UK radio, but who has also given a voice to individuals who may not have one otherwise playing the first show.
This is DJ Flight.
Tracklist:
1. John Coltrane – Blue World
2. Ahmad Jamal Trio – The Awakening
3. Donald Byrd – Cristo Redento
4. Nicolas Britteli – Eden (Harlem)
5. Solange – Beltway
6. Solange – Exit Scott (interlude)
7. Solange – Sound of Rain
8. Yussef Kamaal – Strings of Light
9. 4 Hero – Loveless
10. Dego feat. Lady Alma – Just Leave It
11. Third Kind – Take me to your Sky
12. Oumou Sangare – Yere Faga (Natureboy Flako)
13. Fela Kuti – Sorrow Tears of Blood
14. Grace Jones – Walking in the Rain
15. The Viceroys – Heart Made of Stone
16. The Revolutionaries –  Kunta Kunti
17. The Last Poets – Understand What Black Is
18. Kojey Radical – No Gangsta
19. Mr. Fingers – Can You Feel It
20. Frankie Knuckles & Satoshi Tomiie Feat. Robert Owens – Tears
21. Joe Smooth – Promise Land
22. Patrice Scott – Beyond Deep
23. Manix & Rufige Kru – You Held My Hand
24. Goldie – Angels