Published on
October 17, 2019
Category
Features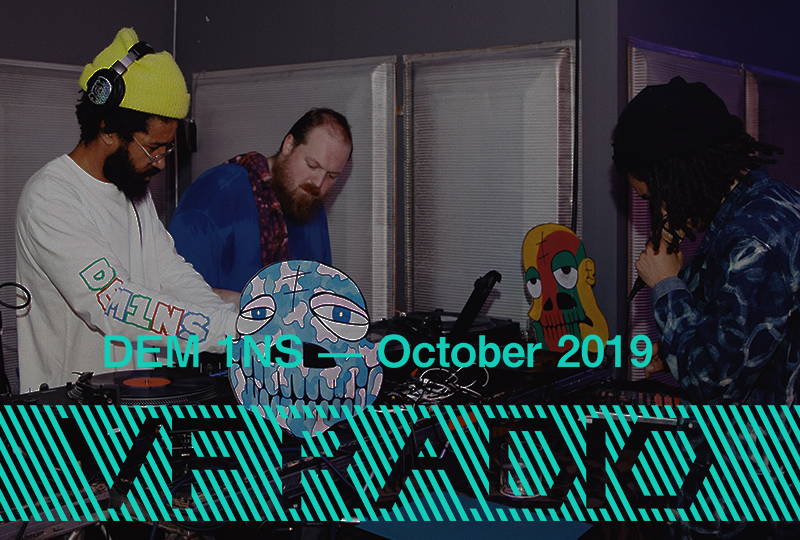 A three turntable and Roland SP-555 b2b2b ride with the crew.
Vinyl Factory Radio is a new audio platform on VF, dedicated to sharing and discovering records from across the world through mixes, interviews and podcasts.
Initially broadcast live at Theaster Gates' Black Image Corporation installation launch at 180 The Strand, the next mix in our online archive comes from London collective DEM 1NS featuring KWAKE BASS!, RAGO FROM THE MELOW & MAXWELL OWIN.
DEM 1NS is a London music and art crew that's flipping the script on collaboration. Each of their releases is a multifaceted combination of music, clothing, print and events.
But this isn't 'just' a wavy streetwear company with releases, or a record label with heavy garms.
DEM 1NS is a crew built around the idea that if you empower those around you to do better, everyone does better.
Support others when you're in a position to do so. Be nice. Manners are free. It's also a collective where the divide between music, graphic design, clothing, art and print doesn't exist, because why should it?
The ethos is not rocket science, but it's a stark change from days of yore, one that's spreading across the city and beyond, spearheaded by the empowering scene that those involved with DEM 1NS are at the helm of.
For our VF Radio launch, Kwake Bass, Rago from the Melow and Maxwell Owin, laid down a very special, three turntable plus Roland SP-555 vinyl b2b2b for two hours.
This is DEM 1NS.