Published on
November 5, 2019
Category
Features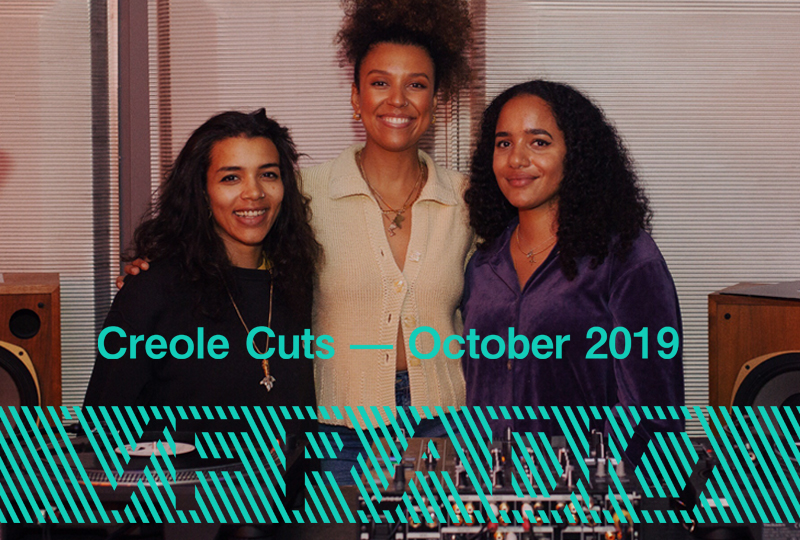 Joining the dots between London jazz, soulful disco and dub.
The Vinyl Factory Radio is a new audio platform on VF, dedicated to sharing and discovering records from around the world through mixes, interviews and podcasts.
Initially launched within Chicago artist Theaster Gates' Black Image Corporation exhibition at 180 The Strand, this programming explores cross-cultural, artistic collaborations between the Chicago and the music scene in London.
Anja Ngozi, Jodie Yates and Rabiah are London collective Creole Cuts.
Each bringing their individual flair and musical experience to the group, the trio came together in early 2019 and have since established themselves with the Saturday morning slot on Peckham's Balamii Radio.
Embedded in the capital's young jazz scene, Creole Cuts focus on bringing friends and collaborators to the fore, whether via Neue Grafik's new homage to Total Refreshment Centre or Wu-Lu, Lex Amor and Ego Ella May's 'Legend', from the Jean-Michael Basquiat-inspired Untitled project which Anja Ngozi helped realise alongside Lonely Table and The Vinyl Factory earlier this year.
Exploring the cross-section of London and Caribbean musical histories, their selection takes in rare jazz, soulful disco and deep dub goodness.
This is Creole Cuts.
Tracklist:
1. Ahmad Jamal – Poinciana [Argo]
2. Gil Scott-Heron – The Revolution Will Not Be Televised [Flying Dutchman]
3. Donald Byrd – Stepping Into Tomorrow [Blue Note]
4. George Benson – The Wind and I [Warner]
5. Evelyn "Champagne" King – Music Box [RCA Records]
6. Kishore Kumar and Lata Mangeshkar – Jiska Mujhe Tha Intezar (Don 1978 OST) [Saregama]
7. Herbie Hancock – Gentle Thoughts [Columbia]
8. The Delegates – Oh Honey [State]
9. Miriam Makeba – Welela [Mercury]
10. Smiley Culture – Police Officer [Fashion]
11. Sandeeno – Put Down De Guns [Universal Roots]
12. King Stitt – Virgaton Two [Clandisc]
13. Wu-Lu, Lex Amor, Ego Ella May – Legend [lonely Table / Anja Ngozi / The Vinyl Factory]
14. Neue Grafik Ensemble – Hedgehog's Dilemma (feat. Brother Portrait) [TRC]
15. Baloji – Ciel d'encre [Bella Union]
16. Quasimoto – Real Eyes [Stones Throw Records]
17. Aaliyah ft Timbaland – If Your Girl Only Knew [Blackground]
18. Anita Ward – Ring My Bell [Epic]
19. Thundercat – Seasons [Beat Records]
20. Flying Lotus – Black Balloons Reprise (feat. Denzel Curry) [Warp]
21. Little Kirk & Little Lenny – Two Lovers [VP Records]
22. Blak Beat Niks – Now I Know (B.B.N Original Mix) [Vibe Music]
23. MarK E – E-Versions #1 [E-Versions]
24. Wookie Ft Lain – Battle [S2S Recordings]
25. S.O.S. Band – The Finest [Tabu Records]