Published on
November 7, 2019
Category
Features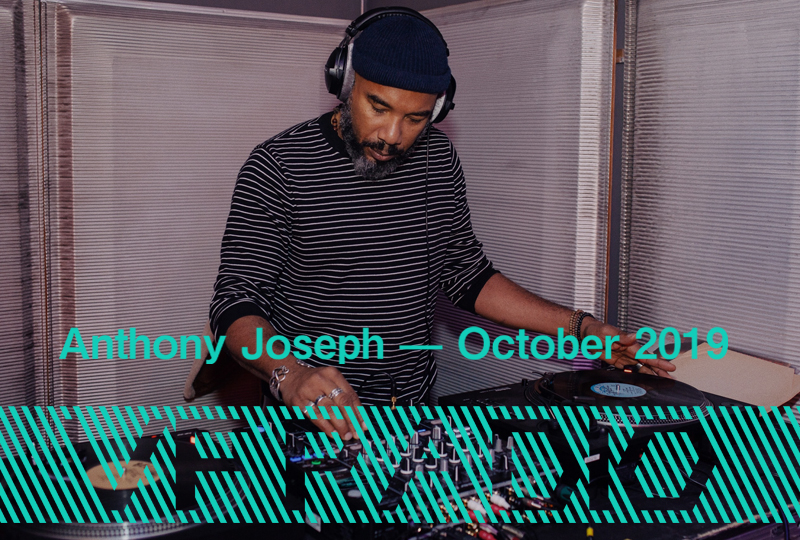 Exploring his extensive collection of free jazz, soul and soca.
The Vinyl Factory Radio is a new audio platform on VF, dedicated to sharing and discovering records from around the world through mixes, interviews and podcasts.
Initially launched within Chicago artist Theaster Gates' Black Image Corporation exhibition at 180 The Strand, this programming explores cross-cultural, artistic collaborations between the Chicago and the music scene in London.
Born in Trinidad, Anthony Joseph is a poet, musician and academic whose work explores ideas around migration, and the intersection of Caribbean and British identity. In 2018, he published a fictionalised biography of calypso legend Lord Kitchener and he is currently preparing for the release of his new novel, The Frequency of Magic, in November 2019.
As a musician, he has released six albums with Heavenly Sweetness, merging Afro-Caribbean influences, jazz and funk, most recently on 2018 LP People of the Sun.
Having shared his love for Gil Scott-Heron in an interview with VF a few years ago, we were particularly excited to welcome Anthony Joseph to make his VF Radio debut, playing records from his extensive collection of free jazz, soul and soca.
This is Anthony Joseph.
Tracklist:
1. Albert Ayler – Message from Albert [Impulse]
2. The Charles Mingus Quintet – Jump Monk [Debut]
3. Duke Ellington – Afro Bossa [Reprise]
4. The Chambers Brothers – Harlem [Columbia]
5. Bobby Hebb – The Love Bird has flown [Epic]
6. Chameleon – Game of Life [Elektra]
7. The Dramatics – Treat me Like a Man [ABC Records]
8. Heaven & Earth – Poetry In a Box [Mercury]
9. Brigo – Long Ago [Star-Trex]
10. Merchant – Caribbean Connection [Benmac Records]
11. Eugene Mona – 1700 [Hit Parade]
12. Billy Parker – Dance of the Little Children [Strata East]
13. Sam Rivers – Tranquility [Impulse!]
14. Byard Lancaster – Philly Funk [Bellows]
15. Shadow – Frisco Donkey [SR Records]
16. Roy Ayers – Escape [Polydor]
17. Woody Shaw – Think on Me [Contemporary Records]
18. Seldon Powell – Messin' [Encounter Records]
19. Clarence Brown – Loup Garou [Barclay]
20. Philip Bailey – We're a winner [Verve Records]
21. Logg – We got that Something [Salsoul]
22. Robin Kenyatta – Terra Nova [Rhino Atlantic]
23. Cold Blood – Visions [Reprise]