Published on
October 29, 2019
Category
Features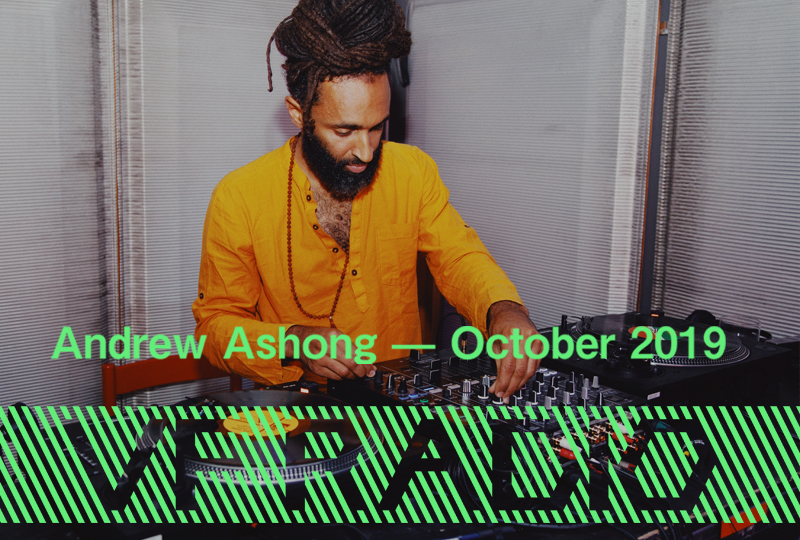 Spiritual jazz and meditational mantras.
The Vinyl Factory Radio is a new audio platform on VF, dedicated to sharing and discovering records from around the world through mixes, interviews and podcasts.
Initially launched within Chicago artist Theaster Gates' Black Image Corporation exhibition at 180 The Strand, this programming explores cross-cultural, artistic collaborations between the Chicago and the music scene in London.
Musician and DJ Andrew Ashong has been a close friend of The Vinyl Factory for some time now, and having put together the first ever VF Mix back in 2014, we were delighted to welcome him back for the opening days of The Vinyl Factory Radio.
As a singer and song writer, Ashong has released music on Theo Parrish's Sound Signature, notably his low-slung 2012 single 'Flowers', and more recently has guested on new albums by Hector Plimmer, Auntie Flo and Swindle.
His vast record collection spans jazz, funk, soul, disco, reggae, Afrobeat and beyond – growing to such an extent, Ashong can often be found at record fairs in London selling off parts of the collection.
For his outing on The Vinyl Factory Radio, it's a strictly spiritual affair, with expansive jazz suites and meditational mantras the order of the day.
This is Andrew Ashong.
Tracklist:
1. Oasis – Touchstone [Lotus Eye Flower]
2. J.O.B Orquestra – Govinda [Govinda Records]
3. Alice Coltrane – Om Supreme [Warner Records]
4. Chico Hamilton – Nomad [Elektra Records]
5. Gabor Szabo – Thirteen [CTI Records]
6. Pat Rebillot – Pastorale [Atlantic]
7. Gene Harris – Prayer 76′ [Blue Note]
8. Sun – Time is Passing [Capital]
9. Ronnie Foster – Love Satellite [Columbia]
10. Charles Earland – Intergalactic Love Song [Mercury]
11. Byron, Morris and Unity – Sun Shower [EPI]
12. Hannibal – Mothers Land – [Enja Records]
13. Abdullah Ibrahim – Bra Timing from Phomolong [Ekapa RPM]