Published on
May 15, 2019
Category
News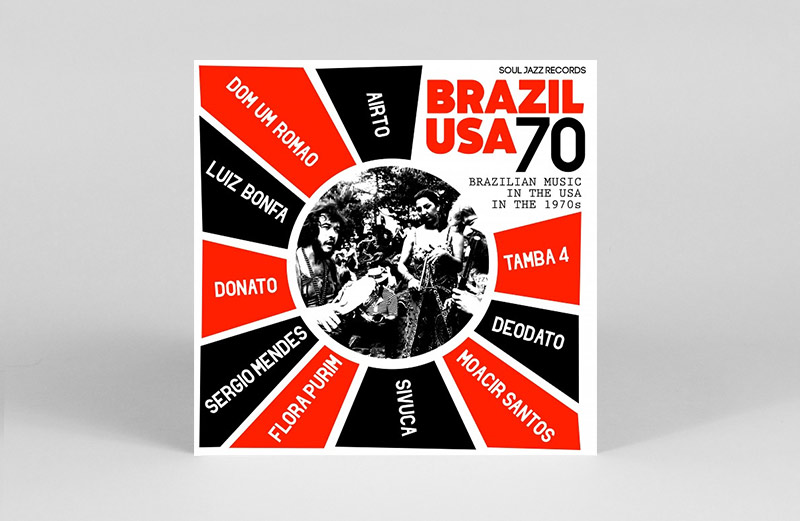 With Airto, Deodato, Sergio Mendes, Flora Purim and more.
Soul Jazz is releasing a new double vinyl compilation of Brazilian music created in the USA during the 1970s, called Brazil USA 70, this May.
Read more: How Brazil is reclaiming its record culture
During the 1970s, Jazz legends like Miles Davis, Weather Report, and Wayne Shorter collaborated with up and coming Brazilian musicians such as Airto Moreira, Dom Um Roman and Milton Nascimento.
"With all the attention placed on them from these important jazz artists, North America became the new musical playground for a large number of these Brazilian artists," explains Soul Jazz.
Brazil USA 70 features 16 tracks taken from this period, with music by Airto Moreira, Flora Purim, Sérgio Mendes, Luiz Bonfá, Eumir Deodato, Sivuca, João Donato.
Its vinyl release includes a 40-page booklet with archival photography, alongside liner notes that explain how some of these projects came to fruition.
Check out the track list below ahead of its 31st May release.
Tracklist:
1. Airto – Samba De Flora
2. Duke Pearson and Flora Purim – Sandalia Dela
3. Sérgio Mendes & Brasil '66 – Batucada (The Beat)
4. Deodato – Skyscrapers
5. Milton Nascimento – Catavento
6. Airto – Tombo in 7/4
7. Luiz Bonfá – Bahia Soul
8. Dom Um Romao – Braun-Blek-Blu
9. Moacir Santos – Kathy
10. JoãoDonato–AlmasIrmãs
11. Sivuca–Ain'tNoSunshine
12. MiltonNascimento–Rio Vermelho
13. Tamba4–Consolation (Consolação)
14. FloraPurim–MoonDreams
15. DomUmRomao–EscravosdeJo
16. Airto–Andei(IWalked)