Published on
September 16, 2019
Category
News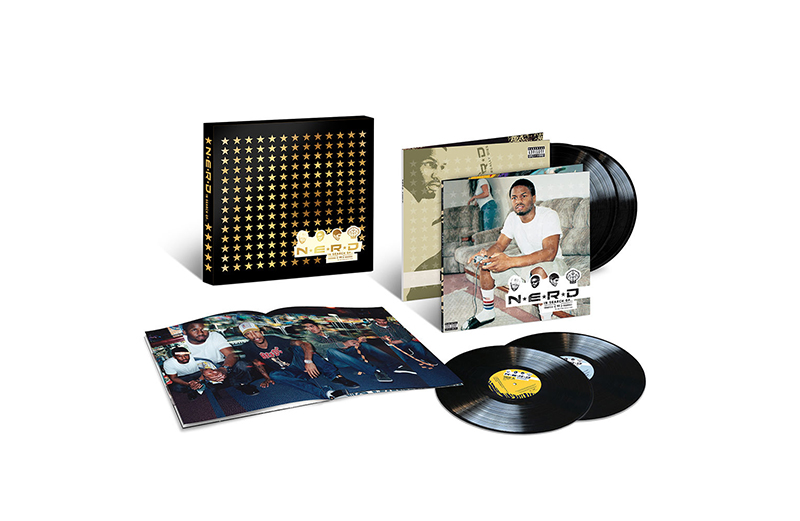 With the original 2001 'electronic version' alongside the 2002 'rock version', plus 7 additional tracks.
N*E*R*D* are reissuing their In Search Of… album on 4xLP, this October via Urban Legends/UMe/Virgin.
The first edition, an 'electronic version' features an intro track plus three skits in addition to its 12-tracks.
The second edition, a 'rock version', features the 12-tracks in a different order.
In Search Of… 4xLP box set includes a 24-page booklet, and 7 additional tracks with a previously unreleased Trent Reznor remix of 'Lapdance'.
Head here for more info in advance of its 25th October release date and check out the tracklist below.
LP 1
1. Side A
2. Lapdance
3. Things Are Getting Better
4. Brain
LP 2
1. Side C
2. Run To The Sun
3. Baby Doll
4. Am I High
 
LP 3 (Euro Version)
1. Side E
2. Lapdance
3. Intro
4. Things Are Getting Better
5. Brain
 
LP 4 (Euro version)
1. Side G
2. Stay Together
3. Baby Doll
4. Tape You
 
SIDE B
1. Provider
2. Truth Or Dare
3. Tape You
 
SIDE D
1. Rock Star
2. Bobby James
3. Stay Together
 
SIDE F
1. Provider
2. Truth Or Dare
3. Run To The Sun
 
SIDE H
1. Am I High
2. Rock Star – Poser
3. Bobby James