Published on
October 31, 2016
Category
News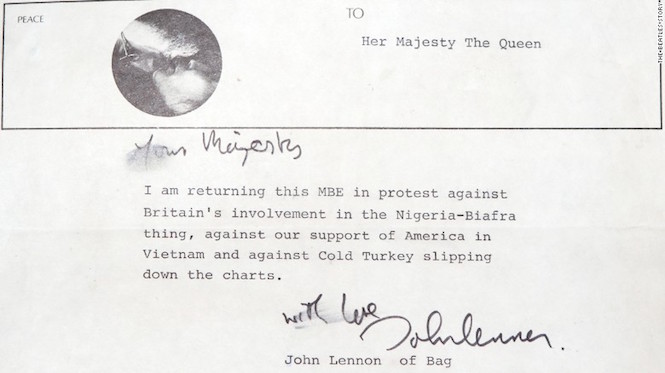 The protest letter was found in a £10 record.
Having been awarded an MBE in 1965, John Lennon wrote to Queen Elizabeth to hand it back in protest against Britain's involvement in the Nigerian Civil War, Vietnam and that his heroin-inspired single 'Cold Turkey' was "slipping down the charts".
Read next: The strangest things found inside vinyl records.
The typed message reads: "Your Majesty, I am returning this MBE in protest against Britain's involvement in the Nigeria-Biafra thing, against our support of America in Vietnam and against Cold Turkey slipping down the charts."
It is signed "John Lennon of Bag" in reference to the term "Bagism", coined by Lennon and Yoko Ono during their peace campaigns in the late '60s.
Last week, the note was discovered tucked into the sleeve of a £10 record bought by a man at a second-hand record sale.
Now valued at an estimated £60,000 ($72,000), the letter was brought to a memorabilia day at The Beatles Story exhibition in Liverpool last week, where one expert suggested that this version of the letter had been discarded because "the signature in this letter has been smudged".
John Lennon eventually successfully returned his MBE to the Queen on 25th November 1969, over four years after he first received it.
It's not the first time something extraordinary has appeared inside a record sleeve. Two years ago a copy of Marvin Gaye's passport was discovered inside a 50-cent Motown record.