Published on
July 5, 2013
Category
News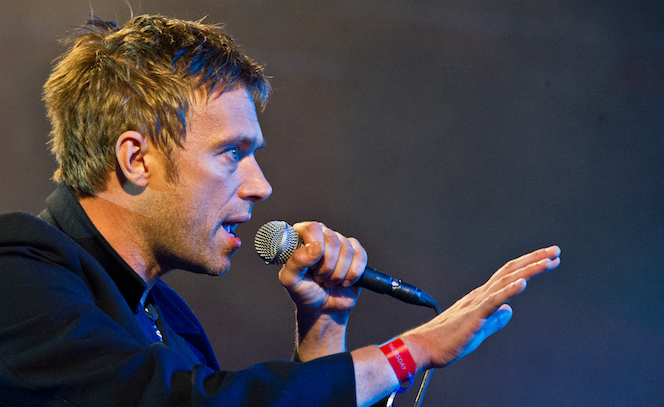 Blur frontman unites Chili Peppers bassist Flea, Franz Ferdinand's Alex Kapranos and Yeah Yeah Yeahs' Nick Zinner with Richard Russell and Rodaidh McDonald's Fresh Touch for a special release at London's Independent Label Market.
Joining nine other acts for a special vinyl release series orchestrated by The Vinyl Factory and Independent Label Market, "Latest Style" by Fresh Touch signals a return to collaborative work for Albarn, following his Rocket Juice And The Moon project with Flea and afro-beat drummer Tony Allen. Released by Angular Records, Fresh Touch is a project founded by Richard Russell and Rodaidh McDonald that fuses traditional African grooves with new electronic sounds – familiar territory for Albarn following work with Africa Express and DRC Music.
Sold exclusively at the Independent Label Market which takes place at London's Old Spitalfields Market on Saturday 13th July, each of the ten one-sided singles in the series will represent a different label from the broad spectrum present at the event and will be limited to a mere fifty copies each.
Sold for £10 each and limited to one per customer, the proceeds will all go towards Oxfam's Syria Appeal, with an live eBay auction to be held for a complete set of all ten singles on the afternoon of the event.
The unique collection also includes first new material in five years for Swamp81 label head and DMZ veteran Loefah, a Four Tet remix of Beth Orton's "Carmella" and The Charlatans' Tim Burgess remixed by Factory Floor on his own O Genesis imprint.
Check out the full list below. All records will be available from The Vinyl Factory stall and Independent Label Market stall on the day.
Fresh Touch – 'Latest Style' (Angular Records)
Beth Orton – 'Carmella (Four Tet remix)' (Heavenly)
Tim Burgess – 'The Doors Of Then (Factory Floor – Dominic Butler 'Michael Cliffe House remix')' (O Genesis)
Django Django – Love's Dart (Liquid Liquid remix) (Because)
Loefah feat. Trigga – 'Western (Did A Skank)' (Swamp 81)
Planningtorock – 'The One (Bolton remix)' (Human Level)
The Wave Pictures – 'Lisbon' (Moshi Moshi)
Editors – 'Ton Of Love (Acoustic Version)' (Play It Again Sam)
Scott & Charlene's Wedding – 'No Fun' (Fire)
J£zus Million feat. Charli XCX – 'Illusions Of' (Double Denim)
For more info about the event click here and to find out about the charity, click here.