Published on
September 27, 2016
Category
News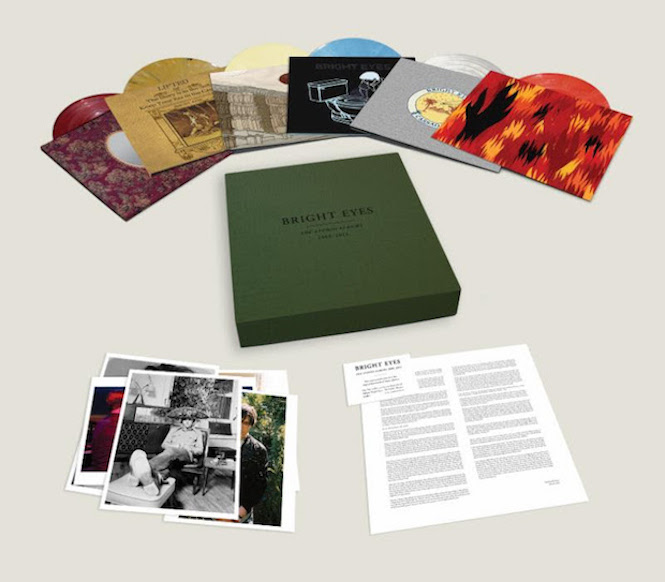 The Studio Albums 2000-2011.
Bright Eyes will release a new box set featuring six of their albums from the 2000s. The package includes 2000's Fevers and Mirrors, 2002's Lifted, or, The Story Is in the Soil, Keep Your Ear to the Ground, 2005's I'm Wide Awake, It's Morning and Digital Ash in a Digital Urn, 2007's Cassadaga, and their most recent 2011 LP The People's Key.
Spread across ten back-breaking coloured LPs, all six albums have been remastered by engineer Bob Ludwig. The set also includes twelve photos prints by Butch Hogan and an essay by Nathaniel Krenkel (who founded Team Love Records with Conor Oberst), all housed in a foil stamped linen-wrapped box. Also on offer is a six CD box set.
The box set is due in on 21 October 2016 via Saddle Creek, pre-order here.
Tracklist:
Fevers And Mirrors (Gatefold – Maroon Vinyl)
A Spindle, a Darkness, a Fever, and a Necklace
A Sacle, a Mirror and Those Indifferent Clocks
The Calendar Hung Itself..
Something Vague
The Movement of a Hand
Arienette
When the Curious Girl Realizes She is Under Glass
Haligh, Haligh, a Lie, Haligh
The Center of the World
Sunrsie, Sunset
An Attemot To Tip The Scales
A Song to Pass the Time
LIFTE or The Story is in the Soil, Keep Your Ear to the Ground (Gatefold – Black & Yellow Swirl Vinyl)
1. The Big Picture
2. Method Acting
3. False Advertising
4. You Will. You? Will. You? Will. You? Will.
5. Lover I Don't Have to Love
6. Bowl of Oranges
7. Don't Know When But a Day Is Gonna Come
8. Nothing Gets Crossed Out
9. Make War
10. Waste of Paint
11. From a Balance Beam
12. Laura Laurent
13. Let's Not Shit Ourselves (to Love and to Be Loved)
I'm Wide Awake, It's Morning (Light Yellow Vinyl)
1. At the Bottom of Everything
2. We Are Nowhere and It's Now
3. Old Soul Song (for the New World Order)
4. Lua
5. Train Under Water
6. First Day of My Life
7. Another Travelin' Song
8. Land Locked Blues
9. Poison Oak
10. Road to Joy
Digital Ash In a Digital Urn
1. Time Code
2. Gold Mine Gutted
3. Arc of Time (Time Code)
4. Down in a Rabbit Hole
5. Take It Easy (Love Nothing)
6. Hit the Switch
7. I Believe in Symmetry
8. Devil in the Details
9. Ship in a Bottle
10. Light Pollution
11. Theme to Pinata
12. Easy-Lucky-Free
Cassadaga
1. Clairaudients (Kill or Be Killed)
2. Four Winds
3. If the Brakeman Turns My Way
4. Hot Knives
5. Make a Plan to Love Me
6. Soul Singer in a Session Band
7. Classic Cars
8. Middleman
9. Cleanse Song
10. No One Would Riot for Less
11. Coat Check Dream Song
12. I Must Belong Somewhere
13. Lime Tree
The People's Key
1. Firewall
2. Shell Games
3. Jejune Stars
4. Approximate Sunlight
5. Haile Selassie
6. A Machine Spiritual (In The People's Key)
7. Triple Spiral
8. Beginner's Mind
9. Ladder Song
10. One for You, One for Me