Published on
July 3, 2014
Category
Vinyl Factory Events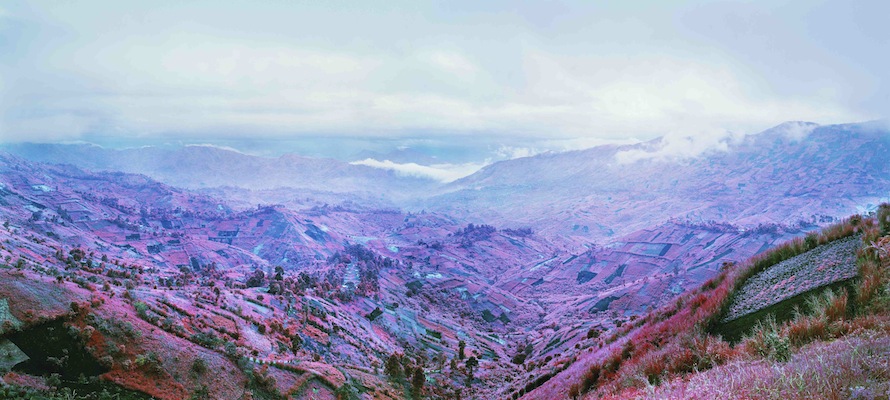 Image: Richard Mosse – Because the Night, 2012
---
Extended Hours: Thursday 10th April until 7pm
Exhibition dates: 4th April – 26th April / Open Tuesday to Saturday 11:30am – 5.30pm
The Vinyl Factory Space at the Brewer Street Car Park
Entry through the front entrance on Brewer Street
---
The Vinyl Factory and Edel Assanti are pleased to present The Enclave, Richard Mosse's debut London solo exhibition. The Enclave, a multichannel video installation, was originally commissioned for the Irish Pavilion at the 55th Venice Biennale. The installation will be accompanied by a presentation of large format photographic works.
The Enclave is the culmination of Mosse's work in eastern Democratic Republic of Congo, a place where 5.4 million people have died of war-related causes since 1998(i), yet which often loses visibility and receives little coverage in the mainstream media. Mosse brings to this overlooked humanitarian disaster a discontinued military reconnaissance film. This special film was originally developed to reveal enemy camouflage by registering an invisible spectrum of infrared light and rendering the green landscape in vivid hues of lavender, crimson, and hot pink. "Beauty," Mosse believes, "is the main line to make people feel something. It is the sharpest tool in the box." His discordant psychedelic color palette surprises viewers, compelling them to take notice, while offering multiple layers of signification.
For his London exhibition, The Enclave has been expanded from six to eight double-sided screens. Installed in a large darkened chamber creating a physically immersive experience. This kaleidoscopic, disorienting installation is intended to formally parallel the conflict in eastern Congo, which is multifaceted, intangible, unknowable, and carried down mud paths by rumor and fear. Rebels indicted for human rights violations face off with Mosse's lens as he tries to undermine their arrogant machismo through a camp portrayal, shimmering in a field of flushed pink. A traditional photo-reportage approach to African war and its gritty black and white realism is overturned with surreal distortion, a kind of magical realism that pushes the viewer to a threshold with dreams and nightmares – a place in consonance with the absurd, disjointed, dreamlike experience of war itself, which Mosse and his team experienced firsthand in order to make this piece.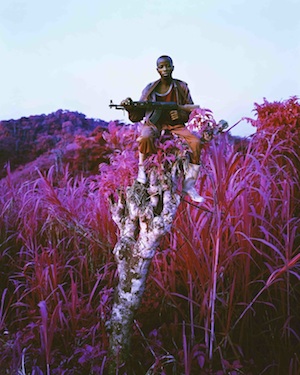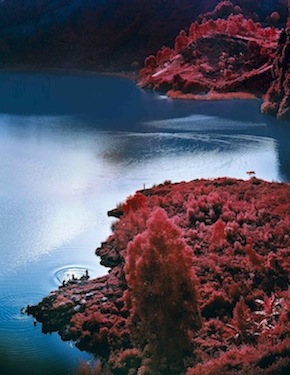 Images: Higher Ground, 2012 (left) and Lac Vert, 2012 (right)
Reconfiguring the dictates of photojournalism and expanded video art, scored with a visceral soundscape by Ben Frost, The Enclave becomes an experiential environment. Mosse and the cinematographer Trevor Tweeten evolved a style of long tracking shots made with Steadicam. Bringing this precarious apparatus, usually associated with highly choreographed studio productions, into an unpredictable war zone is itself a highly unorthodox approach. The result is a ghostly, haunted gaze floating across frontlines: following rebels deeper into the undergrowth; exploring a freshly abandoned army outpost; tracking, wraithlike, the bodies of the recently killed; or ramping up a rebel propaganda rally. One memorable sequence brings the viewer in seamless real time from a hilltop overlooking a vista of classical beauty down into the destitution of an internally displaced person's camp – from the macro to the micro – giving an unforgettable face to the anonymity of impenetrable statistics. The Enclave lures the viewer along a myriad of possible footpaths.

Image: Thousands Are Sailing I & II

The forty minute film's narrative climax shows the battle for the city of Goma, which falls to a rebel group named M23. These scenes of chaotic jubilation and violent death recall the style of World War II newsreel footage, and traditional 20th Century reportage photography. Regressing to a handheld cinema-verité style, and played back without sound, in total silence, this scene throws the work's many divergent cinematic approaches, and its impactive soundtrack, into stark relief. Offering testimony to eastern Congo's cancerous cycle of 'vicious little wars'(ii), The Enclave demands that the viewer bear witness, while opening a space for reflection on the documentary approach at a critical moment in the history of photography.
Richard Mosse – The Enclave will be open from 4th – 26th April (Tuesday to Saturday 11:30am – 5.30pm) at The Vinyl Factory Space at the Brewer Street Car Park, which you can access from 17 Peter Street W1F 0AL or click here for a map.
(i) According to a special report by the International Rescue Committee
(ii) 'Africa's Dirty Wars' by Jeffrey Gettleman, The New York Review of Books, March 2012