Published on
December 13, 2013
Category
Vinyl Factory Events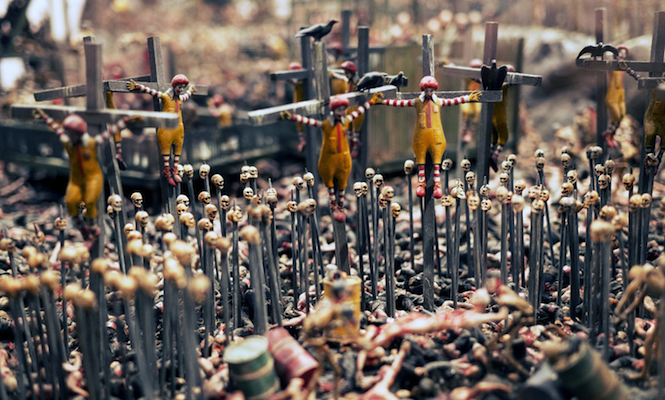 The Chapman Brothers return with expansive new winter show at the new Zaha Hadid-designed Serpentine Sackler Gallery.
Jake and Dinos Chapman are no strangers to the C-word. In fact, as the go-to adjective for their work, it's beginning to wear a little thin. Controversial, in so far as they divide opinion, the Chapman Brothers are destined to remain, and with their new show at The Serpentine, the duo are facing it up head on.
As the glib and beckoning title suggests Come And See invites reaction, as Jake and Dinos confront questions of morality, the history of art and consumer culture in a show that will run from 29th November til the 9th February. As is their want, the duo's signature "Hell" spin-offs will take their place alongside twisted corporate slogans and steam-punk dildos for an exhibition already being perused by a curious group of KKK-clad art enthusiasts with rainbow socks and sandals. The brothers are inviting you to join them.
Julia Peyton-Jones, director, and Hans Ulrich Obrist, co-director, at Serpentine Galleries said: "Since their surreal and sometimes nightmarish imagery took up residency in our collective subconscious in the early 1990s, Jake and Dinos have continued to prod, provoke and entertain. Whether subverting artists' original works – including their own – twisting historic narratives or peeling back the surface of consumer-driven culture to reveal the horror and humour that lies beneath, the Chapmans compel us to confront the nagging fears that lie at the dark heart of the Western psyche. Their use of film, music and literature as well as painting, drawing, printmaking and sculpture anticipated the multi-disciplinary approach of the 89plus generation for whom they are heroes and trailblazers. We are thrilled that they are exhibiting at the Serpentine Sackler Gallery this winter."
For Dinos, the show marks a return to visual art after a year of music production following the release of his debut LP Luftbobler (which charted highly in our end of year top 100) and follow up EP LUV2H8, with Actress also enlisted to provide remix work on a limited edition Record Store Day 12″. Augmented by a series of hugely successful audio/visual shows at some of the world's most important festivals (Sonar, Club2Club, ATP), Dinos is back on more familiar territory at The Serpentine, who have opened their new Zaha Hadid-designed Sackler Gallery to the duo with winter.
Jake and Dinos Chapman: Come and See will run until 9th February 2013. Click here for more info and see a gallery of images from the exhibition below.