Published on
February 4, 2016
Category
Vinyl Factory Events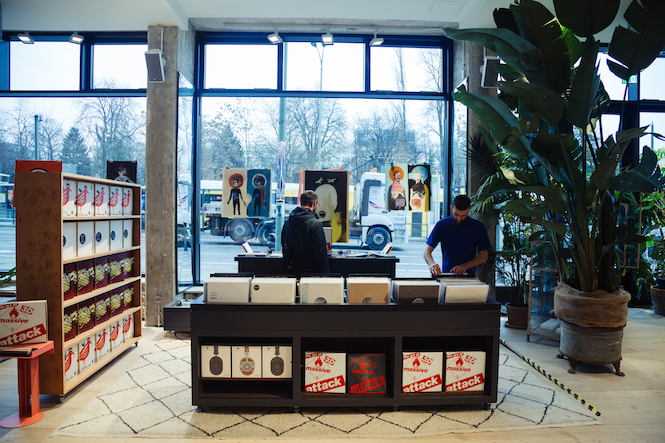 Celebrating the launch of Ritual Spirit, new exhibitions in London and Berlin chart the visual history of Massive Attack.
---
London Exhibition:
Lazarides Editions
Sea Container House, 20 Upper Ground, London SE1 9PD
3 Feb – 5 Mar 2016
Berlin Exhibition:
The Store
Torstrasse 1, 10119
17 – 20 Feb 2016
---
Featuring Tricky, Roots Manuva and Young Fathers, Massive Attack's new Ritual Spirit EP is being released as a special limited vinyl edition featuring hand-finished artwork by the band's Robert Del Naja aka 3D.
Manufactured at The Vinyl Factory, the EP is accompanied by an exhibition of limited edition prints and a selection of works that document the visual history of the band.
Del Naja has collaborated with Lazarides Editions studio to create 25 clothbound portfolios with seven hand-crafted screenprints, each individually signed and numbered, and featuring the artist's iconic symbol prints.
Available to purchase at Lazarides for the duration of the show, the Ritual Spirit limited edition vinyl and the accompanying exhibition will also head to The Store in Berlin where a second iteration of the exhibition takes places between 17th and 20th Feb.
Update 4/2: The 200 limited edition Massive Attack Ritual Union EPs have officially sold out at Lazarides. 100 copies are still available at The Store.
Update 18/2: 100 copies at The Store have sold out.