Published on
October 22, 2019
Category
Features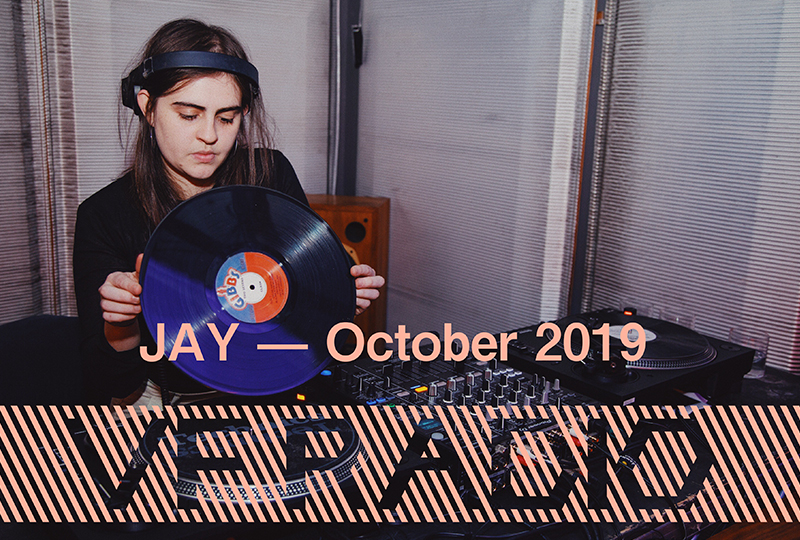 A vinyl-only tour, spanning from ambient and reggae to dub and beyond.
The Vinyl Factory Radio is a new audio platform on VF, dedicated to sharing and discovering records from across the world through mixes, interviews and podcasts.
Initially launched within Chicago artist Theaster Gates' Black Image Corporation exhibition at 180 The Strand, this programming explores cross-cultural, artistic collaborations between the Chicago and the music scene in London.
JAY is a founding member of SIREN – a London based crew who launched in 2016 to create a safe and immersive space for those who are underrepresented in dance music, whilst critiquing the wider electronic scene as a whole. Throughout every avenue, they are champions of inclusivity, who seek to give a platform, and a voice, to those who may not have one otherwise.
As a producer, she's released tracks on Intergraded and Higgler, while JAY's DJ sets see her lay down fierce and sublime techno – of the variety that will joyously melt your face off.
For this first VF Radio foray though, she's returning to vinyl for something different – a two-hour special, exploring sounds that diverge from those she plays in a club setting, from Midori Takada and Nico, to King Tubby, Sir Horatio and more.
This is JAY.
Tracklist
1. No Artist – Caribbean Lagoon [Syntonic Research Inc.]
2. Wiktor Milczarek – Wśród ślepych jednooki jest królem [Brutaz]
3. Ben Vince – Fitwitchu [Blank Editions]
4. Midori Takada – Trompe-l'œil [RCA Red Seal]
5. Anadol – Görünmez Hava [Pingipung]
6. Rupert Clervuez & Beatrice Dillon – A Different River Once [Paralaxe Editions]
7. Lumukanda – Red, Black & Mellow [Nova Zembla]
8. Laurine Frost – Virtue [Marionette]
9. Ashley Beedle – Urbanization / In Country (Takada's Last Summer Percussion) [Disorient]
10. Randomer – Bell Drum [L.I.E.S]
11. Mica Levi & Oliver Coates – I'll Keep Going [Slip]
12. Nico – All Saints Night From A Polish Motorway (Live) [Dojo]
13. Bandalu – Selah
14. Top Dubber -RDK Meets Disciples [Universal Roots]
15. Sir Horatio – Sommadub [Factory]
16. Tommy Mccook – Determination Skank [Dub-Store Records]
17. King tubby – Express Way Dub
18. U-Roy – Love In The Arena [Front-Line]
19. Jah Thomas – Housewife Dub [Abraham]
20. Culture – I'm Not Ashamed [Joe Gibbs Record Globe]
21. Creation Rebel – Space Monement Section 1 [On-U Sound]
22. Ben Vince – Tower Of Cells [feat Valentina Magaletti & Cam Deas] [Where To Now?]
23. Richard Horowitz – Queen Of Saba [Freedom To Spend]
24. June11 – White Bird, No 1 [STROOM]
25. King Crimson – Larks' Tongues In Aspic, Part One [Island Records]