Published on
August 7, 2015
Category
News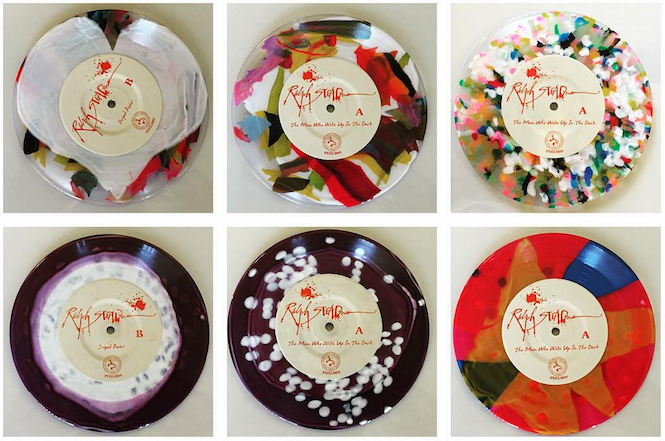 Hand poured, hand pressed experiments in colour.
It's common knowledge that operating a pressing plant in 2015 means working round-the-clock. With overdriven machinery and workers there's usually little time to explore new techniques, but at Cleveland's Gotta Groove Records plant experimentation is encouraged.
Heather Gmucs and Sarah Barker, two employees at the plant, have been playing around with colour and exploring the limits of pressed vinyl as a visual medium. They've mastered industry standards like splatter and half-and-half records, and are now looking to push the boundaries of coloured vinyl.
"What if I mix this color and that color, what if I don't heat this material at all, what if I could make this record a different color on each side… No one at GGR has ever done anything like this before so that's why I think Vince [founder of GGR] wants to push the limits," explained Gmucs in an interview with Dangerous Minds.
Contrary to popular opinion, Gmucs believes coloured vinyl delivers better sound. "Chemically, the color formulas are better, allowing for better flow in the plates which equals better sound quality in the product".
The pair have created an Instagram home for their vinyl experiments. They intend to launch a record label exclusively dedicated to custom colour vinyl pressings and visual art. [via Dangerous Minds]
Can't get enough coloured vinyl? Feast your eyes on this online archive of multi-coloured vinyl.