Published on
August 14, 2015
Category
News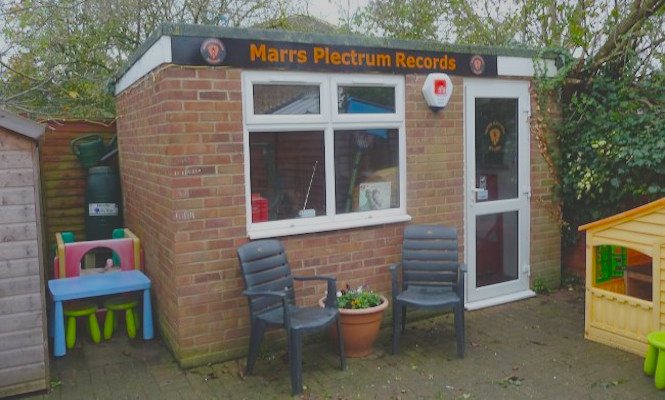 It's not size that matters, it's how you use it.
Record shop culture is experiencing something of a renaissance in the UK. Shop openings are at a five year high with Brixton gaining a new shop just this week and over 20 stores popping up across the country in the past 12 months.
And as our pick of London's secret digging spots proved, some of the best shops are to be found off the beaten track. Or indeed not on land at all. Seriously, there's a floating record store boat, cruising around the canal system right now.
To celebrate this fantastic indie spirit, the folk over at Entertainment Retailers Association have surveyed 220 record shops in search of the UK's smallest outlet, measured by square foot.
Here are the smallest five, in descending order:
---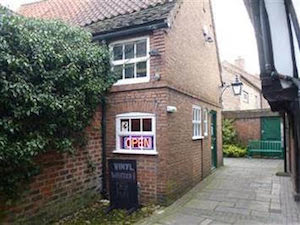 5. Earworm Records
1 Powells Yard, Goodramgate, York, YO1 7LS
196 square foot
A secret spot in the heart of York, owners Rich and Paul opened Earworm in October 2013.
Located in a 16th Century building, the shop is tight on all three dimensions but especially height. "We had a placement guy in from the local University who was 6ft 7″, how he managed to not knock himself out in the 2 weeks he was here I'll never know," says Paul. "Also, in-store DJ gigs and live bands in the shop are a sight to see – luckily we have our own private courtyard which caters for over spills. Having a record shop slightly off the main street certainly has its advantages!"
---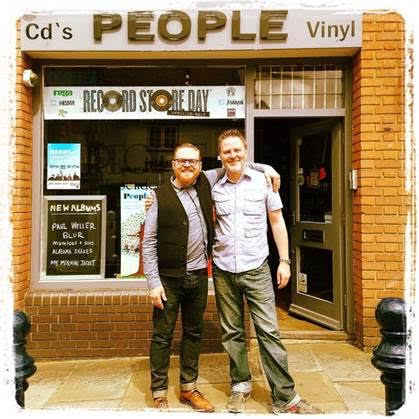 4. People Records
14 Chapel Street, Guildford, GU1 3UL
165 square foot
Howard Smith's People Records, located in Guildford's town centre and occupying 165 square foot, comes in at number 4.
When asked about plans for expansion, Howard said he preferred his shop small – "it means we don't have room for any rubbish. Mean and keen!".
---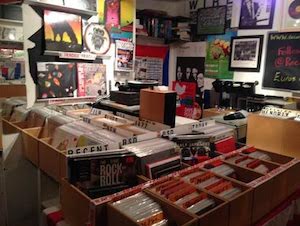 3. The Record Shop
7 Shurdington Rd, Cheltenham, GL53 0JB
100 square foot
Cheltenham's The Record Shop takes the third spot with an area of just 100 square foot. Established in 2007, the shop is run by Martyn Hooper and his family.
Like Howard Smith, Hooper said he was pleased with small shop status, emphasising quality over quantity.
---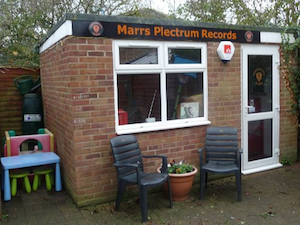 2. Marrs Plectrum
387 Fulbridge Rd, Peterborough PE4 6SF
79 square foot
Number two is a garden shed. Located in owner Matt Hawton's back yard, Marrs Plectrum is just 79 square foot with a wall to wall walking distance of about three paces.
On learning of his status, Hawton said "It's a curios privilege. In many ways, it's not about the size of the shop, but the quality of stock. It's not unusual on a Saturday to find myself pushed out the door to create room for customers but I consider that a good day. With particularly busy days such as Record Store Day we choose to host the event alfresco. My wife and I ran Record Store Day and a regular customer volunteered to run the shop. This conjured up images of Dick and Barry from High Fidelity, although he didn't turn up again for work on Monday! That act of generosity, volunteering to support a small indie shop, sums up the charm and goodwill that a small shop can gain. He was of course paid in vinyl."
---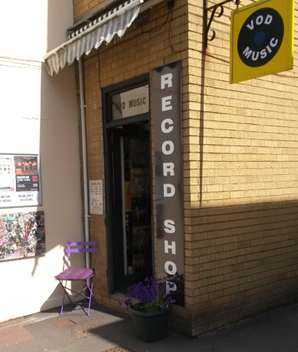 1. VOD Music
28 New Street, Mold, Flintshire, CH7 1NZ
67 square foot
At just 67 square foot, the smallest record shop award goes to VOD Music in North Wales.
Owner Colin set up shop in 2004 and, on receiving the top spot, said: "It is quite an honour to be listed as the smallest in the UK and our customers are very protective of our status. We used to struggle with stock space but being well organised and having bespoke racking has made life a lot easier. We are very happy with the experience we've created and think our customers would actually be disappointed if we upsized!"
[via RSD]