Published on
December 31, 2015
Category
News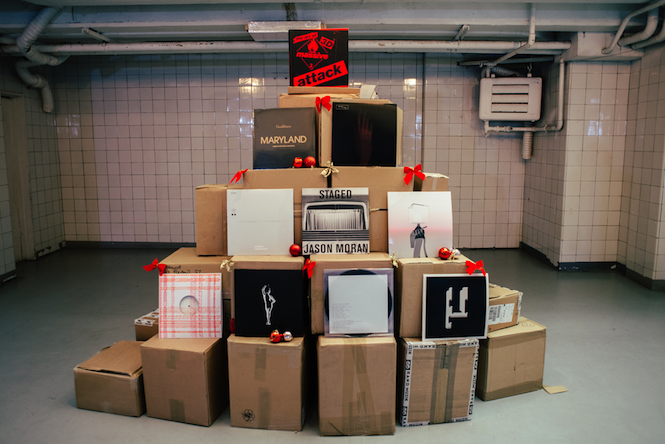 Click the image above for an interactive guide to our 10 favourite releases of 2015.
It all started way back in January as we unveiled the world's first mobile pressing plant, The VF Press, at Christian Marclay's White Cube show, pressing hundreds of records a week with hand-screen printed sleeves by the likes of Thurston Moore, Mica Levi and Ryoji Ikeda. And it's the latter's collaboration with Christian Marclay himself which is first on our cardboard Christmas tree of vinyl.
Next to Ryoji is Jeremy Shaw, whose soundtrack to film Variation FQ with legendary voguer Leiomy Maldonado recently made our list of the 50 best albums of 2015. As Circlesquare, Jeremy Shaw had previously released on Trevor Jackson's Output label, and it's Jackson who is next on the tree, releasing F O R M A T, his first album in fourteen years, on The Vinyl Factory earlier this year. A homage to the physical music format, the album was initially released across twelve different formats but has since become available in its entirety on one triple vinyl LP.
Another triple vinyl, 20 Years Of Planet Mu celebrates one of dance music's most consistently adventurous labels charting its evolution from IDM to footwork with a load of unreleased material.
Up a level, Gwilym Gold's aching ballad 'Flex' gets an old school jungle rework from Zomby next jazz pianist Jason Moran, whose work song-inspired three track EP Staged was released in conjunction with the artist's Venice Biennale show of the same name.
The only live recording on the tree, the release of Ryuichi Sakamoto and Taylor Deupree's St John Session performance raised the curtain on The Vinyl Factory's label collaboration with the series Thirty Three Thirty Three, while approaching the top of the tree we've got French techno whizz Gesaffelstein's haunting soundtrack to Maryland and Keaton Henson's new LP of electronic compositions – perfect for fans of Mount Kimbie and James Blake.
At the top of the tree though is not a record (or a star) but a book, and the hardback edition of 3D and the art of Massive Attack, the first comprehensive look at the trail-blazing cover art, visuals and ephemera of one of the most important bands of the last twenty years.
Click the dots on the image above to purchase any of our top ten editions this year or go here to browse the shop for more of The Vinyl Factory's 2015 releases.