Published on
December 4, 2015
Category
News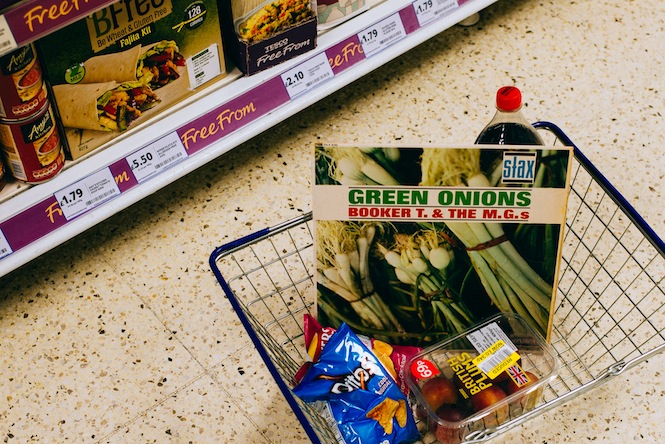 Hold tight, this year's "trendy gifting option" is coming to a supermarket near you.
The world's third largest retailer Tesco is to sell an expanded range of vinyl records following what it called the "huge success" of the Iron Maiden LP it stocked in September.
Following the news that discount supermarket Aldi were trialling vinyl sales too, Tesco vinyl stock will expand from just one title to twenty, picking out a selection of new releases (think Coldplay, George Ezra and David Gilmour) as well as a number of ubiquitous classics from Bruce Springsteen, Bob Marley, Prince, The Beatles, The Rolling Stones, Radiohead and Elvis.
Stocked at forty stores across the UK, the records will retail for between £12 and £20, and will join a selection of twelve turntables that have been available since last year.
As reported in Music Week, Tesco music buyer Michael Mulligan said: "Our trial selling vinyl this summer was a real success with all our stock selling out and this really proved to us just how popular the vinyl album format is again with music fans.
"Vinyl is definitely coming back with demand growing stronger year by year and we think there will be a big demand in the UK this Christmas as music fans look for trendy gifting options."
If you can stomach the term "trendy gifting option" and want to find out more, then read Pete Paphides on why supermarkets selling records might not be such a bad thing.
Check out the full list you can now pick up with your mince pies below: [via Music Week]
1. Coldplay – A Head Full Of Dreams
2. ELO – Alone In The Universe
3. David Gilmour – Rattle That Lock
4. George Ezra – Wanted On Voyage
5. Elvis Presley – 30 Number 1 Hits
6. The Beatles – Sgt Pepper's Lonely Hearts Club Band
7. The Rolling Stones – Sticky Fingers
8. Stones Roses – Stone Roses
9. Various – Guardians Of The Galaxy Soundtrack
10. Nirvana – Nevermind
11. Bob Marley – Legend
12. Guns'n'Roses – Appetite For Destruction
13. Led Zeppelin – Led Zeppelin II
14. Foo Fighters – Greatest Hits
15. Bruce Springsteen – Born In The USA
16. Fleetwood Mac – Greatest Hits
17. The Eagles – Hotel California
18. Prince – Purple Rain
19. Radiohead – The Bends
20. The Specials – The Specials