Published on
December 3, 2015
Category
News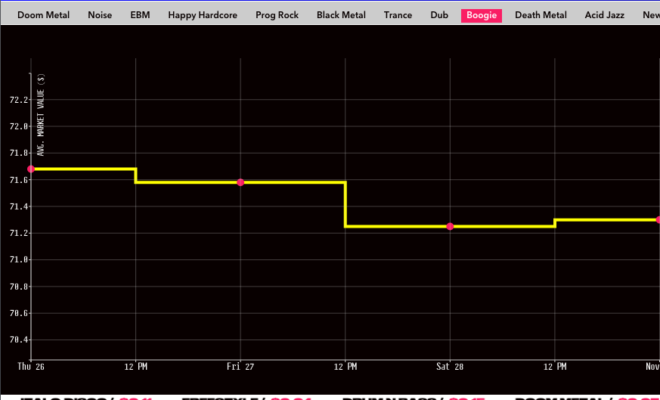 Track the daily ups and downs of genres on Discogs.
RBMA have taken their team of developers to the Discogs data bank to produce a real-time second-hand vinyl stock market, to analyse and play with trends across a variety of genres.
Analysing price movements from the top 250 most wanted records within selected genres, averages reevaluated on a daily basis and mapped in as series of interactive graphs.
Using the vast quality of data accumulated by Discogs, you can finally find out interesting and important things like how the average price of deep house 12″s has fluctuated in the last month, whether or not prog rock really is as economically unpopular as you thought or if you own any of the most wanted black metal LPs on the database.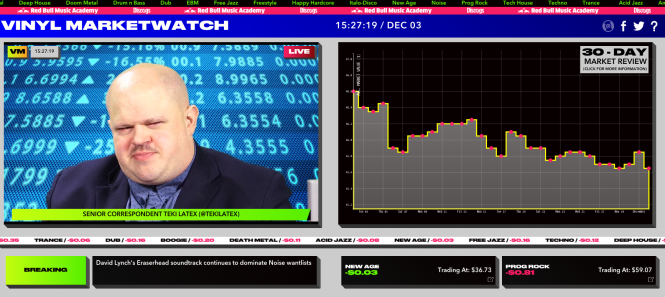 And if drawing your own conclusions is too taxing, the whole thing is anchored by Teki Latex, with bite-size summaries delivered from his very own market hot seat.
A nod to the speculative culture that surrounds second hand vinyl sales and the competitive dash for rarities that sends prices spiralling, RBMA have issued something of a disclaimed about the project, suggesting it's more of a parody than an endorsement of the current state of affairs.
Have a browse of Vinyl Market Watch for yourself here. However, for the really valuable stuff, you'll have to check out our list of the 10 most collectable records of 2015.