Published on
March 17, 2015
Category
News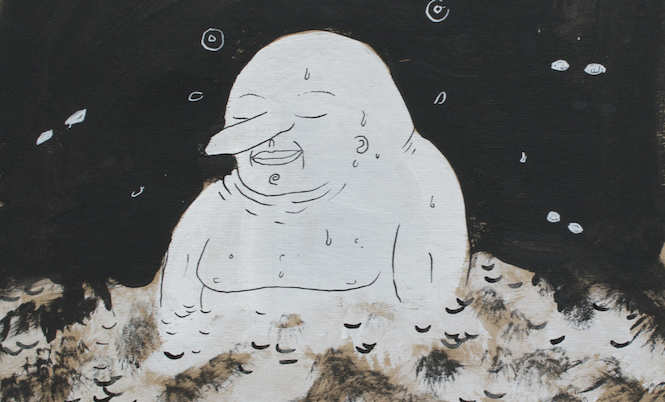 100% of proceeds to go charity.
Indie labels Castle Face, Famous Class and In the Red are clubbing together to auction off test pressings with all proceeds going to charity. On offer are vinyl rarities from Ty Segall and Thee Oh Sees, as well as Parquet Courts, White Fence, Fuzz, Jay Reatard, Black Lips, Wand, and plenty more.
To top it off, most of the test presses are signed or feature original art from the bands. In fact John Dwyer has hand painted all of Thee Oh Sees' Castle Face releases.
Proceeds from Castle Face auctions will go to  Pathway Recuperative Care, a charity who provide outpatient care for the homeless of Los Angeles, reducing hospital stays and working with patients on their pathway to housing with dignity and respect. While Famous Class and In The Red will be donating to the Save The Music Foundation – which provides funding for music education in public elementary and middle schools that do not currently have an instrumental music program in place.
All auctions are running from now until March 22nd. Check out the full list of releases below and click on the links for the auction pages.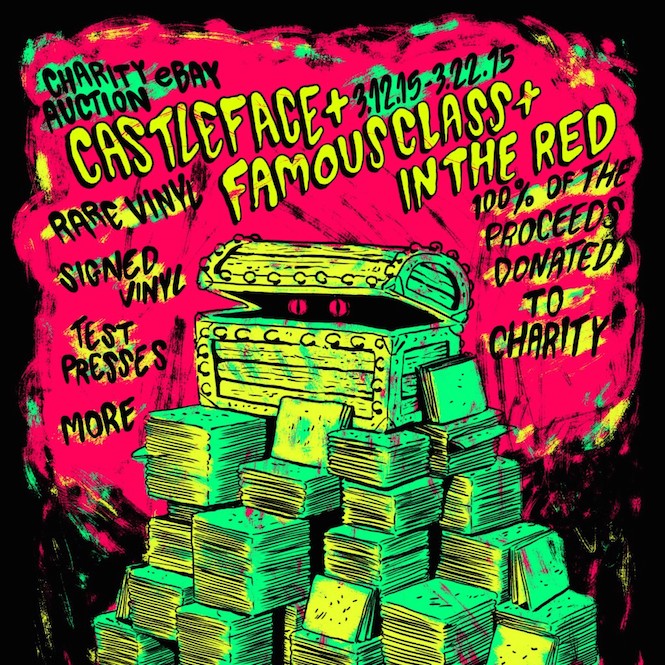 Castle Face
Thee Oh Sees test pressings, each individually hand-painted by John Dwyer:
• CF-013 Dog Poison LP (2)
• CF-018 Floating Coffin LP (2 approved, 3 rejected)
• CF-022 Moon Sick EP (3)
• CF-033 Drop LP (3)
as well as
• CF-034 Damaged Bug LP (2 approved, 1 rejected)
Ty Segall's individually hand-drawn test pressings, including:
• CF-031 – FUZZ – Live In San Francisco LP (3)
• CF-045 – Ty Segall Band – Live In San Francisco LP (3)
White Fence test pressings, hand-inked by Tim Presley, including:
• CF-019 – Cyclops Reap LP (2)
• CF-028 – White Fence Live In San Francisco LP (1)
• LAMC No. 10 FUZZ / CCR Headcleaner 7" Test press signed by FUZZ (2)
• LAMC No. 10 FUZZ / CCR Headcleaner 7" LTD splatter vinyl signed by FUZZ
• LAMC No. 11 Mikal Cronin / Wand 7" Test press with original art by both bands (2)
• LAMC No. 11 Mikal Cronin / Wand 7" LTD color vinyl with original art by both bands
• LAMC No. 12 White Fence / Jack Name 7" Test press with original art by Tim Presley (2)
• LAMC No. 12 White Fence / Jack Name 7" LTD color vinyl with original art by Tim Presley
• LAMC No. 13 Parquet Courts / Future Punx 7" Test press
• LAMC No. 13 Parquet Courts / Future Punx 7" LTD color vinyl
• LAMC No. 14 Speedy Ortiz / Chris Weisman 7" Test press with original art by both bands
• LAMC No. 14 Speedy Ortiz / Chris Weisman 7" LTD color vinyl with original art by both bands
• Ty Segall: Mr. Face 2×7" EP Test press signed by Ty
• Ty Segall: Mr. Face 2×7" EP 1st pressing signed by Ty
• Brian Chippendale and Greg Saunier LP test press with original art by Brain and Greg
• Multilayer print of LAMC Series press sheets from Stumptown Printers (set of 4)
• Famous Class classic cat T-shirt Purple on Green size Small (one of a kind)
• Wand – Golem LP Test Press signed by the band
• The Jon Spencer Blues Explosion – Jukebox Explosion LP Test Press
• Jay Reatard – Night Of Broken Glass 12" EP Test Press
• Black Lips – Good Bad Not Evil LP Test Press
• Oblivians – Barristers '95 (live LP) Test Press
• The Fresh & Onlys – Play It Strange LP Test Press
• The Spits – Spits IV LP Test Press
• The King Khan & BBQ Show – Bad News Boys LP Test Press