Published on
March 17, 2015
Category
Features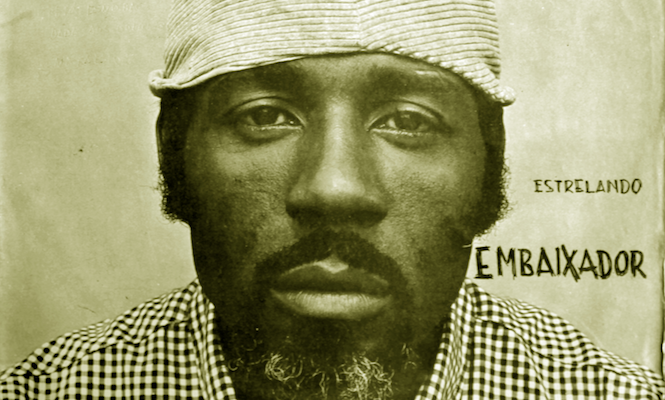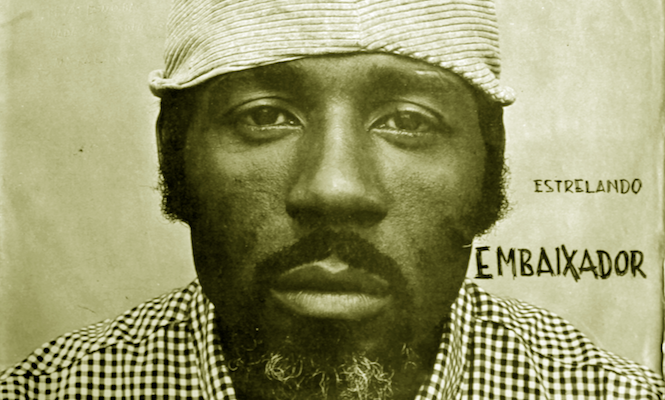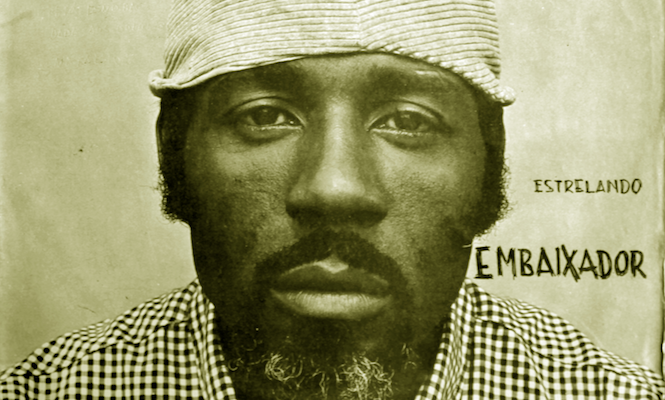 A holy grail with a bizarre narrative to match, Tribo Massáhi's Estrelando Embaixador received its first official vinyl reissue last month.
As far as rare records are concerned, the absence of a story can sometimes be more compelling than the most outrageous. As Luaka Bop's Who Is William Onyeabor? release showed, reissues can be as much about the journey as the destination. Thankfully, as far as Tribo Massáhi are concerned, there's no need to compromise one way or the other.
Empirically speaking, very little is known about Tribo Massáhi's 1972 afro-psych long player Estrelando Embaixador. When we reported on this release in February, the words of one blogger seemed to sum up the baffled wonder of the record-collecting community quite nicely. As far as the music was concerned, it was simply a record of "candomblé-inspired psychedelic party music, taking the Afro-Brazilian sound into some wild territory… a heady mix of tropicalismo, chimed guitar, conversational chatter, studio fuckery, and heavy percussion with a female chorus. The songs blend together so that each side of the record runs as a continual piece."
However, when it came to context, the scraps were far less descriptive. Rumour had it that the Tribo Massáhi studio band were bought together by enigmatic bit-part actor Embaixador (Ambassador) who had shelved an abortive acting career (which included one role as a gangster in a Brazilian James Bond-style musical) to record the album of his dreams, and something unlike anything heard in Brazil, before or after.
Although bootlegs of the release have been around for some time (themselves demanding three figure sums on the resale market), the excitement that built around Sao Paolo label Goma Gringa's 'official' reissue was that more of the story was about to be revealed. With the originals said to have sold for upwards of $3,500 not all that long ago we caught up with Itamar and Frederic of Goma Gringa to hear the bizarre story of how a bit-part Brazilian Bond villain came to record one of the most unique and sought after records in his country's history.
---
First things first, who were Tribo Massáhi?
Itamar: Tribo Massáhi was the band created by Embaixador in the end of 60's. We couldn't identify all of the members of the band, but we found Rui Barbosa, guitarist known by the name Ruy Ipanema, who told us some stories. We now also know the name of the drummer, Aladim, who was a great drummer and played on some important albums at the 1960s and '70s. Sadly he had already passed away. Another guitarist from the album was Toninho Mil Acordes, who people told us is alive, but we couldn't find him.
Very little was known about it before – what is the story behind this record?
Itamar: Embaixador was a very well known character in Beco da Fome, in Copacabana. The place was often frequented by many artists seeking work in TV or cinema and Embaixador was the guy who could get them opportunities as extras. Ruy Ipanema told us that Embaixador managed to get one day at a studio to make the album, probably for free. He called in the musicians and they went to the studio at Rua do Senado, and recorded this treasure. However, as Rubem Confete, a friend of Embaixador, musician and afro dancer, told us: "At that time, things were difficult. As a small label, you did not have much chance. It was complicated. You took your album and went away."
How did you track down the original? Could you tell us about the journey you went on to reissue it?
Fred: The first copy I held in my hands was Edson Carvalho's one. I had scanned the cover in HD. He ended up selling it, so when we were ready to go with this reissue, he didn't have it anymore, which meant we had to go after another copy. It was pretty complicated as we were in a rush and the one guy that we knew had the record (just bought from another friend) didn't want to leave us alone with it, which is understandable. In the end, one afternoon while we were printing the cover of Thiago França's "Malagueta, Perus e Bacanaço" LP, the cover designer, Julio Dui, told me that he had this record in perfect condition! Since he's a great friend, he allowed us to borrow his copy. On the next day, with the copy in hand, we were recording at Yoka's studio, the guy behind the record label "Somatoria do Barulho".
Why is it so rare? And why does it appeal to collectors so much?
Itamar: I think, at that time, Embaixador made very few copies. He would use the album to open doors, to get work, but people didn't pay much attention to the album. Then, more than 30 years after the release, some researchers found this album and thought: What the hell is this? Who is this guy?
I think one thing is undeniable: the album is great, and the lack of information about the record helped to create the magic around the Tribo Massáhi.
Fred: I don't imagine more than 300 copies of this LP were ever pressed and even fewer sold. They might have even sent the remaining copies back to the factory for recycling.
 I guess that it is the same as other rare and expensive records; first of all, it's a genuinely great record! The sound is fantastic and there aren't any other LPs that sound like it. Coupled with the fact it is impossible to find, you then have all the ingredients for it to become a Holy Grail record!
 I think another fact that made this record super in-demand in the collector world is that this is a crossover LP. Brazilian records collectors want it, groove collectors want it, psych collectors want it…
There are also loads of bootlegs around (which are now also valuable). How does that affect you as an official reissue label?
Fred: Yes, I saw this… For us, It doesn't make any difference since it is such a worshiped record and we came with the official reissue and more importantly the story behind it! Customers can tell the difference. Almost all the shops online have removed the bootlegs from their websites, some shops like Superfly Records even sent back their copies to the distributors, which is much appreciated.
---
Tribo Massáhi's Estrelando Embaixador is out now.