Published on
October 7, 2015
Category
News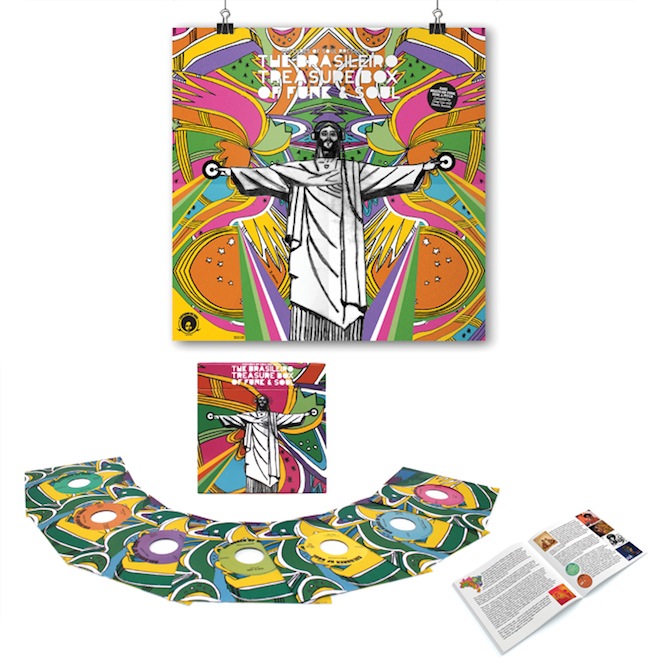 Cultures of Soul pack up 14 nuggets from the dancefloors of '70s Brazil.
Reissue label Cultures Of Soul are releasing a new 7 x 7″ vinyl box set charting the soulful sound of early '70s Brazil. Complete with seven colourful jukebox-style 45s,The Brasileiro Treasure Box of Funk & Soul digs out some super rare bits from the fringes of Brazil's Tropicália movement and the emerging boogie sound that would dominate the latter half of the decade.
Compiled by DJs and aficionados Greg Caz and Deano Sounds, the compilation drops familiar names (Tom Zé, Dom Salvador) alongside the less renowned (Toni Tornado, Os Incríveis).
Raw, psychedelic and heavy on the funk, Caz explains: "We believe this compilation displays its own particular sense of logic, and that these songs ultimately all sound fantastic together, just like they would on a great night with your favorite DJ. Regardless of one's familiarity with artists like Antonio Carlos & Jocafi, Os Incríveis, Toni Tornado or Celia, the material on these 45s speaks its own truth and justifies its inclusion here."
Culled from devilishly rare singles or plucked from over-looked albums, the hard-case compilation includes extensive a poster and liner notes and will also be released as a regular LP version. Click here to pre-order the box set ahead of its release on 23rd October.