Published on
November 4, 2013
Category
News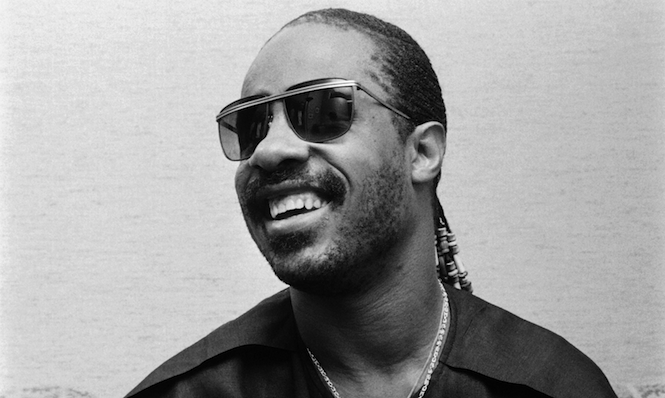 The world's rarest Motown 45 among 14 highly sought after tracks salvaged from the Motown cutting room floor for new 7×7″ box set.
The latest collection culled from a seemingly endless well of Motown rarities, Universal Music Catalogue are set to release a deluxe new box set later this month bringing together 14 of the rarest and most sought after cuts to make it out of Berry Gordy's hit factory. Collected across seven faithfully reproduced 45s, The Motown 7″s Box – Rare and Unreleased Vinyl will return many of the tracks to vinyl for the first time since their initial releases, pitching household names like Marvin Gaye and The Four Tops alongside collectors' favourites Tammi Terrell and David Ruffin.
Despite the mainstream saturation that an enduring appetite for Motown has created, the Motown 7″s box succeeds in skinning the cat in a new way, releasing Stevie Wonder's fabulous "Just Enough To Ease the Pain" on vinyl for the first time, alongside "Do I Love You" by Frank Wilson, which was withdrawn after its initial release in 1965 and an original of which recently sold for over £25,000.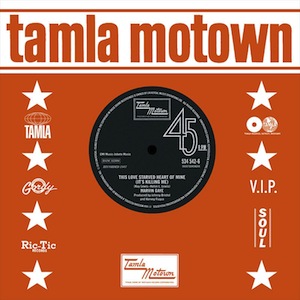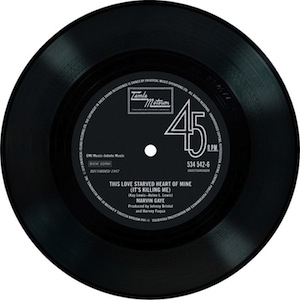 Curating a new compilation for a label with more hits than hot dinners, the task of sweeping up the gold that fell between the cracks at Motown HQ has fallen to DJ and broadcaster Richard Searling, who put together the fourteen tracks on the box set based in the first instance on the response of his club and radio audiences and what he calls his "personal ambitions to get them [in particular the Stevie Wonder and David Ruffin tracks] onto a seven inch 45".
"The Stevie track has only ever previously been a download," Searling explains, while "The Four Tops and Ruffin tracks are both from cancelled album projects, the latter penned by the team that gave us Tobi Legend's 'Time will pass you by'." Collected on a numbered, limited edition box set, the exiled tracks have, in Searling's mind, earned "their place in the sun", emerging from the shadow of a label that built its success on a veritable holy trinity of songwriting: "The quality of the vocals, the finesse of the productions, and the strength of the songs." The world may not have asked for another Motown box set, but we're sure glad it's got one.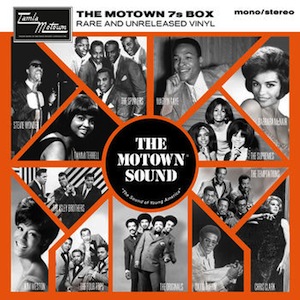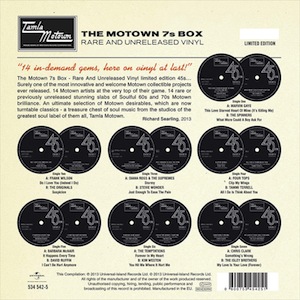 Restored from the original Hitsville master tapes, The Motown 7″s Box will be released complete with classic sleeve reproductions and artwork on 18th November. Click here for more info.
Tracklisting
Single 1
A. This Love Starved Heart Of Mine (It's Killing Me) – Marvin Gaye
B. What More Could A Boy Ask For – The Spinners
Single 2
A. Do I Love You (Indeed I Do) – Frank Wilson
B. Suspicion – The Originals
Single 3
A. Stormy – Diana Ross & The Supremes
B. Just Enough To Ease The Pain – Stevie Wonder
Single 4
A. Clip My Wings – Four Tops
B. All I Do Is Think About You – Tammi Terrell
Single 5
A. It Happens Every Time – Barbara McNair
B. I Can't Be Hurt Anymore – David Ruffin
Single 6
A. Forever In My Heart – The Temptations
B. You Hit Me Where It Hurt Me – Kim Weston
Single 7
A. Something's Wrong – Chris Clark
B. My Love Is Your Love (Forever) – The Isley Brothers