Published on
February 24, 2022
Category
News
Featuring rare photographs, liner notes, and commentary from the team who worked on the original album.
The Notorious B.I.G.'s Life After Death album is being reissued in new box set, via Bad Boy/Rhino/Atlantic Records this June.
Originally released in 1997, Life After Death marked The Notorious B.I.G.'s sophomore album, and included popular tracks 'Hypnotize', 'Mo Money Mo Problems', and 'Sky's The Limit'.
The 8xLP box set includes the original album, 12" versions of tracks, rare photos, and beyond.
The reissue is part of a wider campaign celebrating what would have been The Notorious B.I.G.'s 50th birthday, with online events and "additional surprises" set to come.
Pre-order Life After Death here in advance of its 10th June release; check out the artwork and tracklist below.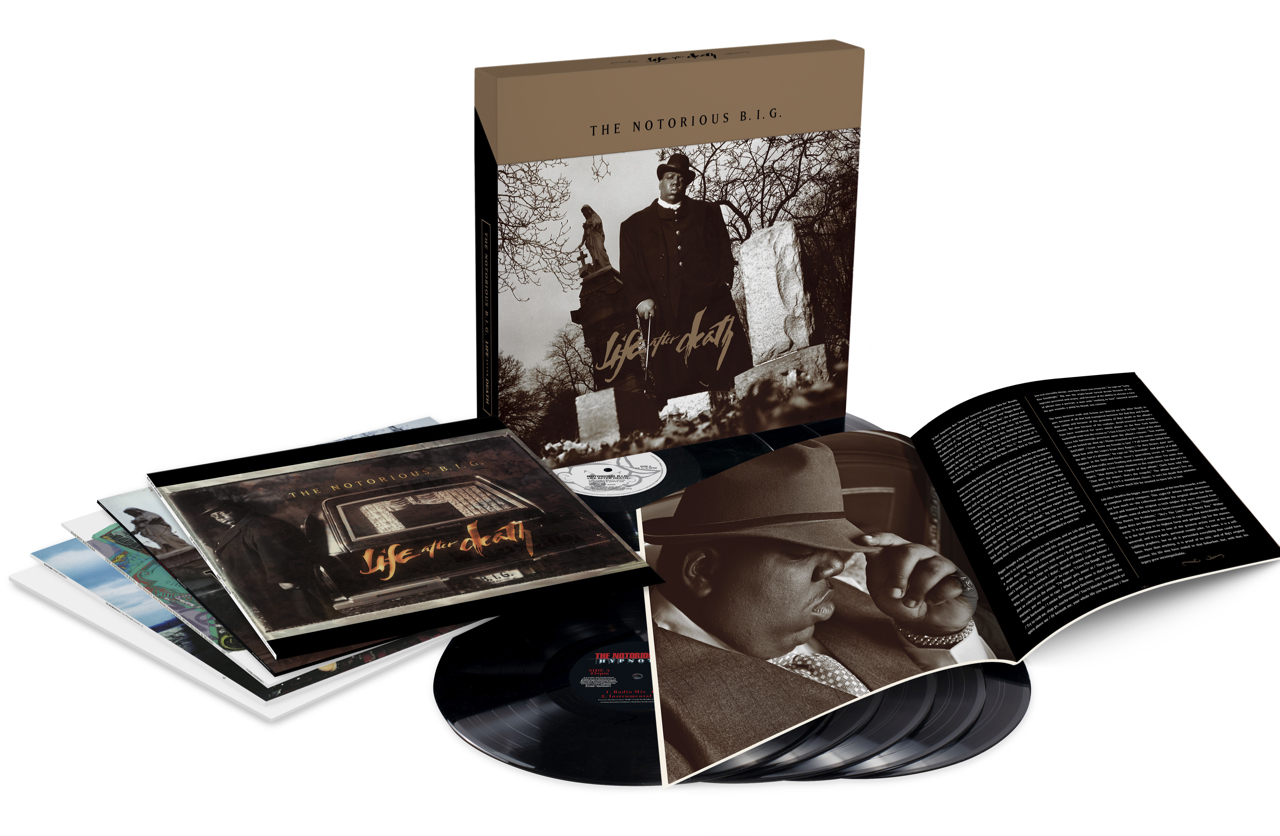 Tracklist:
Side A
1. Life After Death
2. Somebody's Gotta Die
3. Hypnotize
4. Kick In The Door
Side B
1. Fuck You Tonight
2. Last Day
3. I Love The Dough
4. What's Beef?
Side C
1. B.I.G. Interlude
2. Mo Money Mo Problems
3. N****s Bleed
4. I Got a Story To Tell
Side D
1. Notorious Thugs
2. Miss U
3. Another
4. Going Back To Cali
Side E
1. Ten Crack Commandments
2. Playa Hater
3. Nasty Boy
4. Sky's The Limit
Side F
1. The World Is Filled…
2. My Downfall
3. Long Kiss Goodnight
4. You're Nobody (Til Somebody Kills You)
'Hypnotized' 12"
Side A
1. Hypnotize (Radio Mix)
2. Hypnotize (Instrumental)
Side B
1. "Hypnotize (Club Mix)
Mo Money Mo Problems 12"
Side A
1. Mo Money Mo Problems (Radio Mix)
2. Mo Money Mo Problems (Instrumental)
Side B
1. Mo Money Mo Problems (Album Version)
2. Fuck You Tonight
Sky's The Limit 2×12"
Side A
1. Sky's The Limit (Radio Edit)
2. Kick In The Door (Radio Edit)
Side B
1. Going Back To Cali (Radio Edit)
2. Sky's The Limit (Instrumental)
Side C
1. Kick In The Door (Club Mix)
2. Going Back To Cali (Club Mix)
Side D
1. Kick In The Door (Instrumental)
2. Going Back To Cali (Instrumental)
Nasty Boy 12"
Side A
1. Nasty Boy (Radio Edit)
2. Nasty Boy (Instrumental)
Side B
1. Nasty Boy (Album Version)
---
Photo by Michael Lavine