Published on
March 30, 2016
Category
News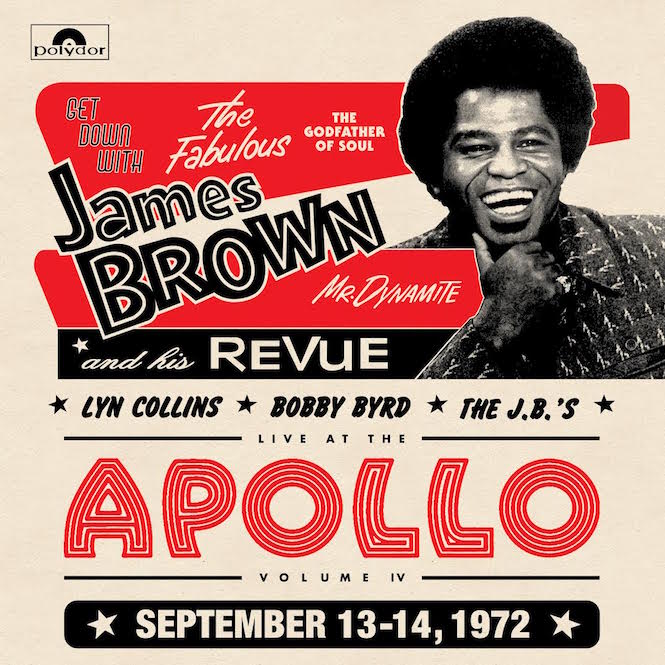 Unreleased gems from James Brown's legendary live performance.
Never before issued on vinyl (or CD), The James Brown Revue: Live At The Apollo IV is the final chapter from Brown's legendary Apollo Theatre series.
Between '62 and '71, Brown released three albums taken from his sessions tearing it up at Harlem's Apollo. The first in the series oft ranks amongst the greatest live albums of all time. Volumes II & III are also highly revered, which makes it a bit of a mystery as to why Volume VI – recorded over two sweaty nights in September 1972 – never surfaced.
Whilst the other Live At The Apollo releases focus on Brown's own incredible music, IV spotlights his favourite players including The JBs, Lyn Collins and Bobby Byrd.
Now more than four decades on, this mind-blowing concert is being issued on vinyl via Get On Down as part of this year's Record Store Day.
Tracklist
01. Introduction Of The J.B.'s by Danny Ray
02. The J.B.'s – Hot Pants Road
03. The J.B.'s – From The Back Side
04. The J.B.'s – Wine Spot
05. Introduction Of James Brown by Fred Wesley
06. James Brown – Never Can Say Goodbye
07. The J.B.'s – Pass The Peas
08. The J.B.'s – Honky Tonk
09. Introduction By James Brown
10. The J.B.'s – Gimme Some More
11. James Brown – There It Is
12. Introduction Of Lyn Collins by Danny Ray
13. Lyn Collins – Do Your Thing
14. Lyn Collins – Think (About It)
15. Lyn Collins – I'll Take You There
16. Introduction Of Bobby Byrd by Danny Ray
17. Bobby Byrd – I Know You Got Soul
18. Bobby Byrd – (If Loving You Is Wrong) I Don't Want To Be Right
19. Bobby Byrd – Keep On Doin' What You're Doin'