Published on
January 29, 2016
Category
News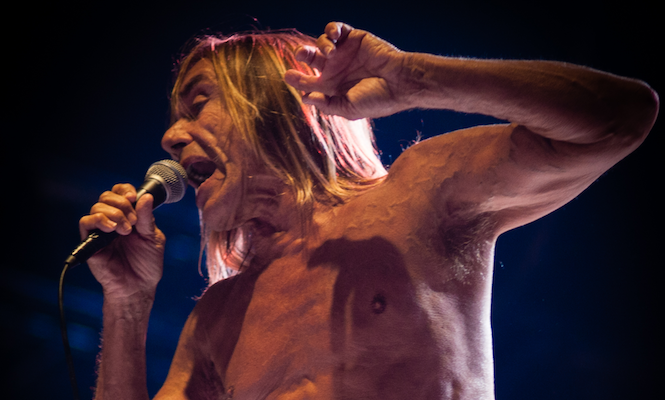 alva noto and Tarwater score Iggy Pop's spoken word tribute to Walt Whitman.
'Godfather of punk' Iggy Pop has teamed up with German electronic experimentalists Carsten Nicolai aka alva noto and Tarwater to pay tribute to great US poet Walt Whitman.
A project first realised on the 2014 CD release of Children Of Adam, Leaves Of Grass takes its name from Whitman's most famous collection and sees alva noto and Tarwater create the sonic backdrop for seven tracks of Iggy Pop's idiosyncratic, gravelly readings.
Fresh from scoring Alejandro González Iñárritu's Oscar-nominated thriller The Revenant with Ryuichi Sakomoto, the raster-noton boss and Ronald Lippok and Bernd Jestram of Tarwater have created a threatening, post-industrial environment for Whitman's pastoral masterpiece.
Infatuated with both the work and personality of the poet, whom he believes "would have been the perfect gangster rapper", Iggy Pop had this to say on Walt Whitman:
"You know, I think he had something like Elvis. Like Elvis ahead of his time, one of the first manic American populists… His poetry is always about motion and rushing ahead, and crazy love and blood pushing through the body… Whitman says, even the most beautiful face is not as beautiful as the body. And to say that in the middle of the 19th century is outrageous. It's a slap in the face. Look at the popular, well-educated poets of the time, those sensitive noblemen. But Whitman writes: "Fuck ass."
Released on Morr Music with no digital version planned, Leaves Of Grass is only available in its limited vinyl edition of just 500 copies, complete with embossed artwork. Click here to pre-order your copy now ahead of its release on 5th February and hear preview snippets.
Tracklist:
1. As Adam Early In The Morning / I Am he That Aches With Love (EP Version)
2. Ages And Ages Returning At Intervals (EP Version)
3. From Pent-Up Aching Rivers (EP Version)
4. A Woman Waits For Me (EP Version)
5. Out Of The Rolling Ocean The Crowd (EP Version)
6. To The Garden The World (EP Version) Iggy Pop / Tarwater
7. Leaves Of Grass (EP Version) Iggy Pop / Tarwater
Last year, Carsten Nicolai presented his immersive a/v installation unicolor at The Vinyl Factory's Brewer Street Car Park Space and performed with Ryoji Ikeda at The Vinyl Factory's Whitechapel live series Music For Museums.
Photo: Eddy Berthier / Wikipedia