Published on
January 29, 2016
Category
News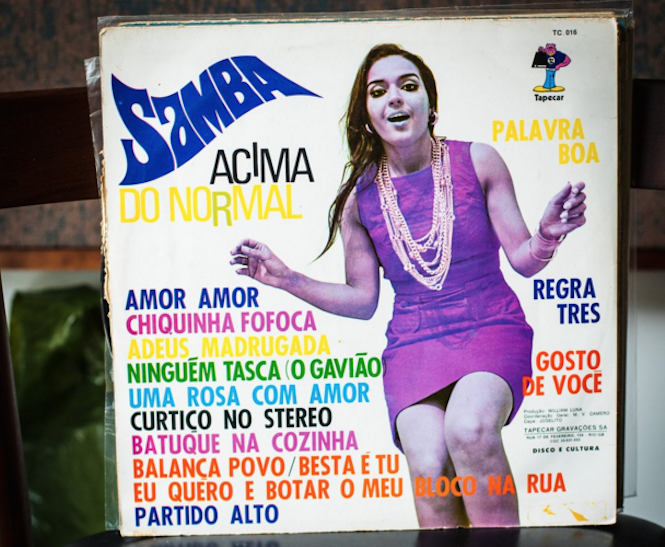 Because it's Friday.
Irrepressible digger Gilles Peterson has brightened up the day with close to 70 minutes of deep cuts and rarities from a recent trip to Brazil.
With his producer hat on, Peterson was in Brazil working on the follow up to Sonzeira's Brazil Bam Bam Bam album released on Brownswood in 2014, but still found time to dip into the record shops and markets of Recife and Rio for a selection that touches on greats like Milton Nascimento, Elis Regina and Sergio Mendes, among some more obscure cuts.
Listen to the fruits of his labour here:
Check out the tracklist and some of the ace sleeves below (Note Rogério Duprat, who looks uncannily like a bespectacled, moustachioed Peterson). Saúde.
Milton Nascimento – O Homem da Sucurcal (Odeon)
Elis Regina – Ye Mele (Philips)
Maysa – Rosa Branca (Copacabana)
Sergio Mendes Trio – Pau Brasil (Elenco)
Henry Nirenberg – Funeral d'Um Rei Nago (Club)
Harmony Cats – Harmony Cats' Theme (Young)
Lemos & Debetio – Morro Do Barraco Sem Agua (Odeon)
Ze De Norte – Brasil da Integracao (Beverly)
Dora Lopes – Desamparada (Copacabana)
Taeira – Cotia Macamba (CDFB)
JR Bertrami – Gosto de Voce (Tapecar)
Conjunto Baluartes – Nira Gongo (Okeh)
Ballet Brasileiro da Bahia – Exu (ASC)
Ellis Regina feat. Lo Borges – Vento de Maio (EMI)
Danilo Horta – Joao Pintor (Tom Maior)
Eduardo Araujo & Silvinha – Capoeira (Beverly)
Ed Marcel – Festa (Copacabana)
Manfredo Fest – Misturada (Odeon)
Sivuca – Fita Amarela (Barclay)
Monsueto Menezes – Agua e azuete – (Odeon)
Lindolpho Gaya & Rogerio Duprat – Sao Os Do Norte Que Vem (Philips)
Rosa Passos – Fossamba 70 (Chantacler)
Octavio Burner – Aproximacao (Philips)
Dom Um romao – Lemento Negro Muse)
Fafa De Belem – Naturalmente (Polydor)