Published on
October 17, 2022
Category
News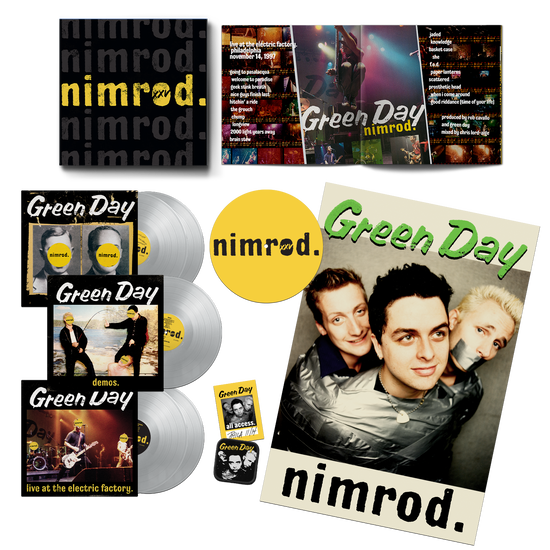 Have the time of your life with all the Nimrod memorabilia you could ever want.
Green Day is releasing a deluxe box set to celebrate Nimrod's 25th anniversary.
Released in 1997, Green Day's third album featured the acoustic pop-punk anthem "Good Riddance (Time Of Your Life)", a soundtrack for 25 years of wistful teens staring out windows.
The anniversary box set features 5 discs which house Nimrod, demos and a live album. A 20-page book, poster, cloth patch, slip-mat and commemorative backstage pass are also included. The LPs are available in either black vinyl or limited edition silver.
You can pre-order the set now ahead of its January 27 release date. Check out the artwork and tracklist below.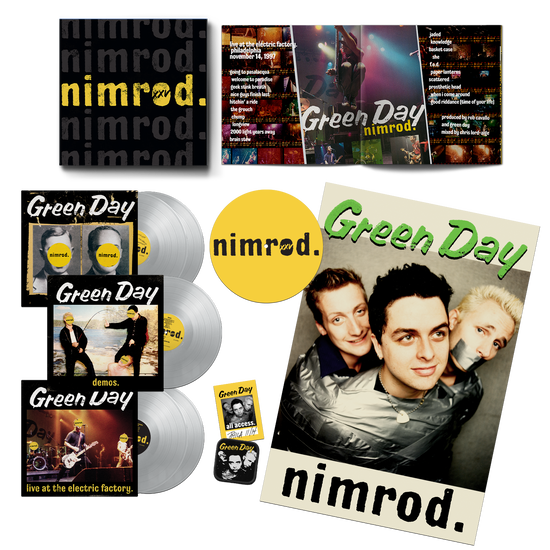 Tracklist:
Nimrod:
1. Nice Guys Finish Last
2. Hitchin' A Ride
3. The Grouch
4. Redundant
5. Scattered
6. All The Time
7. Worry Rock
8. Platypus (I Hate You)
9. Uptight
10. Last Ride In
11. Jinx
12. Haushinka
13. Walking Alone
14. Reject
15. Take Back
16. King For A Day
17. Good Riddance (Time of Your Life)
18. Prosthetic Head
Demos:
1. Nice Guys Finish Last (demo)
2. Place Insider My Head (demo)
3. The Grouch (demo)
4. Walking Alone (demo)
5. Jinx (demo)
6. Alison (demo)
7. Espionage (demo)
8. You Irritate Me (demo)
9. Tre Polka (demo)
10. When It's Time (demo)
11. Desensitized (demo)
12. Texas Chainsaw Massacre (demo)
Live at the Electric Factory:
1. Going To Pasalacqua (live)
2. Welcome To Paradise (live)
3. Geek Stink Breath (live)
4. Nice Guys Finish Last (live)
5. Hitchin' A Ride (live)
6. The Grouch (live)
7. Chump (live)
8. Longview (live)
9. Light Years Away (live)
10. Brainstew (live)
11. Jaded (live)
12. Knowledge (live)
13. Basket Case (live)
14. She (live)
15. Fuck Off And Die (live)
16. Paper Lanterns (live)
17. Scattered (live)
18. Prosthetic Head (live)
19. When I Come Around (live)
20. Good Riddance (live)