Published on
October 17, 2013
Category
News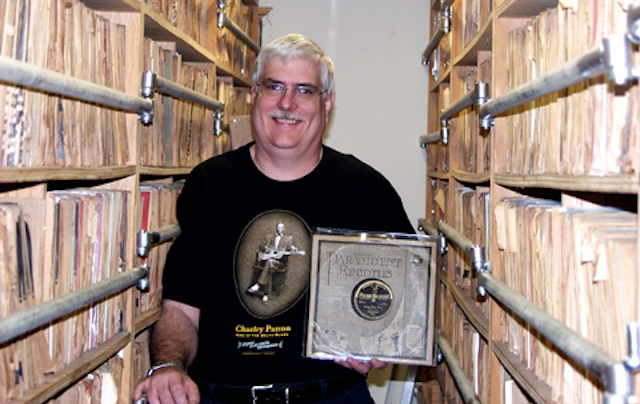 John Tefteller recently paid $37,100 for a single 78rpm blues record on eBay; now he's explained why.
What is wilder than spending $37,100 on a record? Spending $37,100 on a record you already own. Sitting on a pile of over 400,000 records, blues collector John Tefteller already had a copy – albeit "in hammered condition" – of Tommy Johnson's Paramount recording "Alcohol and Jake Blues", when he found himself in the final stages of an explosive eBay bidding war that saw prices for the pristine duplicate soar from $16,000 to over $37,000 at the last minute.
Making a living buying a selling blues records and memorabilia (to the extent he can no longer remember how many thousands he spent on his first copy of "Alcohol and Jake Blues") , John Tefteller spoke to Fuse to try and rationalise why he actually got a good deal.
On why the record was so valuable:
"These original Paramount delta blues records have attained such a mythic status over the years, and they are loads of people who would love to buy one of these things, that it just becomes so legendary. When you actually see one for sale, which happens once or twice in a lifetime, you have to make a decision.
It's also historically extremely important because there are no masters on these records… So when you find one of these blues records in really super nice condition, that's an earth-shaking event in the record collecting world. "
On whether he plans to sell it:
"No. If I buy something for my collection, it stays in my collection… They can offer me $400,000 for it and I wouldn't sell it."
On what he's still looking for:
"There are a handful of legendary records on the Paramount label of which no copies exists that we know of. I believe they exist and are sitting in the garage or the basement and the owners don't understand how significant they are. Those are my Holy Grail records and I will not lose them. My challenge to the world is, you go find those records, bring them to me and you'll see how big the check will be."
Read the full interview on Fuse.TV and check out his website for more details on John Tefteller's extraordinary archive.