Published on
April 20, 2015
Category
News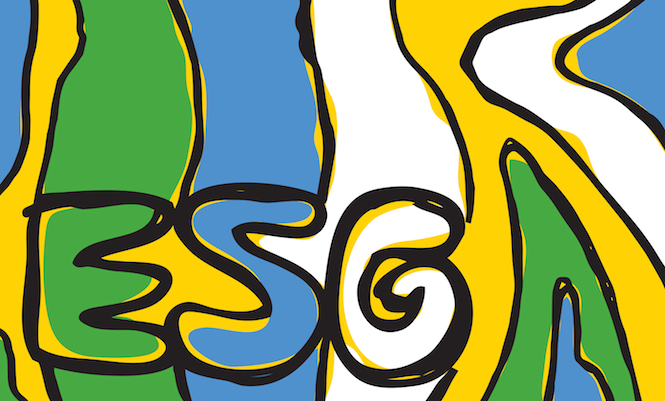 Fire Records are under fire following The Moody EP, a Record Store Day release that "looks as if someone took the classic ESG artwork and puked it on a canvas".

ESG have launched an attack at Fire Records after discovering that their iconic original sleeve design has had an "insulting" re-imagining.
Addressing fans, press and supporters on Facebook yesterday, band leader Renee Scroggins wrote an angry message (below) accompanied by three cover sleeves – the original design, the "respectful" Soul Jazz version and the contentious 2015 Fire Records copy: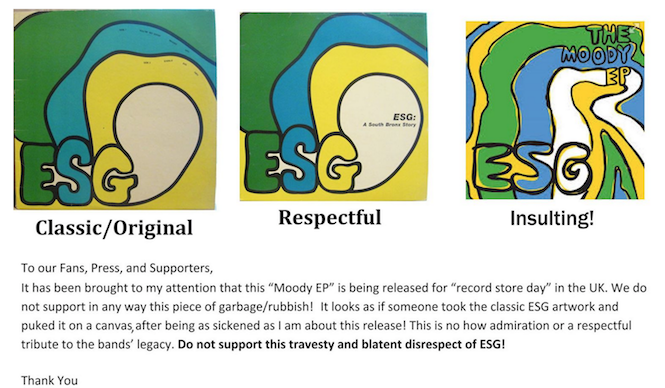 The ESG outcry has prompted further attack from fans equally disgusted by the imitation artwork, including a fan who likens the design to something a child with crayons might produce and then signs off "Someone who bought an original copy at 99 Records".
It may come as a surprise that the release, which features signature tracks "Moody", "UFO" and "You're No Good", is not actually a bootleg. Fire Records bought the rights to the music but not to the original artwork, hence the need for a redesign.
Responding below the original post, Label Director James Nicholls defended the release and attempted to explain the Fire side of the story:
"Well this isn't the full picture. Fire purchased the rights to do this for a very large sum. This new version of the EP was actually in Time Outs, NMEs, Mixmags, RSD Picks but Renee doesn't like the artwork, which I actually thought she had approved (a mistake I apologised about 999 times for). Bit of a mess really, but John did design the other reissues that she was fine with, and which have, like this EP, been well received ('Best New Reissue' on Pitchfork). This all actually happened because I offered to do merch for her at the London show, and give her the entire proceeds to sales of this record on the night, and she took that as treading on her turf, which I totally understand now….and she has made that point very strongly indeed."
Check out the contentious artwork below, and read the story of ESG and 99 Records here.