Published on
November 5, 2015
Category
News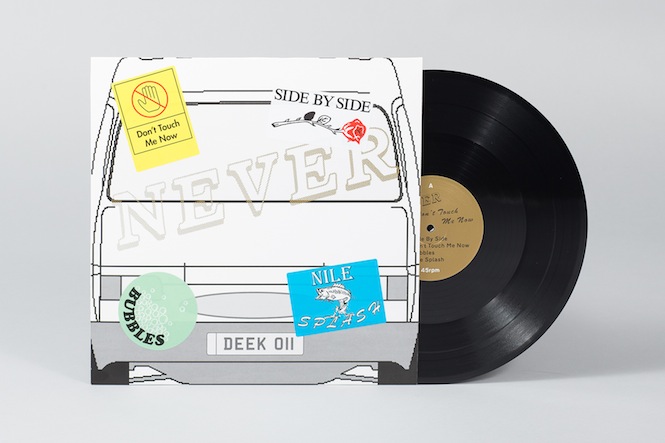 Sam Bardsley and Guy Gormley share a track from their debut EP 'Don't Touch Me Now'.
One of our favourite budding labels, Bullion's DEEK Recordings are releasing the debut EP from newest recruits Never this month.
The work of Sam Bardsley and Guy Gormley, 'Don't Touch Me Now' is a typically playful, understated four-tracker, perfectly aligned to the label's sideways pop sound, and is the latest in a refined series of quality 12″s from Laura Groves, Thool and Bullion released already this year.
As ever, DEEK's attention to detail on the packaging is charmingly involved, with a sticker for every track slapped on the front of each 12″ sleeve by hand.
Of the four tracks on the EP, we've gone for the bubbly 'Nile Splash' to premiere below, an atmospheric Martin Denny-meets-Beppe Loda jam from the exotic end of the afro-cosmic spectrum.
Take a listen and check out our images of the 12″ in more detail below.
You can pre-order Never's 'Don't Touch Me Now' on vinyl here ahead of its release on November 20th and head here for more info about the EP launch party later this month.