Published on
October 25, 2016
Category
News
10 years on.
In celebration of its tenth anniversary, The Decemberists will reissue their fourth album The Crane Wife as a five-LP box set on 9 December.
The set features the original album spreads across two LPs plus three additional records of rare b-sides and bonus tracks, previously unreleased outtakes, alternative versions, and solo acoustic demos. Find the complete tracklist below.
The collection also includes a Blu-ray disc of The Decemberists: Live at the 9:30 Club 2006 and a 20-page booklet with foreword by Lin-Manuel Miranda, who is a huge of fan of the band. David Fricke of Rolling Stone has written accompanying liner notes.
The first 500 signed copies have sold out, but you can place orders for a regular copy here.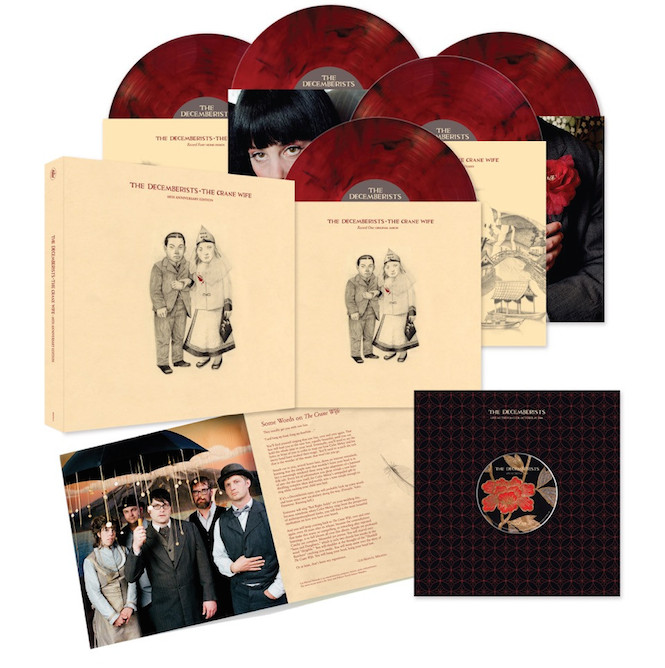 Tracklist
LP 1: The Original Album
01 The Crane Wife 3
02 The Island: Come and See/The Landlord's Daughter/You'll Not Feel the Drowning
03 Yankee Bayonet (I Will Be Home Then)
04 O Valencia!
05 The Perfect Crime #2
06 When the War Came
07 Shankill Butchers
LP 2: Original Album Plus Outtakes
01 Summersong
02 The Crane Wife 1 & 2
03 Sons & Daughters
04 After the Bombs
05 Culling of the Fold
06 Hurdles Even Here
LP 3: Outtakes and Alternates
01 The Perfect Crime #1 + The Day I Knew You'd Not Come Back
02 After the Bombs (Early Take)
03 Yankee Bayonet (I Will Be Home Then) (Alternate Take With Alela Diane)
04 Culling of the Fold (Alternate Take With Sean Nelson)
05 Hurdles Even Here (Full Band Take)
06 The Perfect Crime #2 (Early Take)
LP 4: Home Demos
01 The Island: Come and See/The Landlord's Daughter/You'll Not Feel the Drowning
02 O Valencia!
03 The Perfect Crime #2
04 Yankee Bayonet (I Will Be Home Then) (With Carson Ellis)
05 The Capp Street Girls
06 Culling of the Fold
07 Hurdles Even Here
LP 5: Home Demos
01 Shankill Butchers (Demo)
02 Summersong (Demo)
03 The Day I Knew You'd Not Come Back (Demo)
04 The Perfect Crime #1 (Demo)
05 The Crane Wife 1, 2 & 3
06 Sons & Daughters

Blu-ray: Live at the 9:30 Club, October 29, 2006
01 The Crane Wife 3
02 The Island
03 We Both Go Down Together
04 The Gymnast, High Above the Ground
05 The Perfect Crime #2
06 Shankill Butchers
07 Here I Dreamt I Was an Architect
08 O Valencia!
09 The Legionnaire's Lament
10 16 Military Wives
11 The Crane Wife 1 & 2
12 Sons & Daughters
13 Red Right Ankle
14 Culling of the Fold
15 I Was Meant for the Stage