Published on
November 16, 2015
Category
News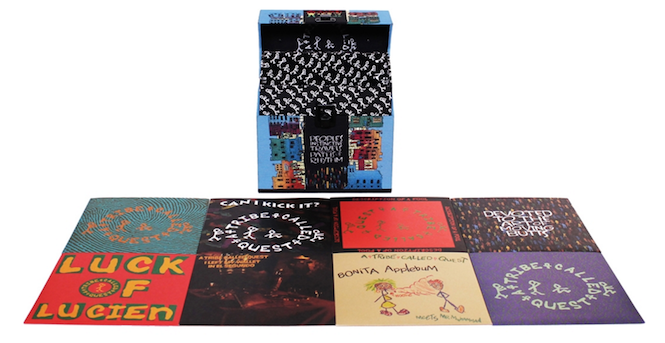 25th anniversary celebrations of People's Instinctive Travels & The Paths Of Rhythm continue with a 45s boxset.
One year after De La Soul dropped their classic 3 Feet High & Rising , Native Tongues' family Q-Tip, Phife, Ali Shaheed Muhammad and Jarobi came together to lay down their own debut as ATCQ, heralding a new phase in indie hip-hop.
Earlier this year the landmark album was given a 25th anniversary vinyl reissue. Now Get On Down are breaking People's Instinctive Travels & The Paths Of Rhythm down into its singles for a deluxe 45s box set edition.
Set across eight 7″ records, the tracklisting has been resequenced with input from the group – 'Footprints', for instance, moves from earlier-on to the final side of vinyl.
The edition includes one rare bonus song 'If The Papes Come' which was the B-Side to the 'Can I Kick It?' single. Additionally three extra songs 'Pubic Enemy', 'Go Ahead In The Rain' and 'Description Of A Fool' – which were only included on CD and cassette pressings of the original album – make their way into the box set.
Pressed on to small hole 45s with individual picture sleeves, the singles are housed in a deluxe, fabric-wrapped carrying case with complete wrap-around album artwork. All songs have been remastered by legendary engineer Bob Power, who engineered the original album. Limited to 1000 copies, put your orders in here.
Read next: How People's Instinctive Travels & The Paths Of Rhythm re-draw the map