Published on
November 22, 2022
Category
Features
This month, Vinyl Sisters & Outerglobe Femxle DJ Relay celebrate one year of providing a platform and space for female reggae DJs. With a roster of guests, a new radio show and talented elders in key roles, the vinyl collective is ending the year on a high. Becca Leathlean chatted with members of the Vinyl Sisters to learn more about the collective and the people involved.
"I started the Female DJ Reggae Relay in 2016 to provide a welcoming space for women to play," says founder, DJ and broadcaster Debbie Golt of Outerglobe. "The initial project died over the COVID-19 lockdown, but Miss Feelgood (Shirley Slattery) and I decided to re-launch it in 2021 as Vinyl Sisters, Upstairs at the Ritzy in Brixton."
Each month, Vinyl Sisters invites four guest selectors to play for 30 minutes each, with opening and closing sets by Shirley and Debbie. Experience isn't necessary as training is offered. All that is required to perform is a great vinyl collection and a genuine love of the music.
Debbie began her DJ career at Rock Against Racism gigs in the mid-70s. "There have always been female reggae DJs, but there haven't been enough platforms. I thought it was important to address that. Vinyl Sisters span a wide range of ages, and we come from a great diversity of backgrounds," she adds. "We feature different DJs every month, each bringing something unique. The crowd, who are as mixed as ourselves, are very appreciative—men as well as women."
Meet some of the DJs, MCs and selectors that have found a home in the Vinyl Sisters collective.
Kaya M
Vinyl Sisters Guest DJ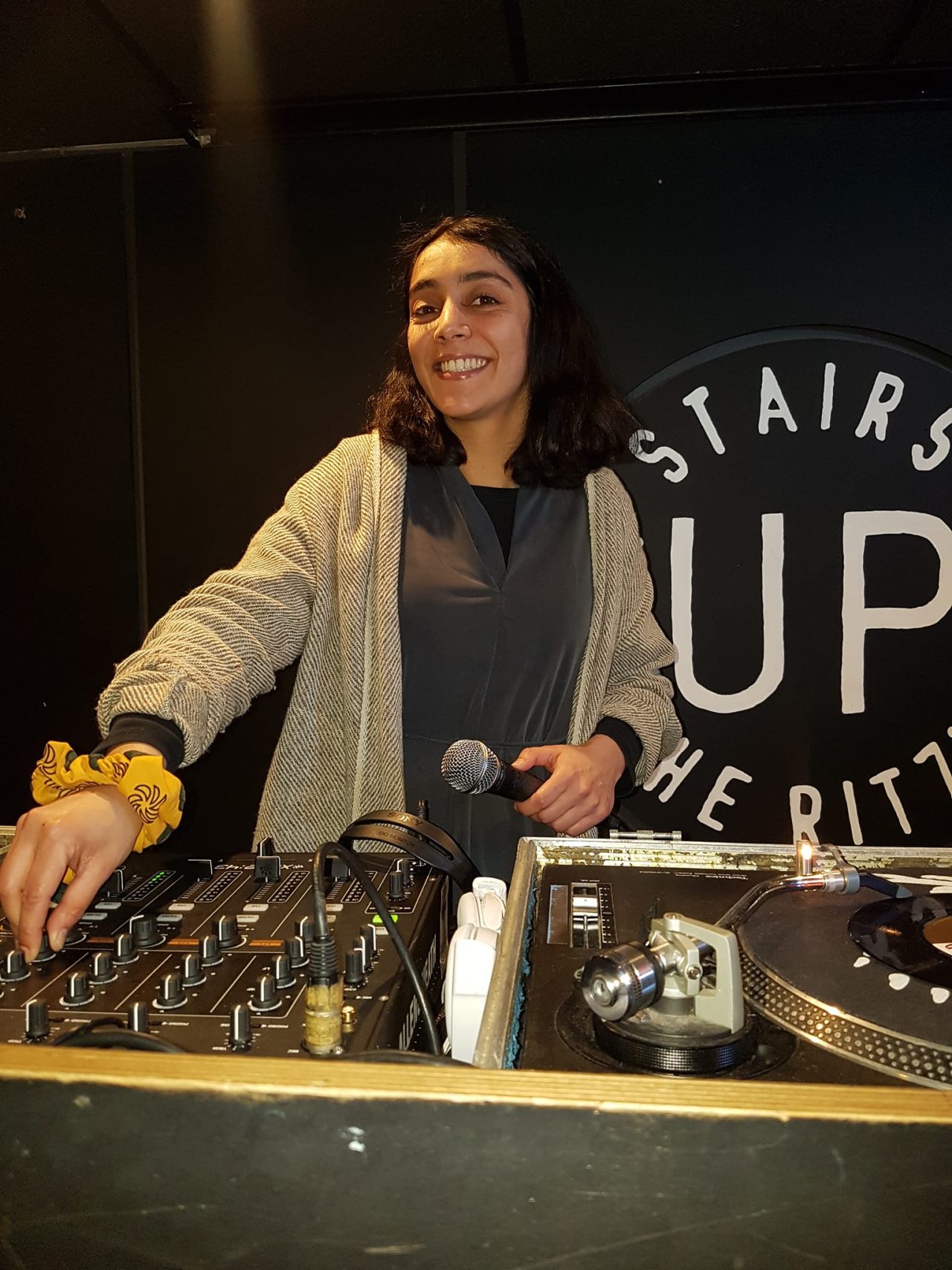 Kaya M got involved with reggae at 18, when she started following Rebel Lion, a roots and culture sound system based in Norwich. She's developed a fluid style as both a DJ and broadcaster, not only playing music but gently chatting on the mic. "I'm driven by reggae from the early '70s, the rocksteady phase when ska was turning into reggae, with artists like Alton Ellis, Leroy Smart and Phyllis Dillon. I love early Steppers, too, where the drum goes on every beat. It's crucial, foundation music," Kaya M explains.
"There's a recurrent theme of social, cultural and political issues running through reggae music, and that is its main purpose for me. It's easy to interpret reggae as all peace, love and unity, but it certainly isn't just about that, it's about rebellion and political consciousness, too".
"Something I love about Vinyl Sisters nights is how much the men in the audience love the music—they also love and respect the fact that women are running the thing. Women in their collective can own the space and have that power. DJing is harder on a singular level. As a collective, we're strong".
Lady Issachar
Vinyl Sisters Guest DJ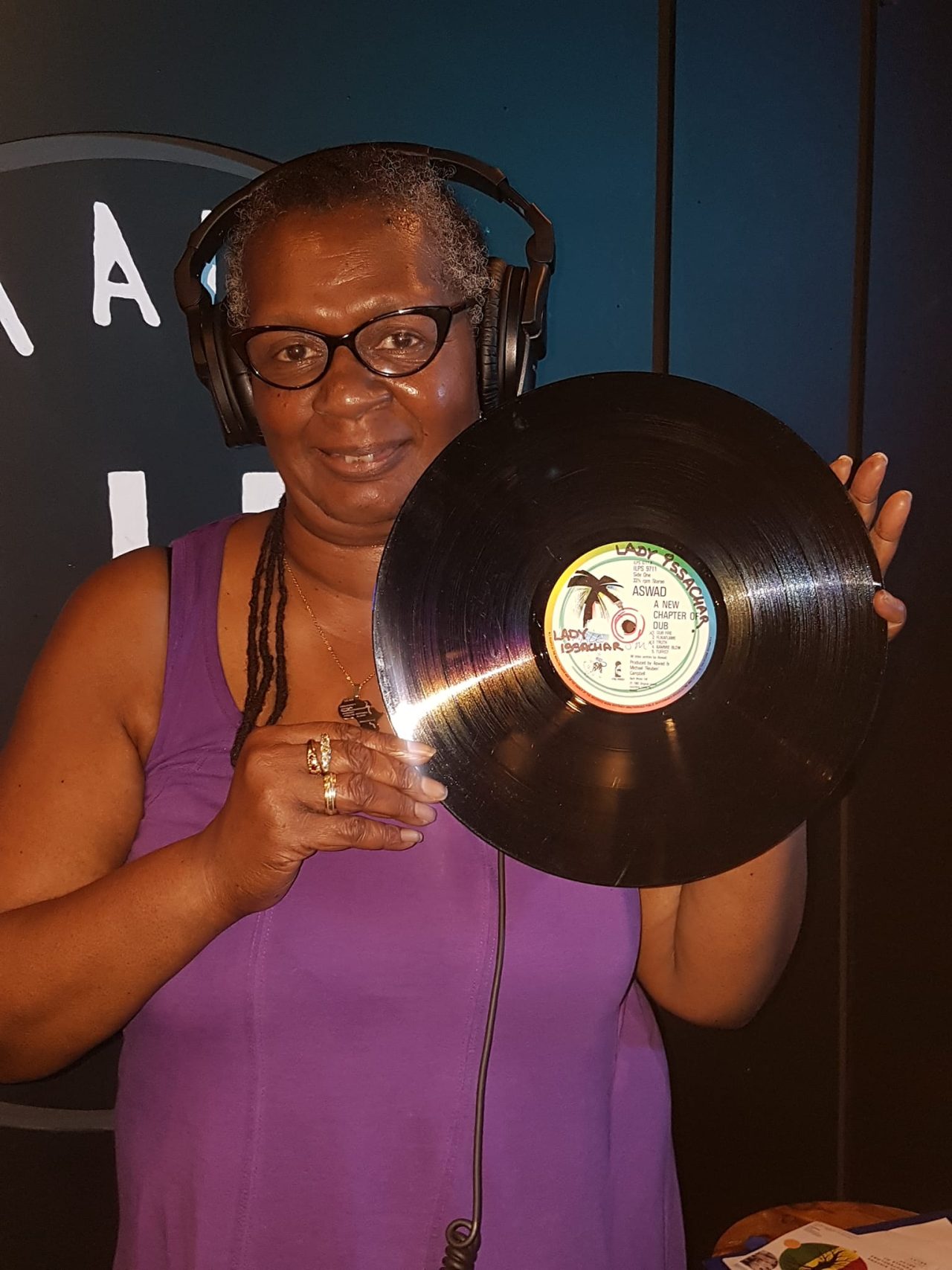 Lady Issachar started DJing at the age of 59, and is now a sought-after roots, dub and soul DJ with regular slots at venues including the Railway Tavern in Tulse Hill and Lion Vibes Selector Thursdays in Brixton.
"My love of reggae stems from my dad and also from growing up with artists like Aswad who sang about the struggles we were living through as youths. Nowadays, the music brings back memories of being a teenager, climbing out of windows and running down alleyways to go to parties," Lady Issachar explains.
"My real love is roots and dub—the lyrical enrichment of artists like Dennis Brown, Burning Spear and Black Uhuru, and the heavy dubs on the B-sides. It took me five months to pluck up the courage to DJ for the first time, and now I feel like I'm on a rocket ride every time. To see an audience enjoying what you play is amazing. I'll never stop, as long as there are turntables to play on".
"If you're struggling, music can give you hope. On these dark evenings, I'm playing a lot more. I have a turntable by my bed, and if I want good thoughts in the morning, I put on a tune that's going to be encouraging and uplifting when I wake up".
Angie Dee
Former broadcaster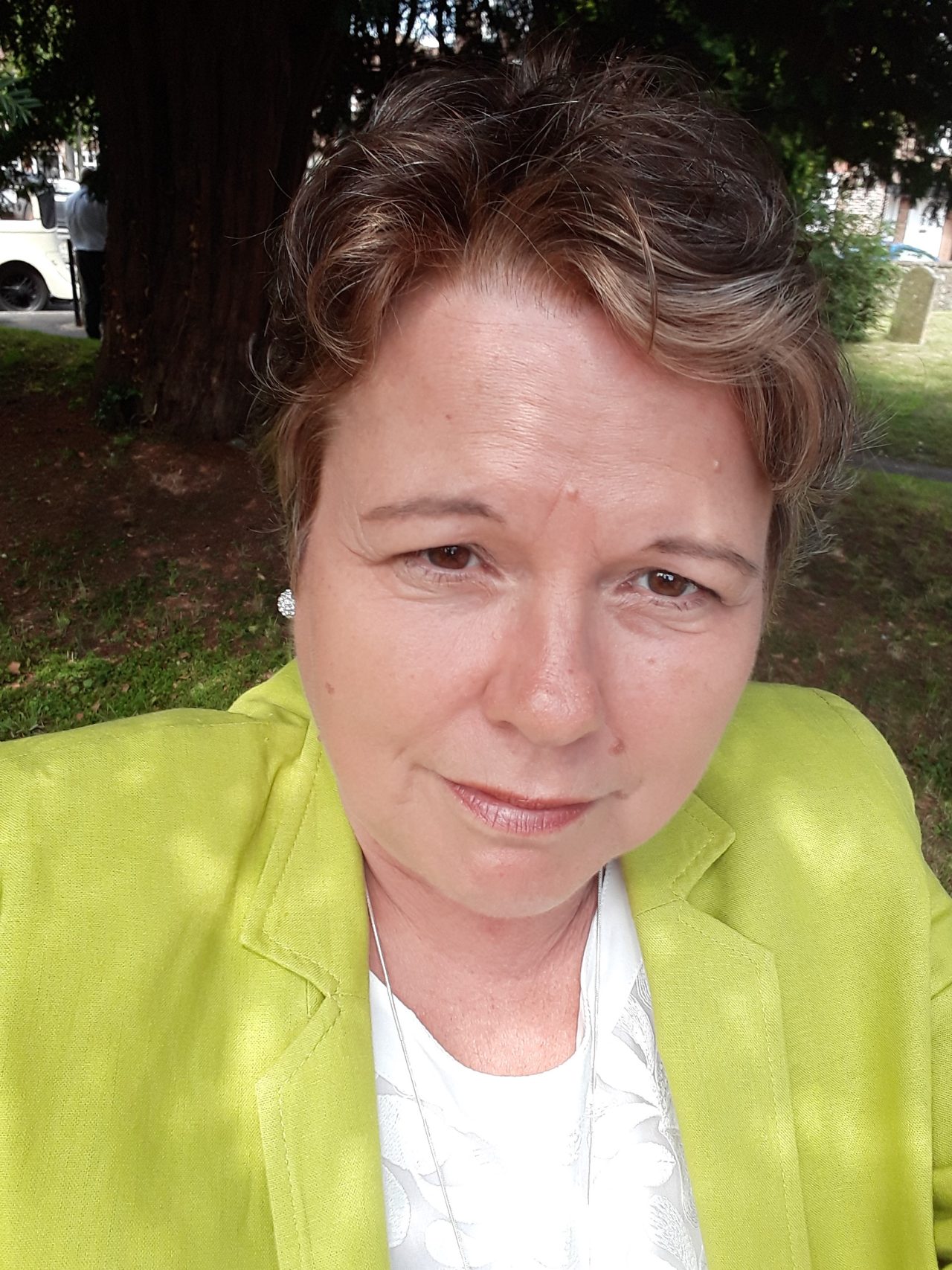 Reggae and soul music specialist Angie Dee covered the early hours 'graveyard shifts' for 1980s pirate stations such as LWR and TKO, before spending 10 years as a presenter at KISS FM.
"When I was a child, reggae music was a sanctuary. It was a difficult time for me and I immersed myself in the beautiful music and the conscious lyrics. I started collecting records at a very young age. For my 18th birthday party, I got some MDF and built my own sound system to play them on. Later on, I took the sound system on the road, under the name Silhouette," Dee describes. "I've got thousands of records. I'd go to Sound City in Deptford, Bluebird Records, Reckless Records and Sound Off in Sydenham. Record shops were my social club".
"Women DJs in the '80s and '90s had the skills, but we didn't feel valued. After I left KISS, I found out that some of the other presenters earned 10 times more than me, even though I had some of the highest audience figures. Nowadays, female DJs have social media platforms to make us visible. It's empowering us and instilling the confidence to get out there. I feel like there's a boat getting ready to sail and I need to get on board. I'm getting my vinyl organised and I'm coming back".
Mad-X
Vinyl Sisters Guest MC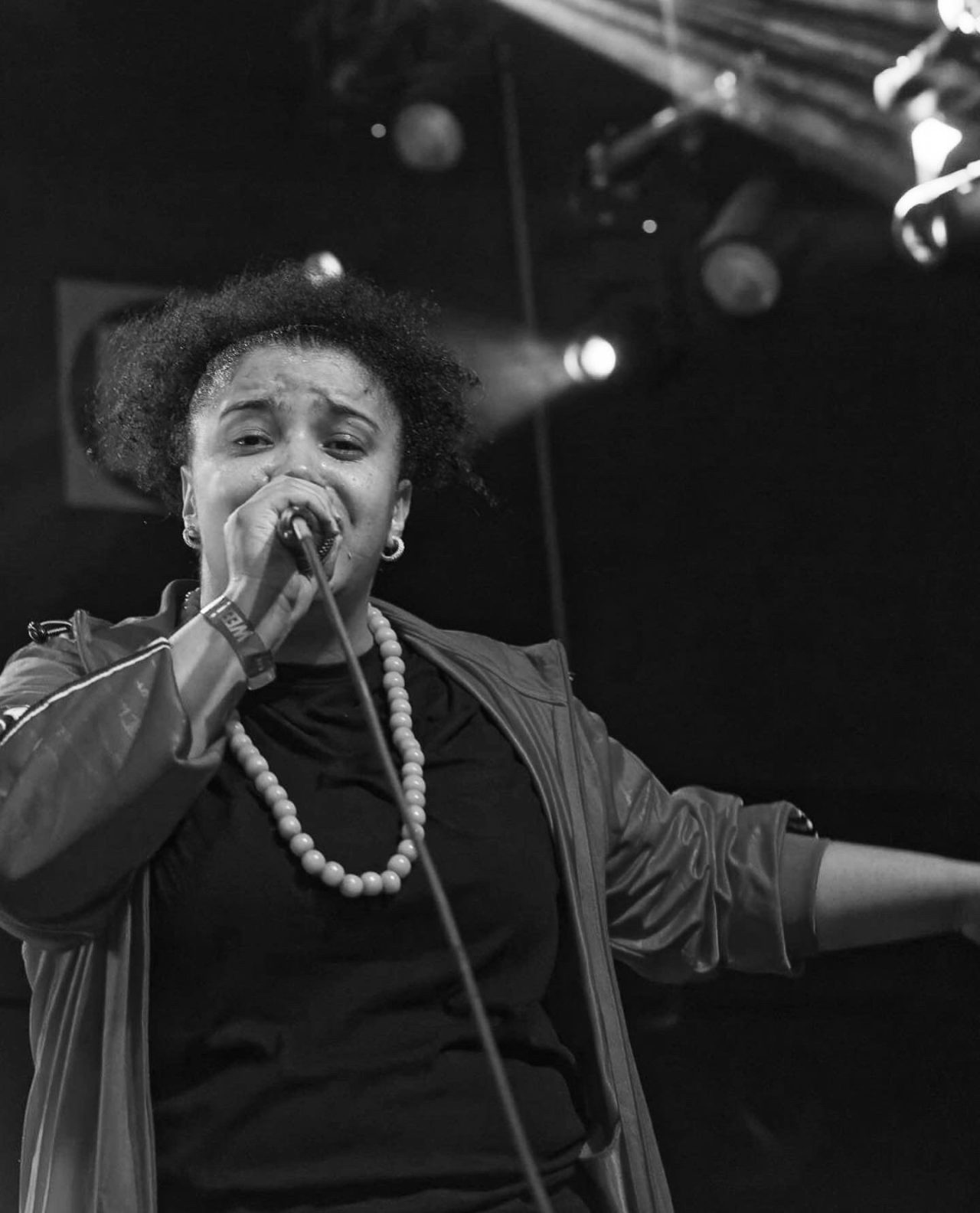 MC Mad-X was introduced to reggae as a baby. Each Saturday, she was taken to the dancehall and put to bed in a box on top of a speaker while the sound system was being strung up. "My auntie used to go out with a selector from Lord David Sound. I wouldn't sleep at home, so she'd take me to give my mum some peace".
"The sound system was a safe space for me. I started emceeing when I was 10 with guys like Ricky Ranking and Horseman, chatting the mic," Mad-X describes. "I'd try to grab it and eventually they gave me a chance and let me chat with them. Now it's my main career".
"I got involved with the Female DJ Relays around 2018, and every one of those women shocked me. Everyone came with at least one killer track. It reminded me of why I started chatting the mic—hearing music that makes you feel great, and the power of a big tune. The women prove themselves with their music every time".
"Performing at a venue with a lot of guys on the bill can be daunting, but Vinyl Sisters embrace everybody," Mad-X says. "Music is there to be shared and we all need to jump on that. Reggae is about uniting people, and that's what Vinyl Sisters do."
Vinyl Sisters play Upstairs at Brixton Ritzy, London SW9 every third Wednesday from 7.30 to 11.30pm. They are also live on Brixton Radio on the last Sunday of each month from 12 to 3pm. 
Words by Becca Leathlean (aka Selector Becca).