Published on
July 11, 2019
Category
Features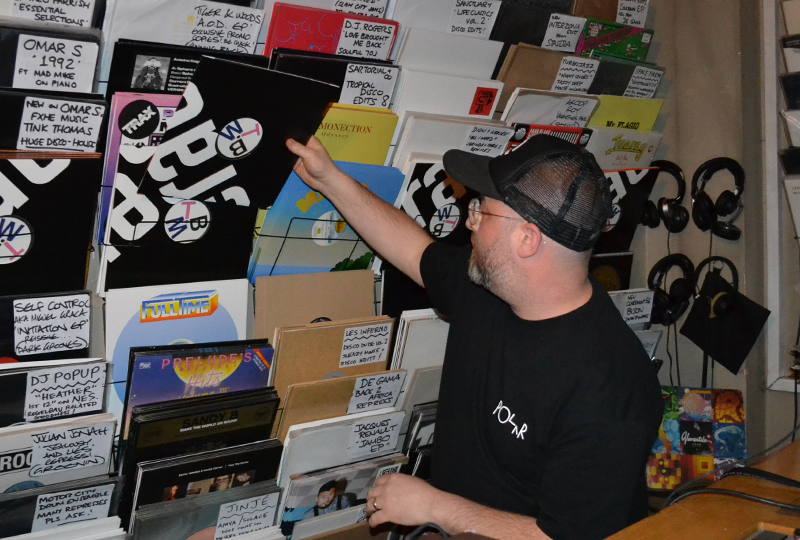 "Pump, pump this jam, pump it up."
London's Phonica Records is no stranger to hosting live in-store shenaningenary.
One of the latest DJs to pass through was Red Rack'em, who played a vinyl-only set to celebrate the release of his 12″ – 'Wonky Techno Banger'.
For the occasion, Red Rack'em crisscrossed from disco to house, electro, and techno via zippy weirdo realms of the dance floor – with tunes by the likes of I:Cube, Javonette, and Zanzibar Chanel, alongside his own productions.
Listen to the mix above, check out the tracklist below, and order a copy of 'Wonky Techno Banger' here.
Tracklist
1. Arken – Tree Bells (Sonar Kollektiv)
2. Zanzibar Chanel – Beauty And The Beast (Ruff Records)
3. Awanto 3 – Bubbles Made Me Cry (Rush Hour)
4. Blackjoy – Mercurian (Dialect Recordings)
5. Takecha – Deep Loop (GWM)
6. Kenlou – Moonshine (MAW)
7. Orestt – Steppin' (Dedicace)
8. Hanna – Kiss (Panhandle Records)
9. Jonny Dangerous – King Of Clubs (King Street)
10. I:Cube – Supernovac (Versatile)
11. City People – Brother James (Rainy City Music)
12. LA Synthesis – Harmonic Disassembly (Midnight Drive)
13. Kingpin Cartel – Ghetto (Beardman)
14. Connie Case – Get Down (Konduko)
15. Unknown – Unknown (Unknown)
16. Black By Birth – Get It Right (IG Culture Remix) (Main Squeeze)
17. Unknown – Unknown (Unknown)
18. Unknown – Unknown (Unknown)
19. Electric Soul – Whateva (People)
20. Blapps Posse – Do What You Want To! (Blapps! Records)
21. Red Rack'em – Wonky Bassline Disco Banger (Bergerac)
22. Voices – Voices In My Mind (Maw Mix) (MAW)
23. Faceball 2000 – Le Patinoire (Versatile)
24. DAF – El Que (Virgin)
25. Altered Images – I Could Be Happy (Epic)
26. Jammin' Unit – Don't Eat Before You Sleep (Temple Traxx)
27. Unknown – Unknown (Unknown)
28. Hula feat Dana – Men (Vox Mix) (Chicago Style Records)
29. Peter Grummich – Jupiter (Innerbird)
30. Lex – Fourteen Days (Flip Records)
31. The Art Of Noise – The Chameleons Dish (China Records)
32. DAF – Pure Joy (Deans Records)
33. Red Rack'em – Wonky Techno Banger (Bergerac)
34. Da One Away – Trash Da Junk (Main Squeeze)
34. Javontte – Chakas Revenge (NDATL)